There's only three.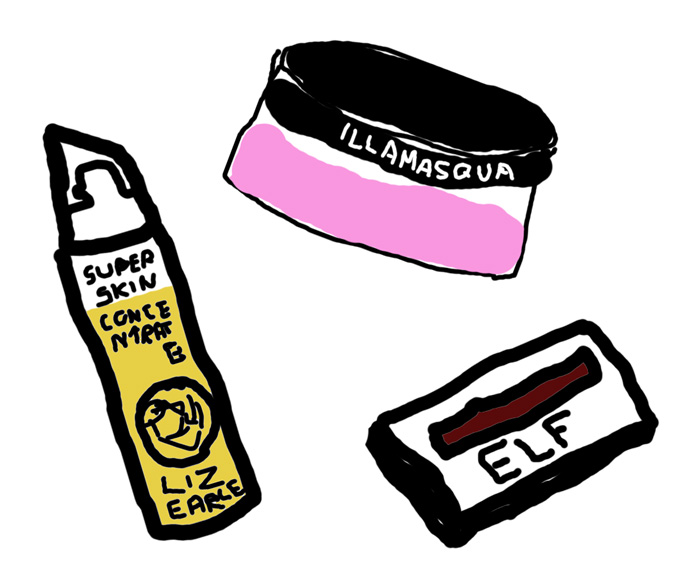 Do you like my artistry?  You better hope I get a new camera soon, I'm starting to get into it…
There were more things that I liked, but actually… I couldn't be arsed to draw them.
1. Liz Earle Superskin Concentrate (£37)

I've avoided using this sample all Summer, thinking that it would be too rich for my skin in the warm weather.  Curiosity (and impatience) got the better of me and I've been using it for the last 3 weeks.  Since then?  My skin has COMPLETELY evened out in terms of texture.  The dry patches around my hairline and eyebrows where foundation used to cling are gone.   Spread thinly and evenly over my face, the Superskin Concentrate hasn't made my oily bits any more oily either!
Application is a joy, it feels like a proper treatment.  One pump, warmed between my fingers and then I pretend I know what I'm doing with that whole facial massage thing.  Lots of sweeping, exaggerated gestures and wrist flicks.  At £37 for 28ml, it's not cheap… but judging by my usage so far… I'm thinking a bottle will last me nearly 3 months, which puts things into perspective a little.
Also, I should mention the smell…. the overpowering aroma of rosehip won't be everyone's cup of tea.  I don't mind it… it serves to remind me how herbal-ly and botanic it all is.  I'm gonna have to say it… this has overtaken the Instant Boost Skin Tonic/Superskin Moisturiser… Liz Earle's Superskin Concentrate is now my favourite product from the brand.
You can purchase Liz Earle's Superskin Concentrate online or instore.
2. Illamasqua Loose Powder in LP005 (£19)

LondonMakeupGirl can take the blame for this one.  I'm not sure if that's justified but I think I got the recommendation from her.  Whatever, she can shoulder it.
I bought this with some trepidation.  It's pink.  Bright pink.
I thought it might make me look like a candyfloss or Barabara Cartland's impossibly younger sister.  In reality it's a wonderfully subtle powder that practically melts into my skin.  It gives a soft-focus effect and by some strange witchcraft, brightens my complexion.
I *wish* I could pin down exactly what it is that this powder is doing to make me look healthier.  That's the best way to describe it… it's not illuminating, it doesn't give me any kind of 'glow'.  It just makes me look brighter and fresher.  Definite repurchase.
Be aware though, I wouldn't describe this as mattifying… it doesn't do a whole lot to keep oilies at bay, though obviously on initial application, it dispenses with any shine.
Illamasqua's Loose Powder in LP005 can be purchased online, in their brand spanking new store (open today!) or from various concession stands.  Ooh also on BeautyBay, ASOS… cor, the list goes on!
3. E.L.F. Studio Single Eyeshadow in Raspberry Truffle (£3.50)
Bargain, bargain, bargain.  Seriously, E.L.F. has to be one of the few bargain brands with the capacity to get me all snooty about liking their stuff.
I feel funny about putting their products in the same drawer as my high end stuff (yeah, stupid I know) but the simple fact is that my love for some of their products FAR outweighs this snootiness.  So in it goes.
Raspberry Truffle is an intense chocolate brown with lashings of fiery copper sparkle.  Not chunky sparkle either… just smooth, velvety, light-catching goodness.  I adore this shade, it couldn't be more perfect for an Autumnal smoky eye.
It definitely needs a bit of help to last longer than 20 minutes without disappearing on your eyelid, but that's where our primers come in to their own isn't it?
It's hard to write about this without showing a swatch… but well… I'm not THAT talented.  You'll have to take my word for it.  At £3.50… you NEED this in your life.
E.L.F. Studio Single Eyeshadow in Raspberry Truffle is available to buy online.