Not the catchiest post title in the world, but it gets the message across… eventually.
If I'd had the same kind of beauty budget back then as I do now, perhaps I would have killed off my obsession at a younger age… but I didn't.
I had £5 a week and 20 Sovereign Lights used to cost £2.56 – sorry Mum, Dad… I've quit now though right?
This left me with approximately £2.44 a week to spend on EVERYTHING else… my makeup came off a market stall.  If I was feeling flush, I would hot-foot it down the chemist to grab a pressed powder that bared a closer resemblance to a tub of Johnson's finest than anything else, both in formula and colour!
The things I'd tell my 14 year old self that she NEEDS to own aren't 'dupes' of well known products… they're close.  They would certainly have been close enough to satisfy my teenage wants.  Hell, I've bought them at my age haven't I?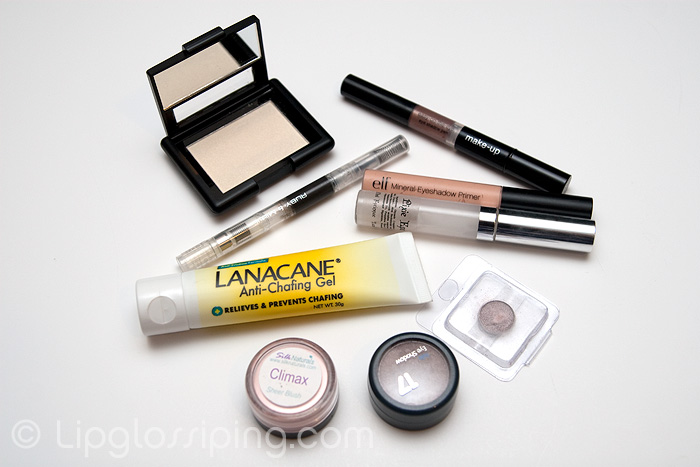 ELF Studio Blush in Gotta Glow (£3.50) is a fair match to NARS Albatross… it's chalkier and less smooth-textured with a lot of fall out, but ELF have captured that pale gold highlighter thing very nicely indeed.  And all for £3.50!
Barbara Daly Easy on the Eye Shadow pens (£5.62) would have me twirling these things about like I'd just stepped off the Ellis Faas counter at Liberty.  Who knows, I might have even spray painted 'em silver.
Ruby & Millie I-Writer Liquid Eyeliner (£10.50) far too pricey for my teenage budget, but within reach with the help of one of those lovely Boots £5 off No7 and Ruby & Millie vouchers!  No dupes… but I just wish I'd owned one of these when I was struggling to create lovely smooth eyeliner lines.  Ok, so I still can't do the flick… but I'm blaming my hooded eyelid for that one.
ELF Mineral Eyeshadow Primer (£3.00) for the love of God, I would scream at my younger self to buy an eye primer.  This one would do nicely, it's not *quite* as long lasting as UDPP… but it's also not *quite* £11.50 either.
Fyrinnae Pixie Epoxy (£4.50ish) my 14yr old self would never have been savvy enough to know of this little miracle.  Sad really.
Lanacane Anti Chafing Gel (£5.99) You may scoff, but have you ever compared the ingredients between this and Smashbox's cult Photo Finish primer?  No?  U.S. girls have been savvy to the wonders of Monistat Chafing Gel for years… and this is basically the same thing.  Though, to be fair.. both are pretty ineffectual for me.
Yaby Cosmetics Pearl Paints pp040 Cappuccino Dream (£2.50) a tiny little pan, but how often do we get through a whole shadow?  Plus… it's got a tiny little price to match!  I'm also quite impressed between the similarities of Cappuccino Dream and the now discontinued MAC Style Snob.
Silk Naturals Mineral Blush in Climax (£4ish) unsubtly named for it's similarities to a certain NARS Blush which holds true makeup cult status.  Orgasm of course!  This look-a-like packs a bit too much shimmer for my 29yr old self, but my 14yr old alter-ego would be all over it like a rash.  Probably a genital one if today's teenagers are anything to go by *tsk, tsk and all that I'm getting old stuff*
17 Cosmetics Solo Eyeshadow in Mardi Gras (£3.49) I'm sure this was about 20p back when I bought it a few years ago.  The packaging has now been much fancified, but hopefully the shade remains the same.  This is a pretty good budget alternative to MAC Satin Taupe that I would have been very pleased to own.
.
What things would you insist your younger and less financially frivolous self go out and buy immediately?