So, the other day/week/month…. whenever it was (they're blurring)… I told you about the new Avon SuperShock Gel Eyeliners that I'd had a look at during the Avon Christmas collex launch.   I also told you about not being able to remove them with plain ol' soap and water which resulted in me looking a bit grubby while I was on an overnighter in London.
I thought I'd compare it a little more closely to some of the other eyeliners I have in my stash that are generally well-regarded throughout the blogging community… so without further ado…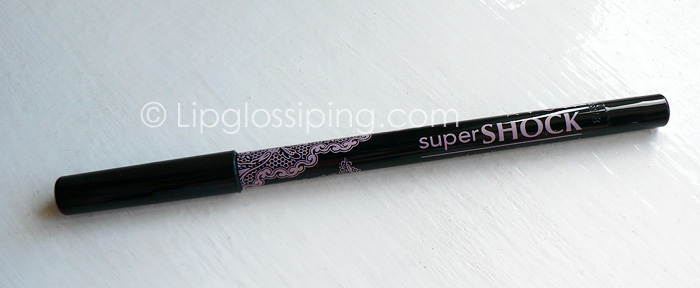 It's got that fancy-schmancy luxe lace packaging going on… I've noticed that these eyeliners have currently disappeared from the website, so I'm guessing that's 'cos they're about to be relaunched in the new packaging for Xmas.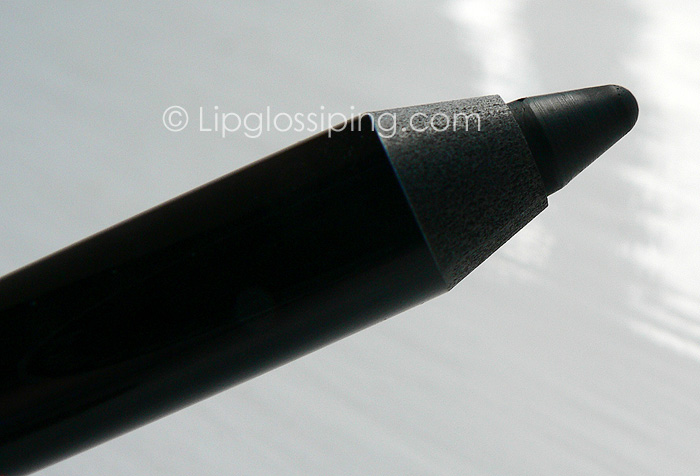 Not retractable or any of that jazz, just your standard-looking eye pencil!
The black is VERY black.  Pigmented to the max and easily the softest eye pencil I own.  I barely need to touch this to my eyelid to create a defined and solid line.  Can you say impressive?  As with most soft/glidey eyeliners, it does mean that this needs more frequent sharpening than it's counterparts… but your poor sensitive eyelids will thank you for the drag-free application.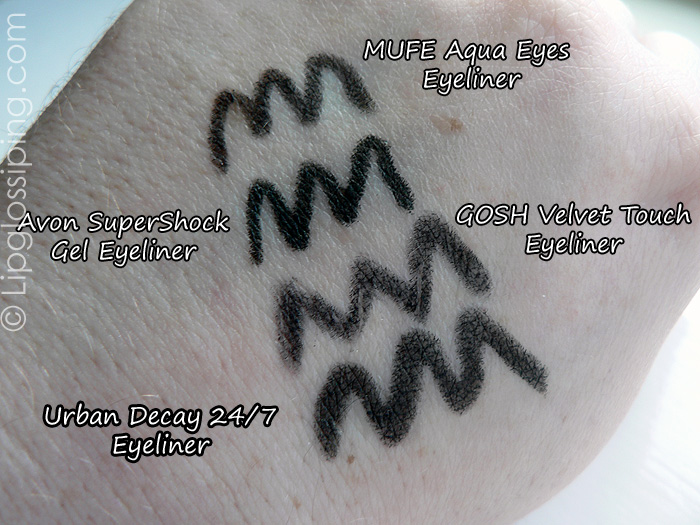 Here's 4 of some of the most highly regarded pencil eyeliners available.  I think you might be able to clearly pick out which packs the biggest punch in terms of pigmentation no?  The above artistic squiggles show one swipe each.
How about lasting power?  I swiped MULTIPLE times over my entire hand with a wet wipe…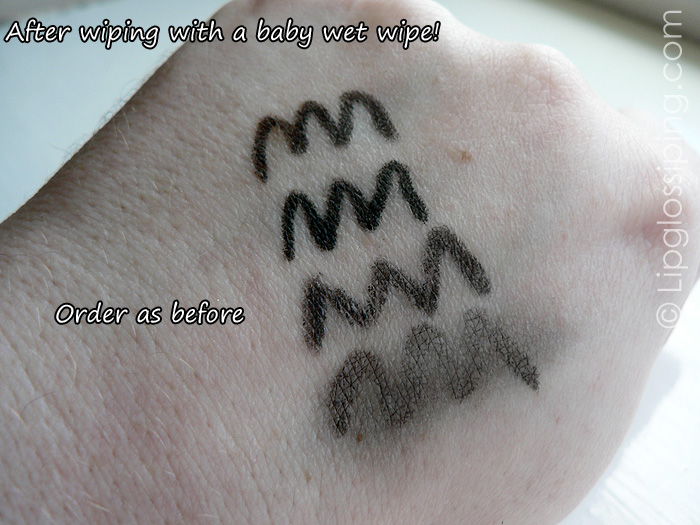 Urban Decay… as much as I love you… you fail.
GOSH?  Close… but no cigar.
MUFE performed slightly better than Avon in the longwear test (conducted whilst I was wearing something that looked nothing like an official lab coat – probably my pyjamas) but the pigmentation just wasn't there to begin with.
So… finally… how about a price comparison?
MUFE – £11.50
Avon – £6.00
GOSH – £4.99
Urban Decay – £11.50
There are a few other factors to take into consideration.  Of all ranges, Avon has the least shades available… I think there are only around 3 or 4, so great coloured eyeliners will still have to be sought elsewhere…
…But if you're looking for a fabulously pigmented, long-lasting black eyeliner that won't break the bank.  Better make friends with your local Avon lady (or yano, do the modern thang and head here).
ETA:
I received a sample of the Avon SuperShock Gel Eyeliner in Silver as a few of you requested swatches… here are the pictures.  I really do recommend these liners without hesitation.