Back in September, I chose a reader to trial and review the new Clinique Repairwear Laser Focus – Wrinkle and UV Damage Corrector which had been picking up some rather fabulous reviews across the blogosphere.  Helen kindly agreed to provide us with two reviews…. one partway through her trial and another once she'd completed the 12 weeks.
Today, I'd like to share her thoughts on the product that she's been using for the past 4/5 weeks.
Take it away Helen…
.
Okay – so Charlotte very kindly chose me to review this product – many thanks Charlotte.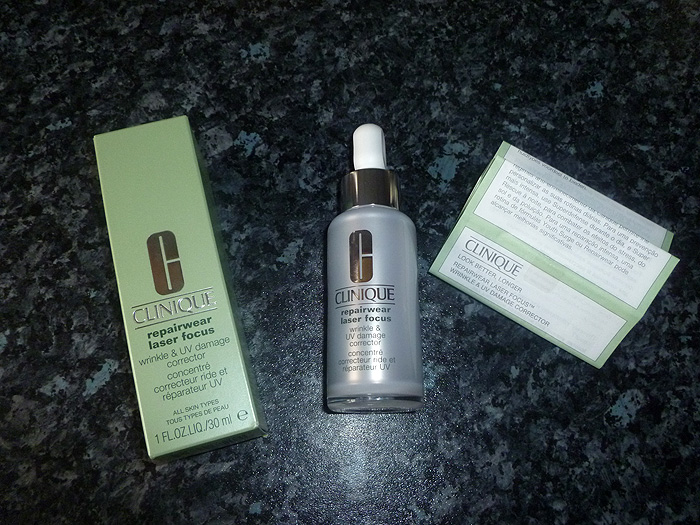 First impressions: Nice solid glass bottle with pipette type dispenser.  Product itself is a milky fluid – 100% fragrance free and allergy tested.  Love the bottle – looks and feels like it knows what it's doing.  Slight drawback in that you can't see how much product you've got left at a glance but I'm only about halfway through so should last til the end of this review.
What it promises: 'striking improvements in as little as 4 weeks'… how does it do this… who cares…. oh, hang on… you do… let me quote… with 'high-level peptides to boost the production of natural collagen' and a 'patented enzyme blend that works to mend visible UV damage'  So in just four weeks I should notice a 'striking reduction in the appearance of lines and wrinkles.
What it's up against: 45 year old mother of two who, although not a sun worshipper, wasn't particularly good at applying facial sunscreen in her younger years and has only recently seen the error of her ways.   I also wear contacts so my delicate eye area is probably suffering a bit more wear and tear than it should.  I think the 'before' photo probably speaks for itself… (viewers of a nervous disposition may wish to look away!)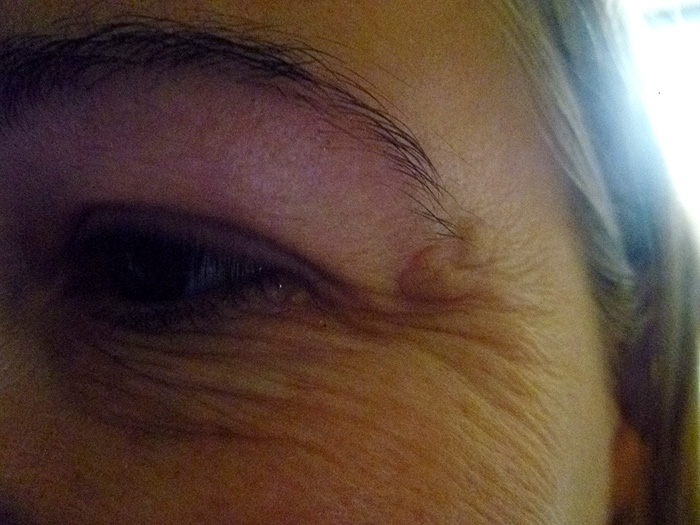 Usage: 3 to 4 drops to face and around eye area – twice a day.  Product is easy to apply via the pipette, and sinks into skin quickly.  Left my skin immediately feeling smoother and moisturised.  Have to say at this point I was pleasantly surprised as I wasn't expecting my skin to feel so much better so quickly – but there was a distinct improvement in the texture and appearance after only a few days.
After four weeks – well….I do still have wrinkles/lines… BUT I would swear they are greatly improved in just this short time… please bear in mind the 'after' photo was taken after a very hectic weekend of late nights but even then I think you can see a difference.
.
Thanks Helen, sounding really promising!  Can't wait to hear your final thoughts once you've completed the trial and thanks for being our guinea pig!
Clinique's Repairwear Laser Focus – Wrinkle and UV Damage Correcter is priced at £35.00 a bottle and available online or on counters nationwide.