Growing up, I was a shower freak and would be one of those annoying people that come out with the (much overused) line about not wanting to soak in my own dirt.
Nowadays?  I'm a bathing convert.  In the Summer, it's still a rare occurence… but now the nights are becoming cooler, I can appreciate the enjoyment that wallowing for an indecently long period of time in a tub of hot water brings.  Especially if I lock the bathroom door first so no-one tries to come in for a crap and ruin my zen.
I don't know about you but… for me, part of the enjoyment of bathing is the whole ritual that sits alongside.  And a true simple pleasure is using a new bath oil/ballistic/melt/whatever for the first time.  I always love the idea of lighting candles but mostly am a bit slovenly for all that.
My latest indulgence (and at £18 it is a little bit of an indulgence) is my India Hicks Island Night Milky Bath from Crabtree & Evelyn.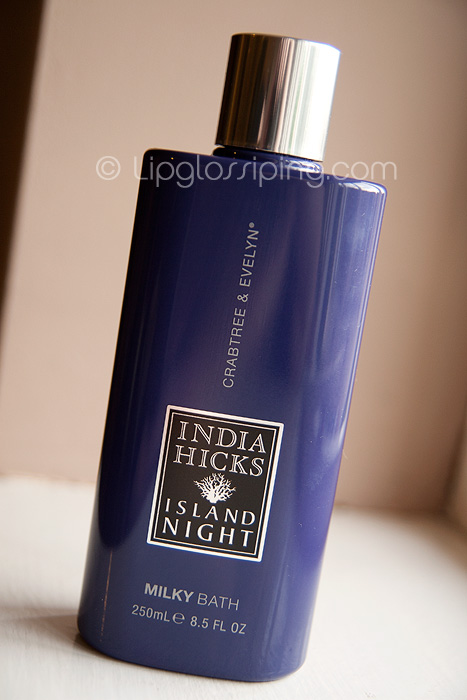 India Hicks is the designer grand-daughter of the late Earl Louis Mountbatten, who is well known round these here parts and buried just up the road.  I don't know why that's relevant… it's really not…I'm doing that bloody automatic writing again.
I use just a capful and it fragrances the water nicely.  It's a tropical scent… but not like I've just poured a can of Lilt in the tub.  It's soft and delicate… like I'm bathing with my window open and the scent of jasmine is being carried in on a warm breeze.  Slap me, I'm sounding pretentious.  But that's the only way I can describe it.  It's not a BIG floral, it's just evocative.
It leaves my skin feeling soft (but not soft enough to forego moisturiser) and Mr. L says that he can still smell it on my skin when I use an unscented moisturiser afterward.  At £18 for 250ml, I'd quite like it to clean the bath and re-grout the tiles too but it makes for a lovely 'special' treat when the day has been a little too much to bear.
India Hicks Island Night Milky Bath is priced at £18 and available online and instore at Crabtree & Evelyn.
What are your favourite bath-time indulgences?