Mr L doesn't like me in red lips, so on that basis I've decided to wear red lips everyday until I run out of reds to try.
Infact, call it a series if you will… I'm on a mission to discover my favourite reds.  Totally inspired by my beautiful friend and MUA @pinkyspanish who rocks a bright lip better than anyone I know and who is always encouraging me to get that little bit bolder!
Today was the first day that I've ever worn a true red lip out of the house without wiping it off before lunchtime.  Yes, it takes a little more maintenance than normal because I'm the kind of girl who can't be arsed to reapply her lippie.  On a nude shade, this isn't an issue… but patchy red lips don't look good and so I was forced to reapply twice today.
I've also learnt that discretely licking the edge of your cup/glass before drinking to avoid lip stains is a trick discovered by red-lipped angels.
Anyway, today's lip is brought to you by the letters N, Y & X!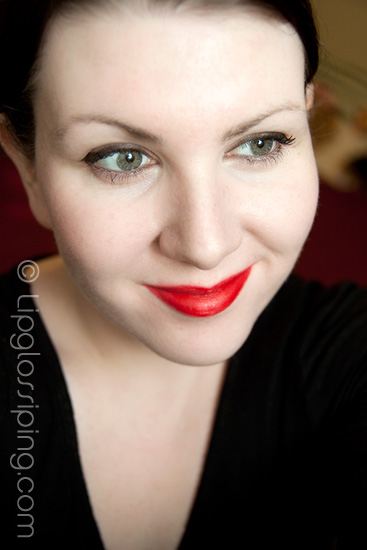 NYX Hot Red Jumbo Lip Pencil to be precise.  Everything I've read online told me that Hot Red was an orange based red and as such probably wouldn't suit my pale skin.  I think it does – it also doesn't give the impression that I've stuck corn kernels to my teeth everytime I smile.  On appearance alone, this is a winning shade!
Lasting power is acceptable.  For the price of the product, it's amazing.  I generally apply, blot the crap out of it and apply lightly again.  I get about 3 hours wear from it (less if I eat).
I kept the rest of my makeup to a minimum.  I didn't even use brow powder which was a VERY strange feeling… did I make the right choice?  I didn't want anything to overpower the lips at all… but I'm not sure if perhaps I need the definition for balance?
NYX Hot Red Jumbo Lip Pencil is available to buy online in the UK from Cocktail Cosmetics, priced at £2.75
What are your favourite reds and do you wear them BRIGHT or toned down?
***
If anyone wants to join me on my red lip crusade, please email me a photo of your lovely selves rocking your favourite red lip – I'd love to do a collage with your photos!
If you're up for this, I need an email with the following info (not forgetting the photo!):
Your name/blog name (if relevant):
Lip shade name:
MAC Foundation Shade (if known):
Link to blog (if relevant):