Ahhh, that catchy #105…
O.P.I-esque shade naming this ain't!  But the sample they sent me is a raspberry fire cracker regardless!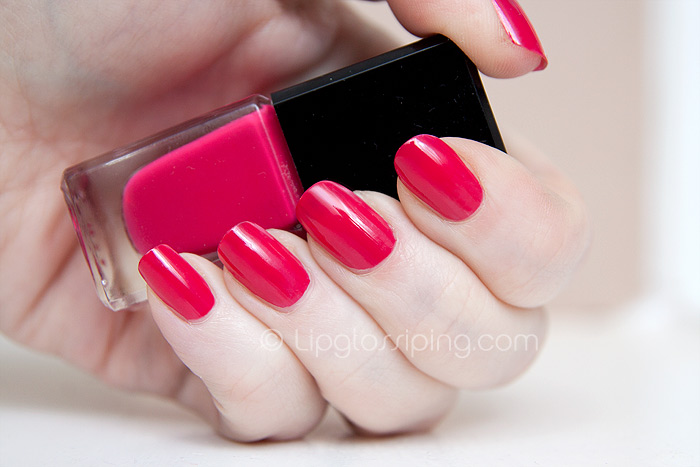 The above ladies… is one coat.  Swoon, go on… I'll catch you.
Intensely pigmented and glossy enough to do without a top coat… consider me impressed.
For some reason, #105 is listed on the website under "glitter polishes" which as you can see, this isn't.  I'm wondering if perhaps the webmaster still has some re-jigging to do.  If you're thinking of ordering, keep this in mind and perhaps email them for confirmation about that 'glitter' category.
Wear has been consistent with the majority of polishes I use… nothing major to report, although in all honesty I often wonder if it's even worth me commenting on longevity because I just don't seem to suffer the same chipping problems that lots of you do – sorry about that!
This would make a cracking pedicure shade… infact, I think it'll be gracing my toes before the week is out!
Paese Cosmetics Nail Polishes retail at a bargainous £3.37 each.  I've already got my eye on #110 and #120 aswell as some of the treatments that seem to cover every nail problem known to man!