My little haul of cheap Layla Cosmetics Nail Polishes arrived from Amazon on Saturday morning, and like a kid in a multi-coloured, holographic candy store, I couldn't wait to paint myself up.  We've been especially blessed with the weather this weekend too… isn't it the warmest it's been since last October or something?  Anyway… ultimately, this meant sunshine… and nothing appreciates a bit of sunshine more than a holographic nail polish.
Eeny, meeny, miney, mo… went I…
…I settled for Layla Cosmetics Misty Blush as my first NOTD.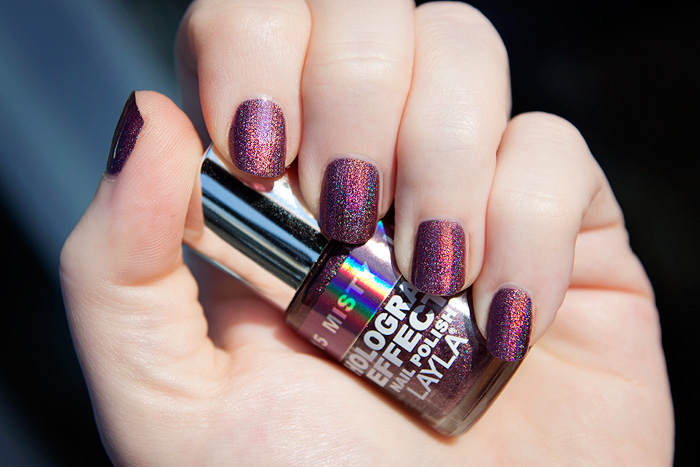 Isn't she a beauty?  If my cuticles weren't so ravaged at the moment, I'd have given you a close-up of the holographic intensity with my Canon point & shoot but I'm afraid this was as close as my vanity would allow me to get.  Application wasn't brilliant, but it wasn't too dreadful… the polish is pretty thin and had a tendency to "flick" specks about during application – perhaps more the fault of my virus-ridden, shaking body – but please don't apply this anywhere near a white carpet just incase.  It took three coats to reach full opacity and definitely needs a top-coat as it dries pretty matte.
Wear also isn't amazing… I have a tiny chip one day later, I don't usually get any chips though… I'm a tip-wear girl, chips… barely ever.
Ultimately, I still love it.  I can't help it.  Perhaps I'm a bit seduced by the sunshine, by how it sparkles… I think I'm willing to forgive it more than most just because it's so damn beautiful.
Layla Cosmetics Misty Blush NOTD is available to buy online at amazon.co.uk, priced at £5.21
if you liked this post, please don't forget to check out my subscriber options, here