I never get round to doing "products of the month" posts because there's inevitably something else that I wanna blog about when the 'critical' time is approaching.
I do love reading other people's picks though so instead of giving up on these type of posts completely I think I'll just throw random ones out there when the mood takes me instead.  Who needs time restraints anyway?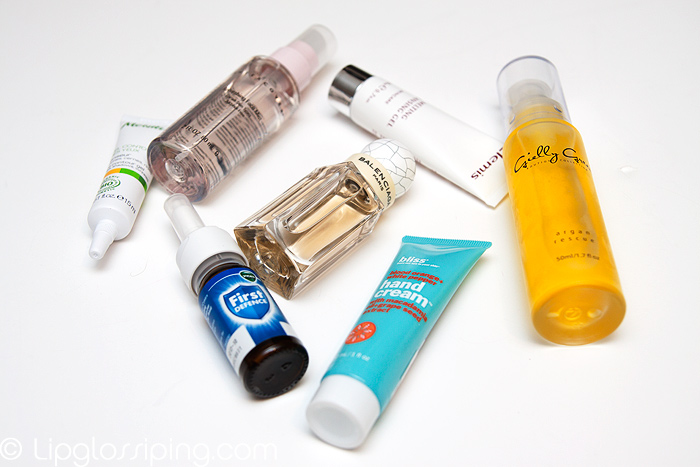 1.  Gielly Green Argan Rescue Oil (£19.50)
This has given my dry, overprocessed hair such a lift these last few weeks.  I don't know how it compares to the likes of Moroccan Oil which I haven't tried yet but the Gielly Green Argan Rescue add shine, softness and smooth ends without being too heavy on my fine (but lots of it!) hair.
You can buy the Gielly Green Argan Rescue Oil here.
2.  Elemis Melting Cleansing Gel (£19.40)
I received a sample size of this tucked into my last Debenhams order and "uh oh", 'cos it's on the repurchase list!
I've been trying to work out a morning skincare routine that suits my combo/dry skin and this has become my morning cleanser of choice.  Normally, I use a 'cleansing gel' to remove my makeup but this one is so light that a pea-sized amount cleanses my bare face beautifully.
It has a delicious 'wake me up' grapefruit scent and is the only cleansing gel/oil/balm type product I've used that makes me feel clean without doing a double cleanse.  Add to that the fact that it's one of the least drying cleansers I've discovered and I'm delighted to start the day with this gem!
Now, I've said that… watch me hate it once I purchase the full size.  It's always the way right?
You can buy the Elemis Melting Cleansing Gel here.
3.  Balenciaga Paris Eau de Parfum 20ml (£34.00) *

Now available in a travel-friendly 20ml bottle, Balenciaga Paris is simply exquisite.  I'm not sure how it manages to capture so much in one small bottle.
It opens with a crisp, floral freshness that announces itself with all the fervour that BIG openings bring before mellowing into something quite creamy yet grown-up.
It seems to capture both a lightness and a depth that feels more sensual, darker… naughtier!
My only gripe is that it needs a top-up every 3 hours or so as the fragrance sadly doesn't last the day… but I guess that's the benefit of a 20ml bottle!
You can buy Balenciaga Paris Eau de Parfum 20ml here.
4.  Bliss Blood Orange & White Pepper Hand Cream (part of a duo set that cost £8.00)
Beautifully citrusy with a hint of spice, this hand cream is light, fast-absorbing and nourishing.  The scent lingers for a short while and will keep you sniffing your hands until it fades!  It's a great daytime moisturiser that sadly only comes in a 30ml tube.  I think it may be limited edition too…
Oh well, as much as I love it – I guess I'll have to find something else to replace it.
You can buy Bliss Blood Orange and White Pepper Hand Cream here. (on offer!)
5.  Vicks First Defence (£7.14)
I know this is a bit of a weird one… but I've used it twice now at the onset of a cold.  As soon as I get that "drowning feeling" in the back of my throat, I pull this out and use as often as the directions allow me.  Whilst it hasn't killed or cured the ensuing snuffles, it's made a real difference to it's severity.
The last two times I've used it, my cold hasn't progressed into full-blown face ache/streaming nose type horrors as it normally would.  I've been able to get on with day-to-day life with a couple of paracetamol and this nasal spray nearby quite happily!
You can buy Vicks First Defence here.
6.  Sheer Cover Refreshing Face Mist (£12.95) *

Since my run in with the Prai o2 Infusion I reviewed yesterday, my skin has been in dire need of TLC and the Sheer Cover Refreshing Face Mist has provided this well.  Once made up in the mornings, I obviously can't moisturise with normal creams and this refreshing spray gives my skin a hydration boost with a couple of squirts throughout the day.
It's alcohol-free and at 60ml is handbag-friendly.
You can buy Sheer Cover Refreshing Face Mist here. (Guthy Renker sells products through a 'membership' scheme and you may need to cancel your membership if you don't want automatic product topups every 90 days)
7.  Melvita Eye Contour Gel (£18.00) *

Organic brand Melvita failed to impress me first time round… I tried a particularly stinky oil that I just couldn't bring myself to use because of it's… um… aroma.  However, the Melvita Eye Contour Gel is a delight!
Incredibly lightweight and fast-absorbing, I've finally found an eye cream that I'm happy to wear under my makeup.  I've noticed a decrease in puffiness since incorporating this into my routine… not sure it does much for fine lines or dark circles but it feels wonderfully refreshing and lifting for bleary morning peepers!
You can buy Melvita Eye Contour Gel here.
.
What are you currently using and loving?
* press sample