Weekends were made for slovenliness – the respite before the manic new week ahead.  I use the time to treat my skin to a bit of makeup-free pampering, I also like to spoil the family with a treat or two…
Yesterday was all about the rhubarb!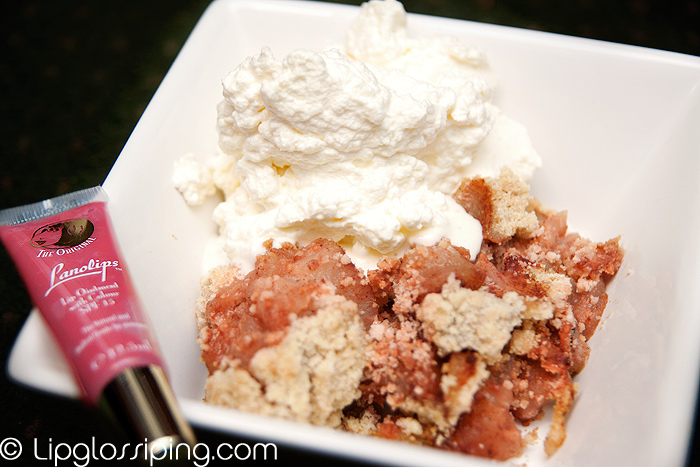 Seeing as I'm still on my diet (but getting there slowly!), I had to gaze at the crumble from a distance.  Check out the whipped cream/crumble ratio… that's how we roll around these here parts.
Not *quite* as delicious but tasty nonetheless is Lanolips Rhubarb Lip Ointment… a sheer, moisturising balm with a hint of colour and sparkle.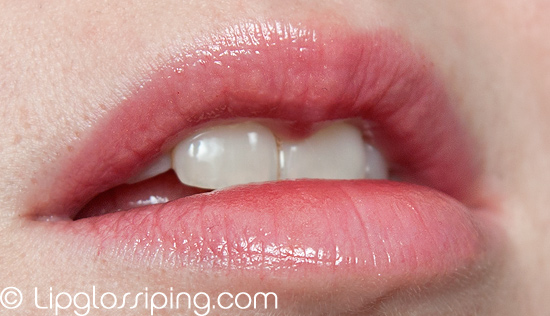 The more I'm getting into wearing strong lip colours, the less use I have for these sheer coloured tubes.  I apply my Lanolips 101 before bed at night anyway so don't need the daytime moisturisation these provide.  But if you're more of a natural lip girl, these are definitely worth checking out.
My favourites from the coloured range are: Rhubarb, Apples and Dark Honey but definitely check out Sunshine too if you like warmer colours.
[stextbox id="alert" caption="And for the crumble?" ccolor="ffffff" bcolor="b0c4de" bgcolor="e6e6fa" cbgcolor="b0c4de"]
♦ 1 large tin of rhubarb (unless fresh is in season!)
♦ Brown Sugar to taste depending on how tart you like it! (I use about 2 tbsp sprinkled over the rhubarb and 1 over the top of the crumble before baking)
♦ Ready made crumble topping (what? it *is* the weekend!)
♦ 1 tsp of ground cinammon
♦ 1 1/2 tsp of mixed spice
That's it!
Drain the rhubarb and lay in an ovenproof dish ♦ Add a sprinkle of brown sugar and the spices ♦ Cover with the crumble topping and press down to compact with your fingers (or back of a spoon if you're a hygiene freak!) ♦ Sprinkle the remaining brown sugar ontop and lightly scratch the surface with a fork to 'rough' it up a bit!
Put it in a pre-heated oven (200°c) for 40-45 minutes and pray to the Gods of crispiness that yours comes out with a crunchy top!
Serve with cream or custard… I nearly always use whipping cream just 'cos that's how my Nan done did it!
[/stextbox]
Lanolips Lip Ointment in Rhubarb with SPF15 is priced at £7.99 and available online from Victoria Health or instore at Boots.