Onwards and upwards with the Mother's Day gift guides! Yesterday we looked at some gift ideas for those of us on a budget but what if you've got a little more in the coffers for treating Mummy dearest?
Here's my pick of the best Mother's Day Gifts for £30 and under!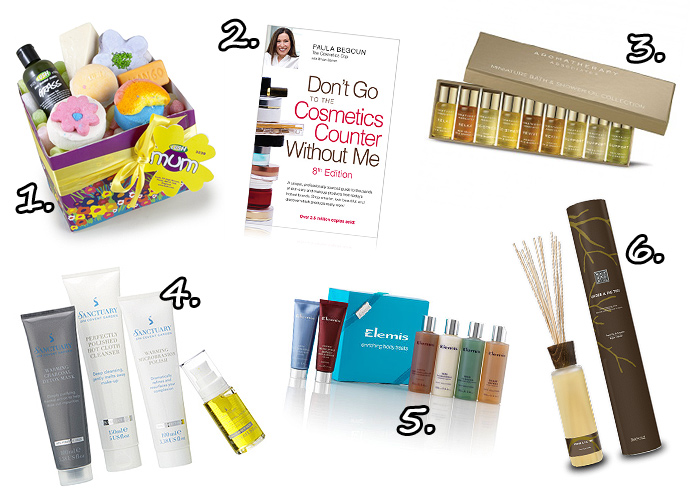 1. LUSH Mum Hatbox Set (£25.96)
Reusable hatbox full of luxuriously indulgent products for the industrious mums out there on Mother's Day.  They've earned it!  This extravagant Mother's Day gift box is brimming with joy for mums, containing everything she needs for bright spring days filled with flowers, fruit, rainbows, green grass, fluff and honey.

If your Mum is a bathing belle, this hatbox is full to the brim with lovely bath goodies.  The set contains: Grass shower gel, Pop in the Bath Bubble Bar, Dorothy Bubble Bar, Space Girl 'Mum Ballistic, Keep it Fluffy Ballistic, You've Been Mangoed Bath Melt and Sultana of Soap.  You're bound to come up smelling of roses with this gift choice!
2. Don't Go To The Cosmetics Counter Without Me – Paula Begoun (£18.75)
Paula Begoun is the most unique, respected, and controversial source of skin care and makeup analysis available.  In the 8th edition of Don't Go To The Cosmetics Counter Without Me you'll find out the benefits and failings of each product so you can easily shop for the best of the best-and get beautiful skin and makeup, regardless of your budget!
A perfect choice for Mum's who are a little intimidated by the wide choice of products available.  We can't always be there to guide them in their selections but this book would make a really good place to start if (like mine) your Mum is cultivating a blossoming affair with beauty!  Plus, you get a free Paula's Choice Surprise Sample Set with every book ordered.
3. Aromatherapy Associates Miniature Bath & Shower Oil Collection (£28.50)
The complete collection of Aromatherapy Associates bath & shower oils in miniature sizes.
Rapidly gaining cult status, Aromatherapy Associates deliver rich blends of scent-driven bath oils that promise to make every day that little bit more special.  Who says you need a spa to pamper?  With this miniature collection of oils you don't need to make the tough decision over which one to choose – have the best of both worlds!
4. Sanctuary Skincare Spa Heroes Kit (£20.00)
You might be spending a bit more but who says that you don't still want a bargain?  Wahanda have teamed up with The Sanctuary Spa to launch an unbeatable Mobdeal on its skincare products!
The set will contain: Radiance Boosting Facial Oil (30ml), Perfectly Polished Hot Cloth Cleanser (175ml), Warming Microbrasion Polish (100ml), and Warming Charcoal Detox Mask (100ml).
The deal is set to go live on Monday 28th March via this link.  So log on after midnight on the 28th to discover over 50% off a kit containing some real skincare treats.
5. Elemis Enriching Body Treats (£20.79)
A sensational selection of new and classic bodycare favourites in handy travel sizes, worth over £35!
The set contains: Wild Lavender Hand and Body Wash, Uplifting Sharp Shower and Bath Gel, Exotic Lime and Ginger Hand and Body Wash, Exotic Frangipani Monoi Bath and Shower Cream, Skin Nourishing Shower Cream, Skin Nourishing Hand and Body Lotion.
Nothing gets this Mum's heart racing faster than a bunch of Elemis treats and one of the things that this British brand excels at is putting together these value sets.  The Elemis Enriching Body Treats is perfect to take on Summer holidays or to the gym!  Your Mum would be the sweetest-smelling lady in the locker room!
6. Rituals Under A Fig Tree Fragrance Sticks* (£19.90)
Rituals are one brand that need a greater high street presence in the UK.  You can pick up products in John Lewis but I'd love to see more stand alone stores like their one in Westfield.  I love this reed diffuser which is described as a natural and stylish way of fragrancing your home.  They look stylish and deliver a long-lasting scent that makes an impression without overpowering.
* I received a set of these as a press sample.
.
Hope that gives you a little inspiration for lovely Mums everywhere, I'll be back tomorrow with the £30 – £50 range – get your purses credit cards ready for it!