A luxurious-looking lipstick with a heavy-weight gold case.  The Signature Hydra Lustre range looks a little retro but it's because of this rather than inspite of it… that it seems to ooze a touch of class.  In other words, I like to twirl the packaging… it makes me feel like a laydee.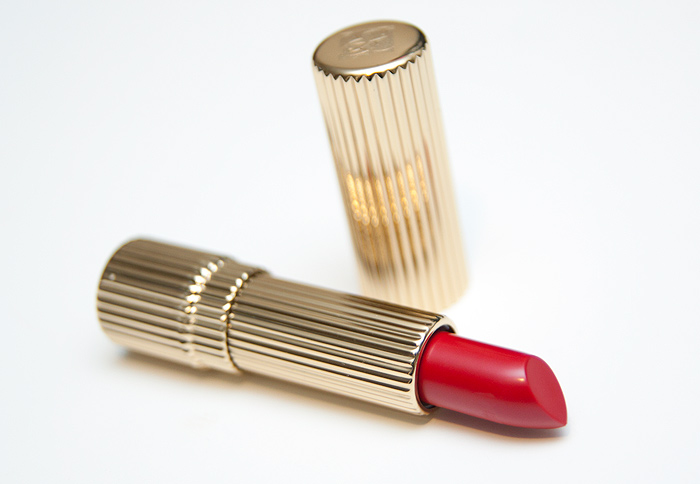 Scarlet* is a slightly pink-toned red which will make it a good choice for the warmer weather.  I don't know about you but the thought of wearing uber red lipstick in the Summer makes me feel a little uneasy, like I'm breaking some unwritten rules or something.
It's heavily scented, my nose detects fig… it's pleasant enough but may be off-putting for anyone delicate to scented products.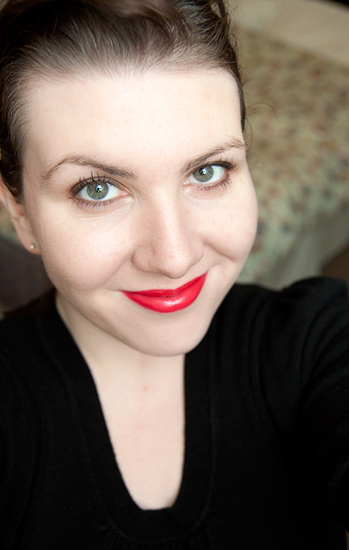 The formula is a delight, infact so much so – that I've already added a few other shades to my swatch list for next time I'm passing Debenhams.  I usually call a lipstick non-drying rather than moisturising… but this one almost edges into moisturisation territory as I can see it practically 'plumping out' the furrows in my lips rather than sinking into them.
I would really recommend checking out the Estee Lauder Signature range more closely if you suffer from dry lips.
So, you'd think that with such a lip-friendly lipstick, you'd get similar slip to something like the YSL Rouge Volupte right?  Wrong.  Scarlet applies well with no drag but I'd certainly not class it as 'glidey'.  It applies like a normal lustre lipstick and wears for a good 5 hours.
Pink reds aren't generally my favourite shade – so I'd deduct a couple of points for that, I'd recommend swatching on skin before buying incase the bullet colour is a little different to how it transfers.  Also, the swatches on the Estee Lauder website are not good.
Overall though, I'm really impressed, particularly with the formula which delivers everything it promises and then some more for good measure.
Estee Lauder Signature Lipstick in #62 Scarlet is available to buy online from their website, HouseOfFraser and Debenhams or on counter, priced at £18.00
* press sample