As far as high street brand cosmetic brushes go… I often fall back on my beloved Body Shop brushes so when I saw their foundation Kabuki brush in my local Body Shop, I knew I had to make it mine – especially after my recent positive experience with mineral makeup.  I'm not sure how long this brush has been available but I didn't see it last time I was in store.
Firstly, I need a little rant to say that the case it comes with is utter crap… seriously, Body Shop – why even bother with a case at all if it's as rubbish as this one?  You should be embarassed, I know I'm embarassed for you… It barely fits the brush and is like a slippery silicone-y rubbery type floppy thing that offers little to no protection at all in my makeup bag.
Look, I mean… what practical purpose is this supposed to serve in protecting your very beautiful Kabuki brush?

Anyway, onto the brush itself before I give myself a thrombosis…
So soft… I mean so, So, SO soft.  The synthetic bristles are densely packed and allow for a generous collection of product with a single swirl.  The bristles are fairly long and this makes for really easy application in harder to reach areas like along the side of the nose.  Since it's first use, it's shed about 4 bristles and that's it.  Even after a gentle wash, there was no additional shedding or bleeding.  I'm so impressed!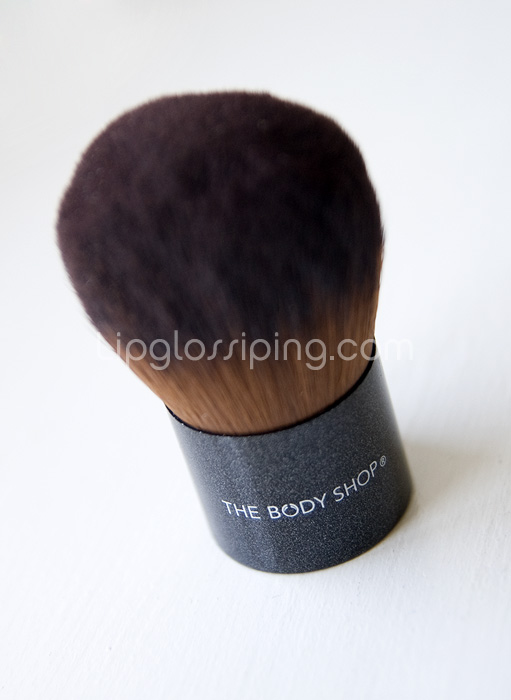 Hello lover!
Currently priced at £14.65 on The Body Shop's website – I'm really pleased with it (as I'm sure you have established by now!) But I shall definitely be on the hunt for a kabuki sized case to protect it – if anyone has any recommendations, please send them my way!
Here's another before/after (before on the left) – showing the same application as the other day of Elemental Beauty's Mineral Foundation in English Rose, however this time, applied after watching a couple of youtube instruction vids and The Body Shop Kabuki!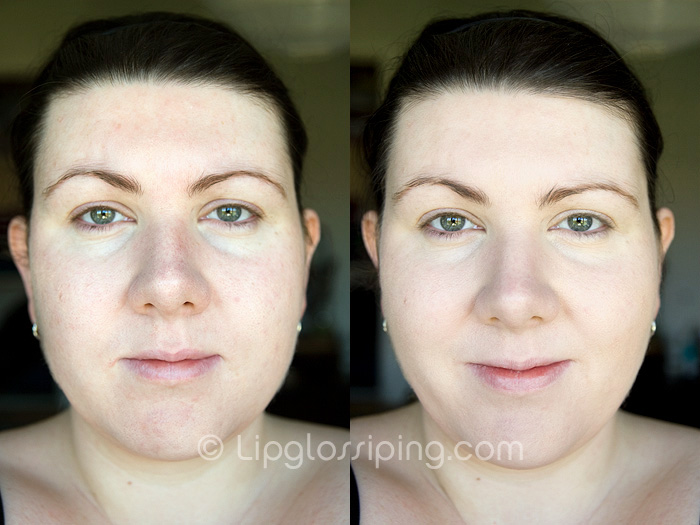 By George, I think she's got it!  Although someone needs to pin that poor lass down and give those eyebrows some shape.  And who's George anyway?
Oh, *psst* – by the way, that Baked Bronzer I got… the one by La Femme with all the pretty gold and white veining… load of pooh, really.  I can't get the product to show up on me.  It doesn't bronze, brighten or even highlight.  I was hoping for subtle, but existent would have been nice.  Perhaps a darker shade would be more evident, but my opinion of it is so… *meh*… that I can't be arsed to order another.
Flitting back to The Body Shop Nature's Minerals Foundation Brush… (what a mouthful)… I'm giving it a 4.5/5 – it would be higher but that case niggles.  So there.
'Till next time…
[starreview]