I've been away!  Did you miss me?  Of course not, because you were kept in extremely good company thanks to my brilliant guest bloggers last week.  In-case you missed their posts you can catch up by clicking through to: Amrita, Robyn, Lily and Liloo.
Anyway, I'm back!  Although, it's not with the vengeance I would have liked.  Leila has been hit with a mega-cold on-top of a poorly chest so we've been sleeping upright at night which as it turns out, doesn't actually involve much sleeping at all.
Other than that, I have been dodging the piles of emails that amass whenever I turn my back for a second, trying to get unpacked and look after other work (you know, the proper stuff that pays the bills).  What I'm trying to say, in a really convoluted way is this…
Here, please have a look at my holiday photos instead of a proper beauty post.  I'll get things back on an even keel before the week is through!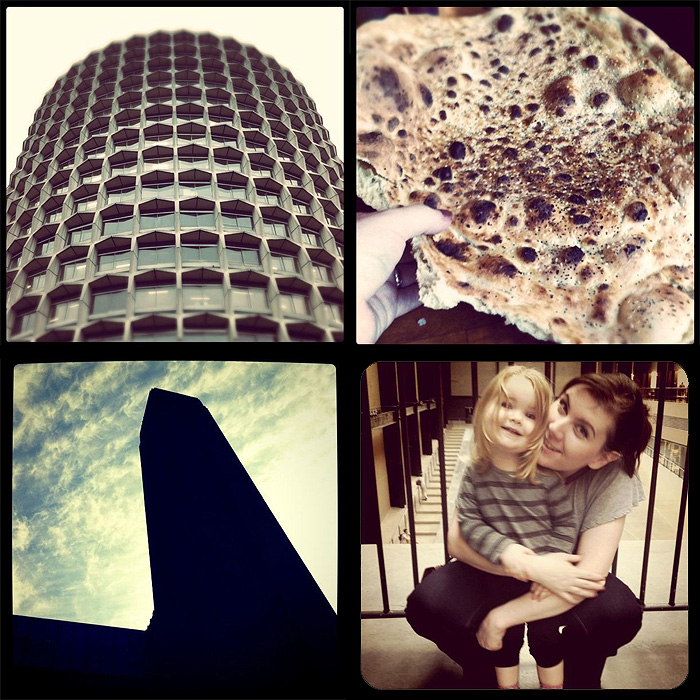 Clockwise from Top Left:
1 Kemble Street (a.k.a Space House) – I love the architecture when walking around London.  From impressive Victorian terraces to stately granite-clad frontages.  Futuristic glass walled skyscrapers to concrete, Brutalist obelisks.  The landscape is rich and varied!
Flatbread at Patogh Edgware Road – Just off Edgware Road is a tiny blink-and-you'll-miss-it Persian place called Patogh.  It has about 7 tables in total and if you wanna get in, you better get in early.  If you do, you'll be treated to heavenly sesame-seed dusted flatbreads and minced lamb kebabs to make your mouth water.  We paid £16 all in and walked out with full bellies.
Tate Modern Chimney – I'd like to pretend that I'm all cultured and stuff but I'm really not.  I walk around the Tate Modern as a child might, devouring the cool stuff and not bothering to 'understand' anything.  Still, I love the building.
Leila and Me in the Turbine Hall at Tate Modern – We were contemplating where we could go for cake/ice cream/chocolate – or all of the above.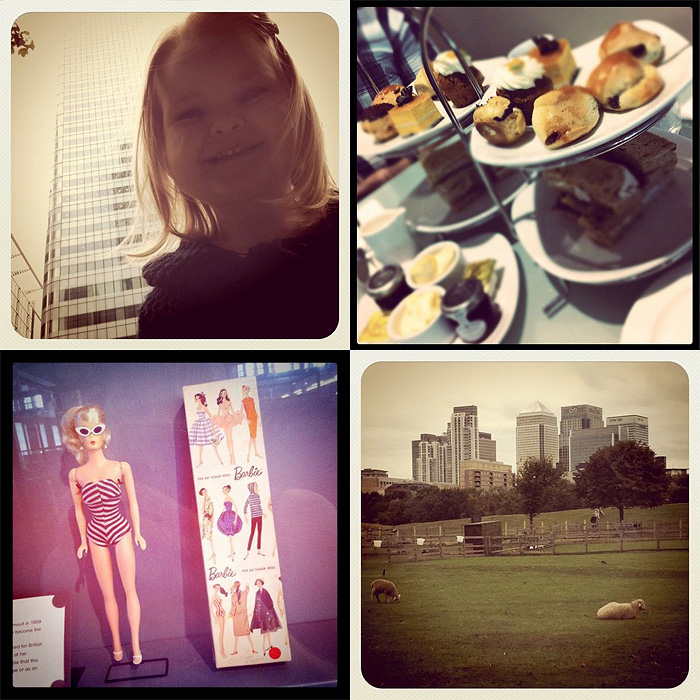 Clockwise from Top Left:
Leila and the Mega Towers – At Canary Wharf, they're kinda piddly towers compared to other cities across the globe but they're still pretty impressive to look up at from street level.  I like Canary Wharf, I like to sit and watch everyone doing busy stuff while I have nothing in the world to do but watch.
Bargainista Afternoon Tea – We didn't plan to stop for a proper Afternoon Tea and many would be horrified that I even dare call this an Afternoon Tea but tough.  The John Lewis Bistro on the 3rd Floor of the store in Oxford St does a fine spread for less than £10 each.  Attentive service, relaxed surroundings and you barely need to leave the beauty hall.  Good stuff.
Back when Barbie was Cool – At the Museum of Childhood in Bethnal Green, I discovered a super-cool Barbie.  Still impossibly well-endowed, she can work those cat eyes sunnies better than most.
Mudchute Farm – Bang in the middle of the Isle of Dogs, overshadowed by the towers of Canary Wharf is an Urban Farm project.  They have giant pigs that made me rethink my love for bacon, sheep that looked just a tiny bit mutated (perhaps from all those inner city fumes) and a petting corner that included ferrets!  A wonderful green lung in the middle of the city.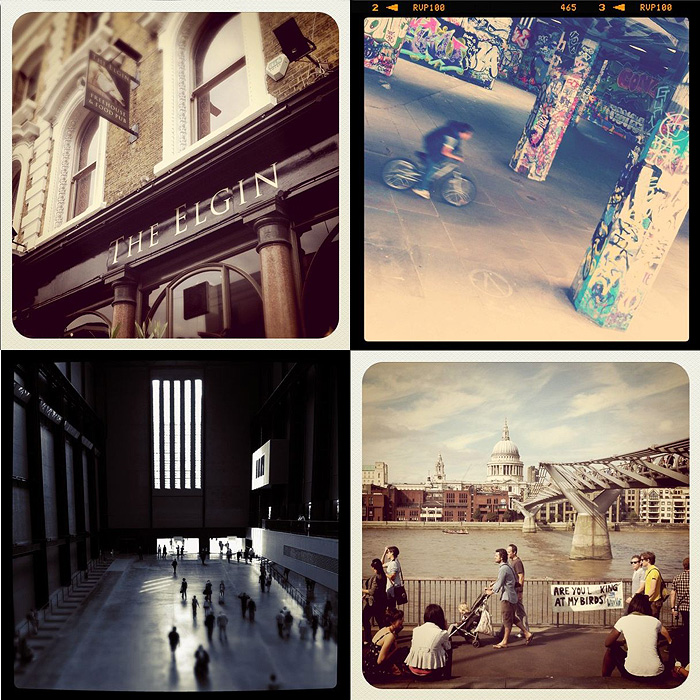 Clockwise from Top Left:
The Elgin in Ladbroke Grove – If you are/have ever been a Clash fan, this establishment will mean something to you – if not, it's just a pub in West London that used to play frequent host to the greatest front-man ever.
Ghost-rider at South Bank Skate Park – I can never walk past this place without slowing down to see if anyone falls off their bike or skate board.  I was treated to a spectacular tumble on Saturday which had the gathered crowds "ooooohing" before a big cheer when the rider jumped up with a wave!
Turbine Hall at Tate Modern – Despite the hustle and bustle, this is such a peaceful place… a huge expanse that plays host to frequent exhibitions.  I remember a few years back, they installed a giant slide… too. much. fun.  Sadly, it was a little sparse when we visited.
Millennium Bridge/St. Pauls – The juxtaposition of the old and the new is around every corner.  Don't they sit comfortably together?  I love this view.
.
Well, now I've given myself the post-holiday blues! Sigh. I've got a couple of days away to Brighton coming later in the month so I'll just focus on that instead.  I hope you all had lovely weekends – down with Monday mornings!