I went on a bit of a Zoya splurge a few weeks ago, admittedly… it was a small one.  Those lovely people at customs and excise weren't gonna get me.  Not that I object to paying my duty, I just object to Royal Mail's hostage handling fee.
Grumbles aside, I was pleased to receive my little Zoya beauties and I'm looking forward to showing them.  It's an expensive brand to buy in the UK and not one too readily available from sellers I trust on eBay either.  Shipping was quite slow (about 3 weeks), I'll keep looking for a supplier I like for these I think.  In the meantime, meet Yara from Zoya's Fall Smoke & Mirrors Collection.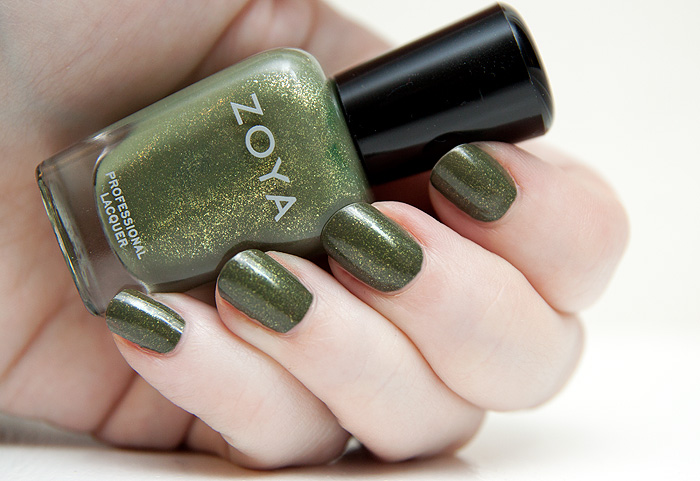 Ain't she purdy?
Yara is an olive green with distinct leanings toward army greens.  The gold sparkles thankfully don't get hidden too well in the depths of the murk and shine through beautifully!
I don't wear too many greens but I'm delighted to include this one in my collection.  Texture was great on this, I was done in two coats.
Zoya Yara is available to buy online in the UK from NailCareClub and is priced at £9.98 not inc. postage of £3.50.  I paid £6.50 inc. postage from eBay U.S.  Yeah.  I'll stick with eBay thanks.
EDIT: It's also here for £7.99 w/free shipping.