If you're here for a beauty review today, I'm afraid you're gonna be a bit disappointed. As I write this, it's 01:39am and I promised my husband that I wouldn't be late to bed tonight. I didn't even have my fingers crossed when I made that promise but still, time has once again, caught up with me.
Time is a particularly precious commodity at the moment and I can only see it getting more stretched over the next month or so. You see, at the ripe old age of 30 – I've finally flown the nest. As a family, we've very comfortably shared living space with my Mum and Dad for the last ten years. I know it's a bit taboo and even a bit "weird"… but it's a situation that has been more harmonious than most would imagine (sometimes!)
Yesterday we signed the tenancy agreement on a new flat and to say I'm bricking it, is an understatement. I wish I still had the bravado that doing this kind of thing when you're young(er) supplies but alas, I'm just a big wimp if I'm honest.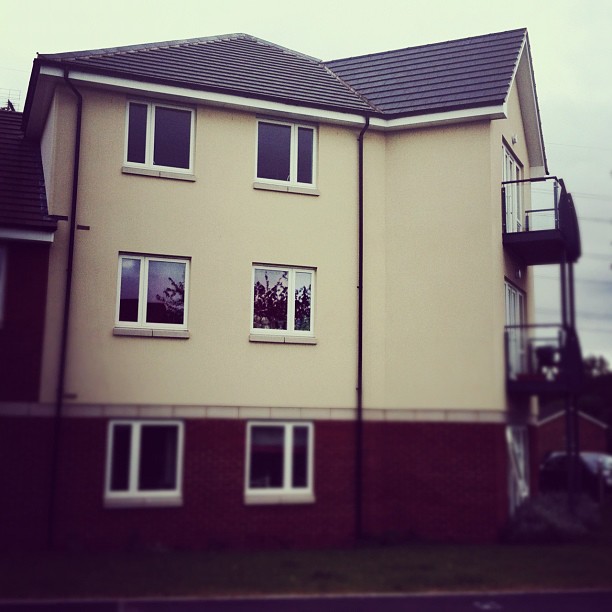 top floor – if it ever stops raining, we might enjoy the balcony
 Now that the excitement of having a place to call our own has died down a little, I'm overwhelmed. There's a lot to be done and the previous tenants have left the flat with filthy carpets, about a billion broken "little" things, and a slightly funny smell. Aside from the cupboards, the kitchen is completely empty and all the windows are naked. I had NO IDEA that curtain poles were so expensive!  We're starting from scratch with nothing more than our clothes and computers to call our own (oh, and makeup – I have some of that too).  Hold me, I'm scared!
If you have any tips on reviving a plush-but-horribly-mistreated carpet, I'm all ears!  Is it worth getting it cleaned professionally?
I sound like a huge moaner. (I am). I'm not – I'm tremendously keen to live out my long-held fantasies of playing house but I'm not afraid to admit that I just have no idea where to start.
And so I apologise, because where there should have been a fantabulous post on beauty this afternoon – all I can really do is stare blankly at the IKEA homepage and wonder what the hell we've got ourselves into.
Thanks for listening, I needed that.  I promise to man-up ASAP.