Whoo?  Whooga!
Whooga are widely considered to be one of the fastest-growing Ugg boot brands – thanks in no small part to their competitive pricing and quality materials.  I took delivery of a pair of their (now discontinued) weave style Ugg boots a couple of months ago.  I have to say that I'm not a massive fan of Ugg styling in general and I was curious to see if my sensibilities would fare better with a weave style boot and whether or not these boots would actually live up to some of the hype surrounding them from independent reviewers.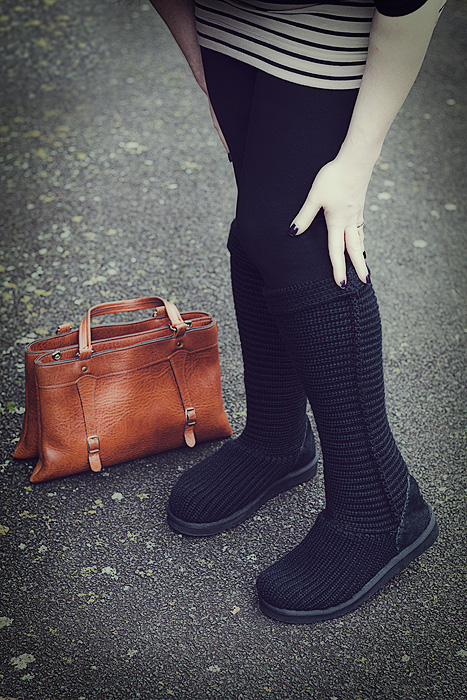 Delivery
Firstly, the brand need to work on some packaging issues.  My box arrived so badly tattered that I couldn't store the boots in them.  If I had been giving them as a gift, they would have been an instant return for this reason.  I have read other reports of Whooga boots arriving in bashed packaging and of course, Royal Mail need to take some blame for this but I believe that a double layer of bubble-wrap would go a long way to protecting the corners of the box against this problem.
On the flip-side, I can't fault the speed of delivery and we all know that when we buy something online, we want it like, yesterday!
First Impressions
When you first take them out of the box, they have a distinctive smell of glue.  It's really a little off-putting and ultimately, it makes them smell quite cheap.  Chinese factory cheap.  You know what I'm saying.
Leave them in a place to air for a couple of days and this smell thankfully disperses.
A thorough inspection of all the seams, joins and nooks and crannies reveals no obvious manufacturing flaws, everything is in sound condition and neatly stitched/glued/constructed.
I have an EU size 40 and I'm a UK 6.5 – these are sadly slightly too big.  Definitely go for a size down.  No arguments.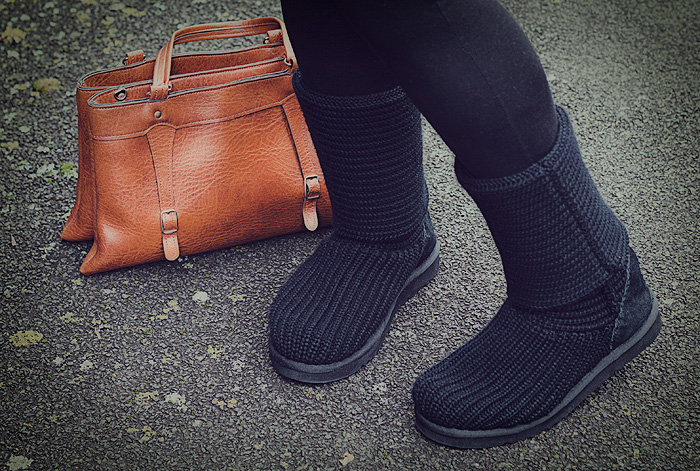 Breaking Them In
As a virgin Ugg boot wearer, I really wasn't sure how I would fare with these on my feet.  They are indecently snug and haven't left my feet since the weather changed for the colder on Saturday but I will be buying a pair of quality sheepskin insoles to put in them because I feel the foot-bed is a little hard.  This may also help solve the sizing issue.
The knitted weave styling is more to my taste and I feel works far better with dresses than the usual Ugg style but I won't elaborate too much on this, seeing as they're sadly no longer available to purchase.  I will say however that these really hug my calves beautifully (when pulled up) with no sagging or over-stretching and I feel that this is testament to the quality of the manufacturing.
Ultimately, get your sizing right and I believe that for the price, these Ugg boots from Whooga would be difficult to beat.  Other than a slightly hard foot-bed and a bashed box, I can't actually pick fault with them – they feel well-supported and solidly-constructed with quality, authentic materials.
Ugg Boots by Whooga are available to buy online from www.whooga-boots.co.uk – prices start from £75.00
* press sample