Following on from the Summer success that was Estee Lauder's Illuminating Powder Gelee with it's "tribrid" Prisma Shine™ technology, the brand have created a collection of six new eye-shadows that make use of this all-in-one liquid, powder and gel texture.
"A lot of drama on the eyes creates sensuality, a sexiness. Smokey eyes are sexy and playful and I wanted to give women different ways to wear the look, anytime."  Tom Pecheux, Creative Makeup Director, Estée Lauder
The unusual formula strives to create an eyeshadow that applies as smoothly as a cream, gives a molten metal-esque gel shine whilst wearing like a powder.  Having played with the collection over Christmas, I don't feel the creaminess in the formula quite as I did in the Illuminating Powder Gelee but the bounce and soft texture are equal to the brand's previous creation.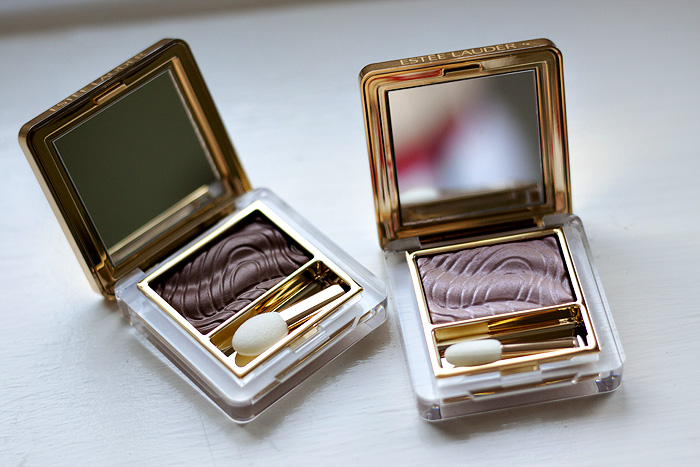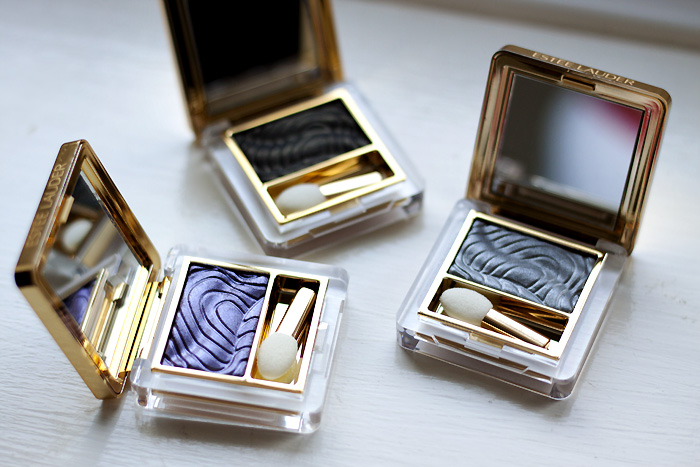 The six shades available in the limited edition Pure Color Gelée Powder EyeShadow (£19) range are:
Cyber Copper; Cyber Pink; Cyber Lilac; Cyber Silver; Cyber Green; and Cyber Teal (not shown).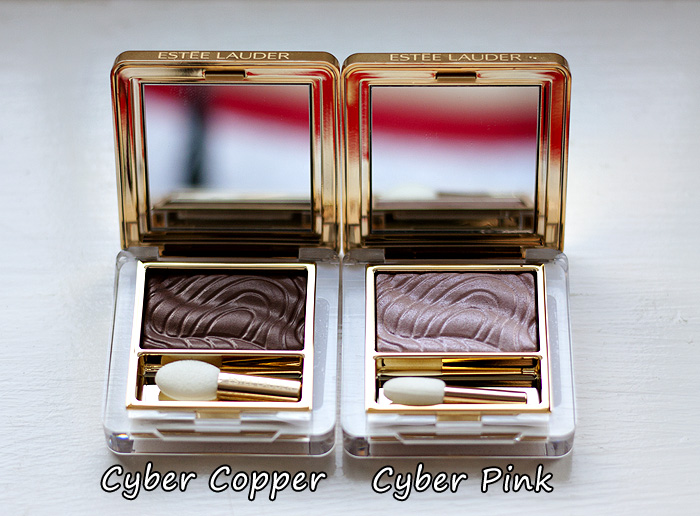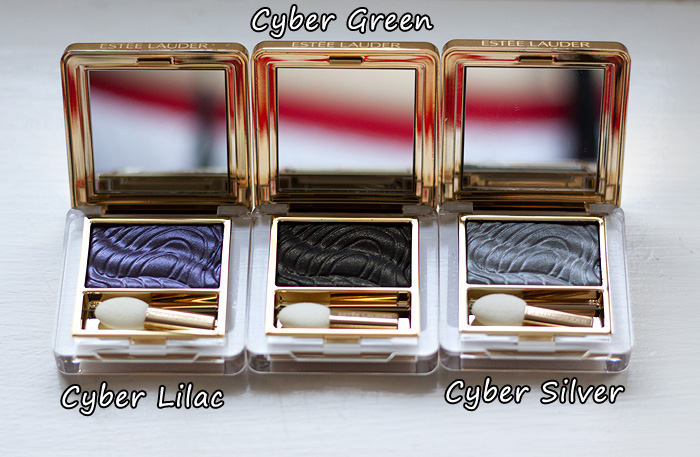 Designed to be applied with both a dry and a wet brush, I've swatched them all on bare skin to show the difference between the two types of application.  With some shades, the difference is extremely noticeable as the metallic shine amps up to extraordinary proportions!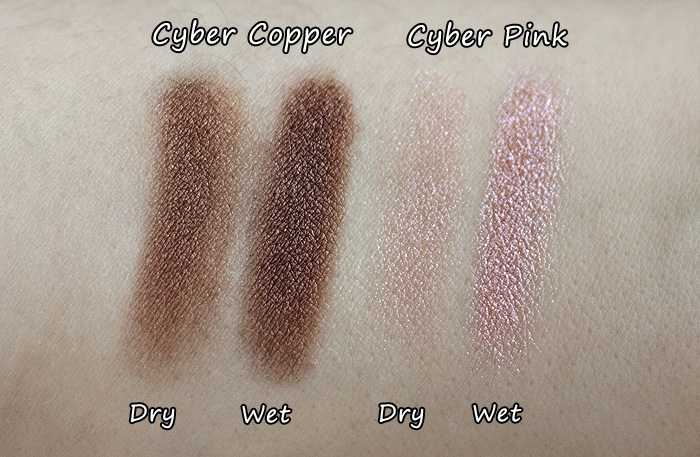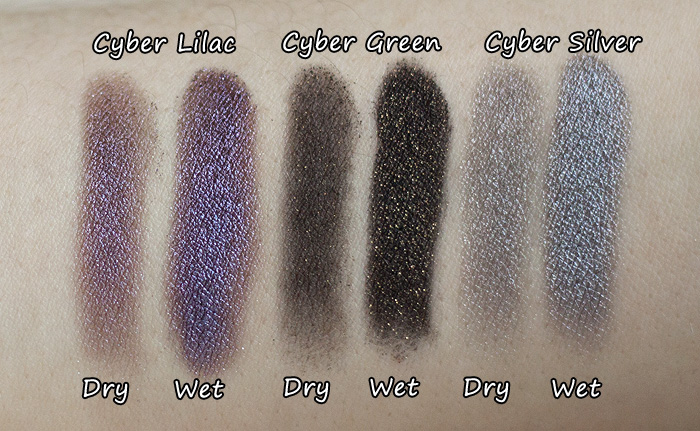 A few points to note about the shades…
Cyber Copper is the "brown" in the set, a great crease colour that is unlikely to let you down.  Should work particularly well with blue/green eyes thanks to the underlying warm, copper tones.
Cyber Pink is best used as a highlight shade, on my pale skin it blends out a crease colour nicely without adding too much glitz when used dry.  Also works beautifully tapped beside the tear ducts with a wet brush for some super sparkle.
Cyber Lilac is one of the most versatile shades in the collection.  Used dry, it is beautiful swiped over a standard taupey-brown crease colour, adding a real 3rd dimension to the proceedings.  Wet, well… it's simply a stunning metallic purple.
Cyber Green is, in my opinion, the must-have in the collection, though hardly 'green' — this is a black with antique-gold sparkles that positively shine when applied with a damp brush.
Cyber Silver is a more wearable alternative to standard silver being less glitzy or obviously metallic than other silver eyeshadows in my collection.  I like to wear this dry, layered over another shade to give greater dimension.
All shades blend smoothly, particularly when applied dry.  My favourite method of application is to apply the shadow dry with a brush before wetting the foam applicator and reapplying in areas I'd like to build greater intensity.  Despite the all-singing, all-dancing formula, I'm not sure that colour-wise they really offer anything hugely new BUT (and this is a big but), I haven't achieved such longevity from an eyeshadow ever.  These babies wear like nothing else, all day long with no fading or creasing.  For reals.
Cyber Lilac and Cyber Green are my top picks.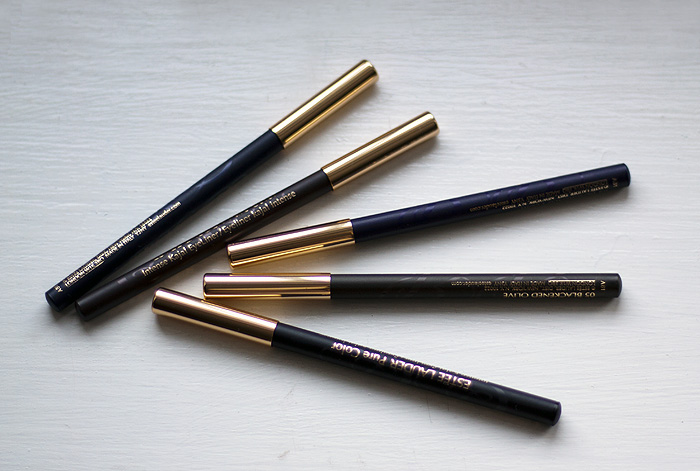 Also included in the collection are six new Pure Color Intense Kajal Eye Liners (£16) in shades:
Blackened Black (01); Blackened Cocoa (02); Blackened Plum (03); Blackened Sapphire (04); Blackened Olive (05); and Electric Teal (not shown).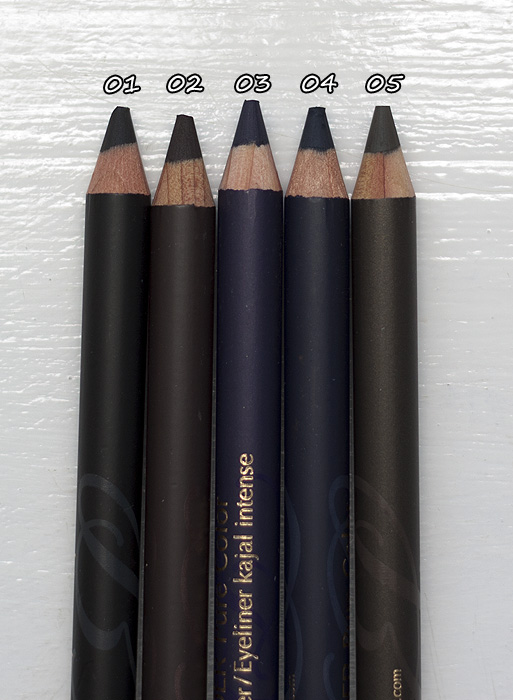 Described as containing 70% pure pigments that can be used on the inner or outer rim, I've found them to share the same long-lasting qualities as the eye shadows.  Wear is particularly impressive on the inner rim where the colour fades but doesn't run or disappear completely.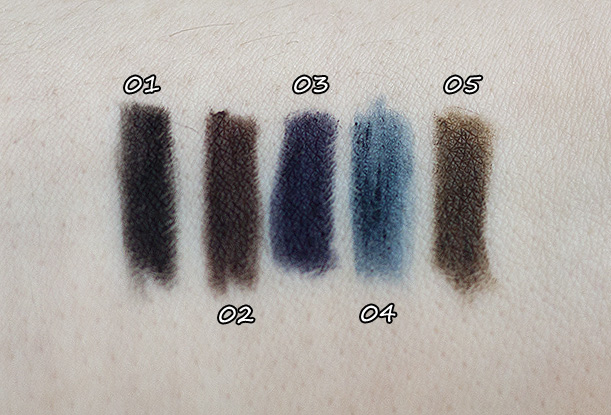 From the shades shown above, only 05 (Blackened Olive) is a limited edition shade, the rest will make their way to the permanent line.  I found 04 (Blackened Sapphire) to be much harder in texture than the rest and was the only one to need warming-up prior to application.  You can see from the swatch that there is a bit of skipping in the application and from the set, it would be the one I wouldn't recommend.
05 (Blackened Olive) and 02 (Blackened Cocoa) are my top picks.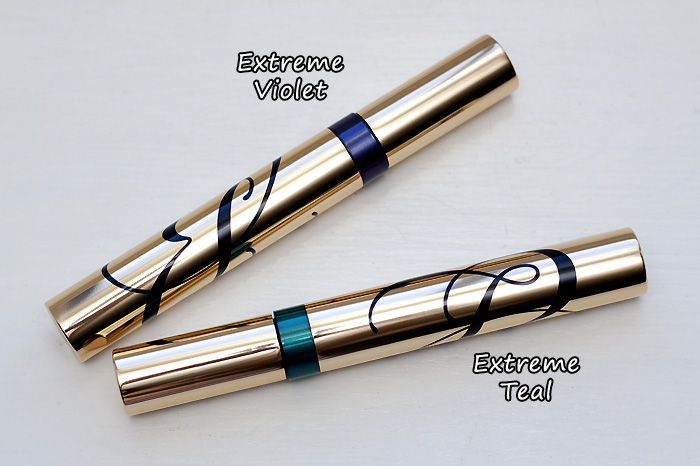 For a 'mini' collection, it's not particularly compact and as a huge fan of Estee Lauder's Sumptuous Colour mascaras, I am delighted to see the inclusion of three new Sumptuous Extreme Lash Multiplying Volume Mascaras (£22) in shades:
Extreme Teal; Extreme Violet; and Extreme Copper (not shown).
All of the coloured mascaras in the Cyber Eyes Collection are sadly limited edition and if you've never tried a coloured mascara before, I recommend that this is the place you start.  Estee Lauder's coloured mascaras never make sacrifices on quality of product for the sake of injecting some fancy colour into the formula and the new shades that I have infront of me are both beautiful.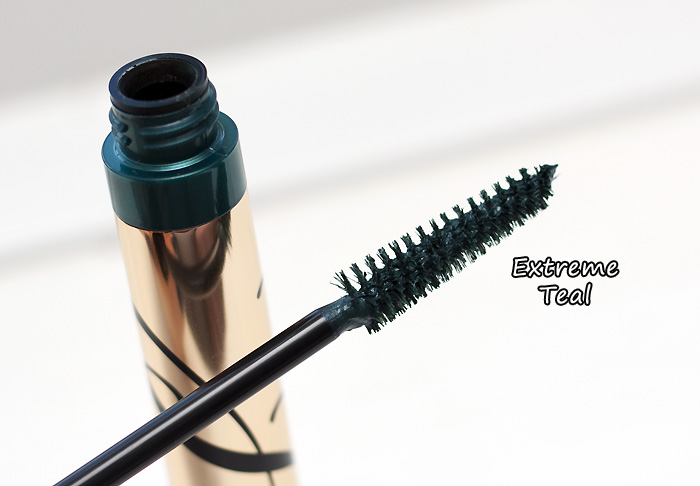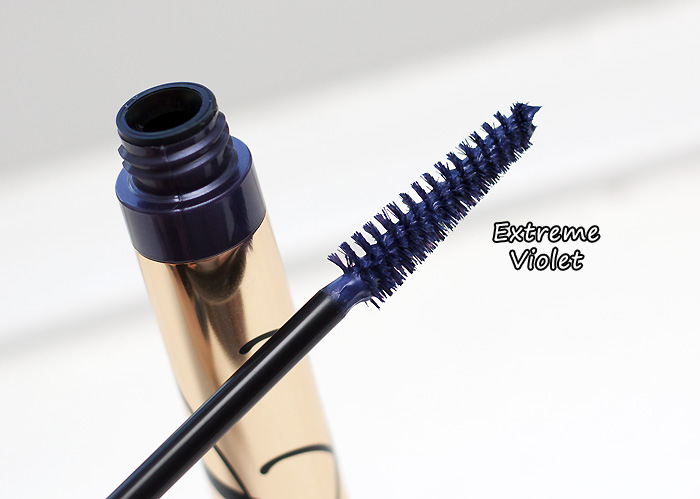 You walk a fine line with coloured mascaras, it's easy to over-egg the effect with high street options and look like you've stepped off the set of Dynasty.  These are understated but have enough welly behind them to make people take a second glance!  Such a fun way to complete a look.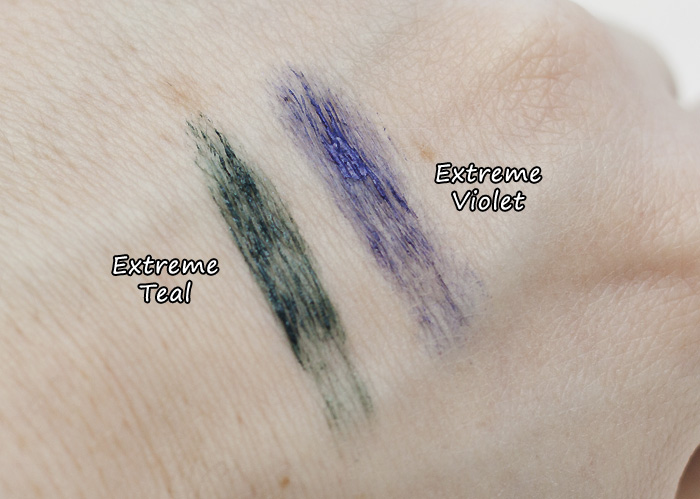 I put together a FOTD with some of the products.  The light was fading quickly so you'll have to excuse the graininess in some of the pictures.
I'll list the products used at the end.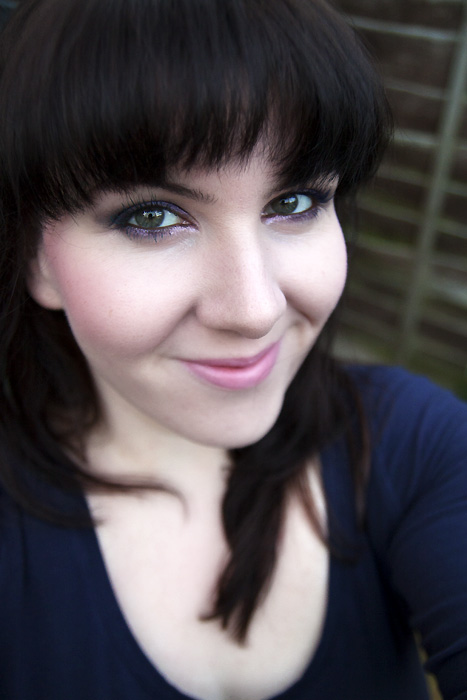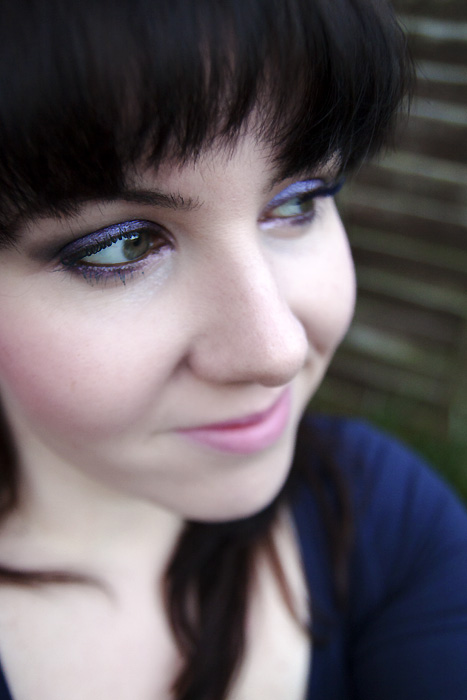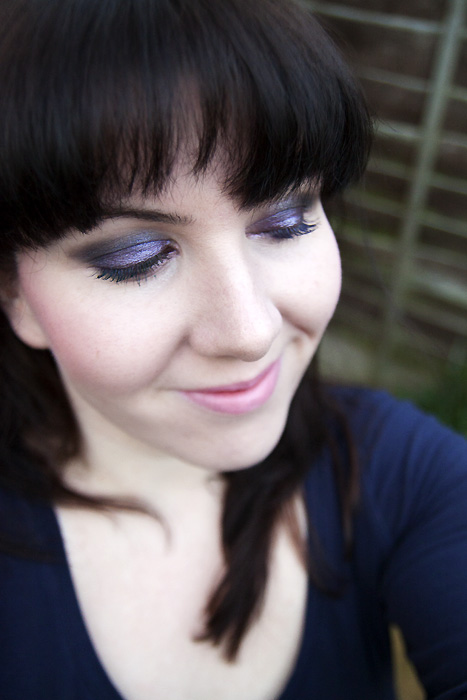 Cyber Lilac on the lids (used dry, then reapplied wet on the lid (with sponge) once the crease colour was in place)
Cyber Green in the crease (dry)
Cyber Lilac under the eyes (wet, with a precision brush)
Cyber Pink in the inner corner to highlight (wet, with a precision brush)
Blackened Olive to line the inner rims (both top and bottom).
For the purposes of a useful FOTD, I applied a single coat of both shades of mascara, you can see in the closeup photo which eye shows which mascara!
The NEW Pure Color Cyber Eyes Collection* is available at Estée Lauder counters nationwide and online at www.esteelauder.co.uk
Are you lemming anything from this collection?  Already made your purchases?!
* press sample