In a list devoid of MPs, philanthropists, and celebrities – I bring you 12 products that have impressed me beyond my expectations over the past 12 months. This wasn't easy to compile. Infact, it was so hard that it's now nearly February and I've only just published it.
Some were a given from the moment I used them (Avon Mega Impact Eye Liner), some were growers (Elemis Cellutox Active Body Oil), but all of them have left a real impression for achieving what their claims suggest and let's face it, that's what out beauty-loving hearts desire most.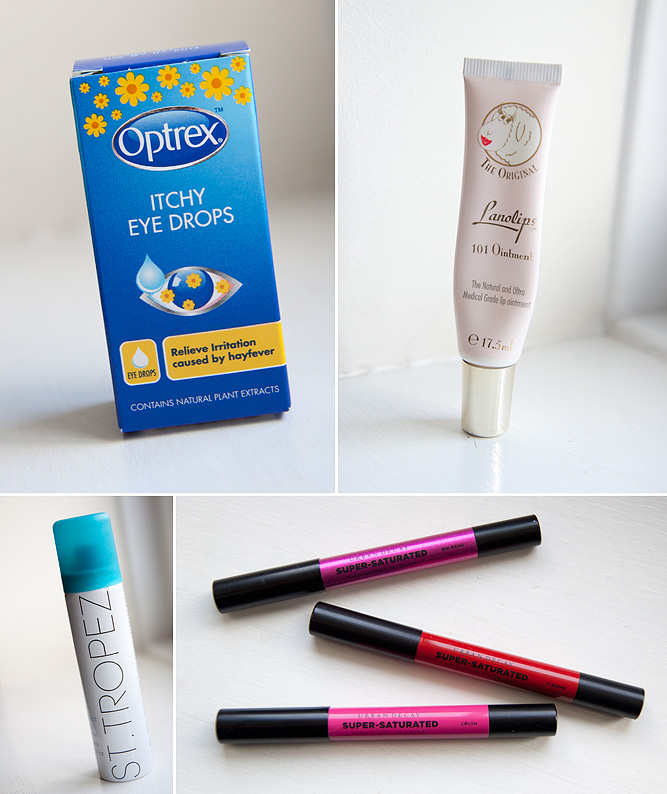 Optrex Itchy/Allergy Eye Drops  |  Lanolips 101 Ointment  |  St. Tropez Perfect Legs Spray  |  Urban Decay Super-Saturated High Gloss Lip Colors
Optrex make eye drops for seemingly every occassion and their Optrex Itchy Eye Drops have saved my poor peepers numerous times throughout the year.  I actually prefer their Optrex Allergy Eyes formula for the Summer months when my eyes are really suffering but I find them quite hard to get hold of (it's over the counter stuff) and so pharmacists always offer me the Optrex Itchy Eye Drops instead.  To be fair, they both work but nothing soothes the feeling of wanting to wash your eyeballs under a running tap (and swill your eye sockets out while you're at it) faster or more effectively than the Optrex Allergy Eyes formula.
Another product that goes beyond the pretty to simply make my life more comfortable is Lanolips 101 Ointment.  This nourishing, thick balm is as much a part of my nightly routine as washing my face or repeatedly checking Twitter on my phone after turning off my computer.  It's simple existence means that my lips never peel or crack, as used to be the case throughout the winter months and if I like a new lipstick, I buy it based on how much I like the shade without caring about how drying the formula may prove to be.
My milk-bottle legs are anticipating the return of the warmer weather with a renewed vigour thanks to St. Tropez Perfect Legs Spray.  I'm surprising myself by including a tanning product in my honours list – I really don't care much about being tanned… but, this product surpassed all expectations of turning my blue-tinged pins into something that I wouldn't mind showing off when the sun finally peeks out from behind the UK's perpetual blanket of cloud cover.
As much as the U.S. brand have released some stonking palettes this year, it's these Urban Decay Super-Saturated High Gloss Lip Colors that have been ticking all the right boxes for me this year.  They pack a supreme punch of colour, offer maximum convenience and last well throughout the day.  The shades I own are all searingly bright and obnoxious, just the way I've been liking my lip shades this year.  These are real beauties and I can't wait to see if Urban Decay add to the lineup in 2012.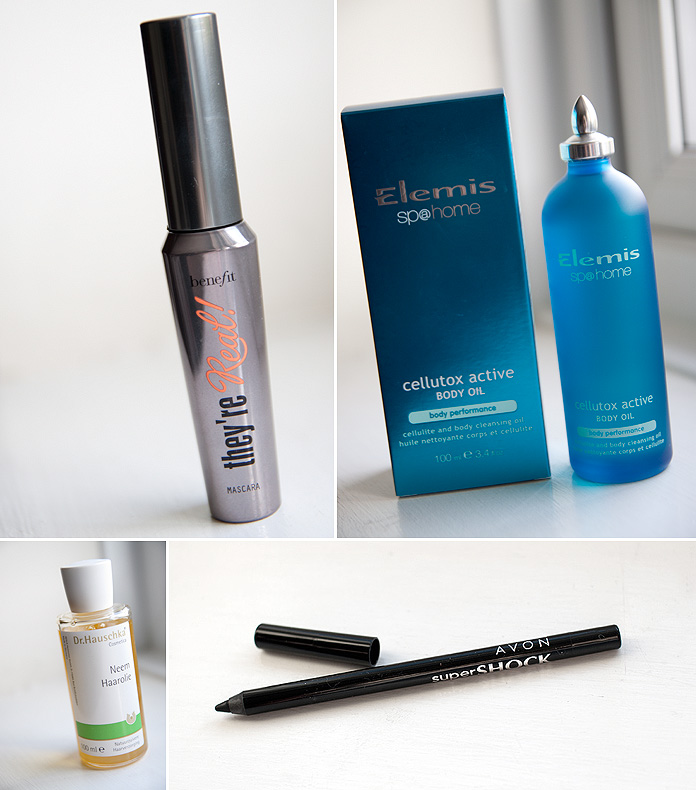 Benefit They're Real Mascara  |  Elemis Cellutox Active Body Oil  |  Dr. Hauschka Neem Hair Oil  |  Avon Mega Impact Eye Liner
An everyday staple achieves its status by being dependable, consistent, and easy to use.  Benefit's They're Real Mascara has been my go-to mascara since its release last August.  It extends and volumises my lashes with an inky formula and doesn't let me down by smudging or flaking throughout the day.  Once it's time for bed – it doesn't give my cleansing oil any arguments and I'm still enjoying the same, usable formula from the original tube that I was given all those months ago.  It's a solid but impressive addition to my makeup bag.
2011 has been a year of weight loss (and gain, and loss again) for me.  I knew from the start that I'd be putting my skin through the mill on my quest for a less flabby existence and I've been using various body oils with my cellulite massager in an attempt to keep my skin elastic, supple and unblemished.  While they all did a good job at moisturising, I wasn't sure that they were achieving much more than this until I began to use Elemis Cellutox Active Body Oil toward the end of last year.  Aside from it smelling as delicious as you'd expect from the British brand, I've noticed a marked improvement in skin-tone, texture and dare I say it… cellulite.
Another major concern over the past year has been the constant flare-ups that have turned my scalp into an itching, flaking mess.  I would start a new shampoo, only to be forced into discontinuing its use a month later.  I tried SLS-free which seemed to improve things for a while, though still didn't eradicate the problem completely.  I've been using Dr. Hauschka's Neem Hair Oil (non-stinky) for a few months now and have so far, touch wood, not had a flare-up that's been severe enough to cause any real misery.  I also find the oil effective at soothing any persistent itches alongside a welcome side-effect of improving the condition of my dry hair.
If I could only choose one, my product of the year would go to Avon's Mega Impact Eye Liner for being outrageously awesome at such a reasonable price.  The blacker-than-black formula applies as smoothly as a gel with no tugging along the delicate waterline.  Give it a few moments to set and you'll be treated to a full day of hard-wearing, sultry lashlines that resist smudging and transfer like real troopers.  They have a new metallic shade coming out for Spring, look out for it!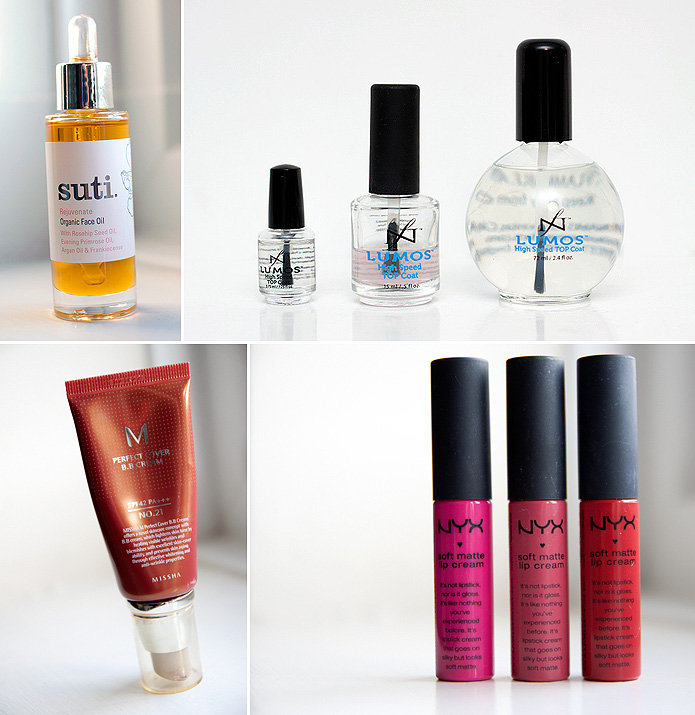 Suti Rejuvenate Organic Facial Oil  |  Lumos High Speed Top Coat (try eBay if you're not a pro)  |  Missha M Perfect Cover B.B Cream  |  NYX Soft Matte Lip Cream
I've always loved facial oils but have only recently discovered the true extent of their capabilities.  Suti's Rejuvenate Organic Facial Oil is a wondrous concoction that seamlessly melts into my skin to give an instant glow on those days when my complexion is feeling particularly dull and drained by the cold weather.  Perhaps even more enlightening is the oil's ability to turn a dud foundation into a keeper.  I've been adding a few drops (during application) to foundations that I consider dry-skin unfriendly and have been amazed at Suti's ability to make the formula more compatible to my winter skin.  Lots of money saved thanks to this one!
So good do I consider the Lumos High Speed Top Coat, that I've bought the entire family!  From salon-sized down to purse-friendly bottles, they speed-dry my nail polish without causing shrinkage or becoming a thick, unusable mess in the bottle before I've reached the halfway mark.  The Lumos System also encourages you to use the High Impact Bottom Coat to achieve maximum results and longevity from your manicures but as someone who doesn't generally suffer from polish chips, I'm happy to report that for me, it works as well with or without.
2011 was the year that B.B Creams hit the Western world with a vengeance and some bandwagon-jumping efforts from the major cosmetic players have left consumers wondering if there's any difference between B.B Creams and Tinted Moisturisers with added SPF.  If you want to try a true B.B. Cream without the big-budget advertising hype – I can't recommend the Missha M Perfect Cover B.B Cream highly enough.  It evens my skin-tone, gives serious sun protection, and calms my redness-prone skin in an instant.
I get annoyed with the NYX Cosmetics incarnation in the UK but if there's one thing worth picking up, it's the NYX Soft Matte Lip Creams that come in a variety of shades and offer easy application, good coverage, and long-lasting colour without causing unbearable dryness or discomfort.  Remembering that these are (to be fair) matte formulas, it's a great option for those who wince at the thought of dragging a hard-textured matte lipstick across their lips.  There are some awesome lip-popping shades to choose from too!
.
So there we have my New Year Honours List – a little late, but what's half a month between friends?  Do you agree with any of my choices?  What would you have included in yours?
* the selection includes a mixture of press samples, repurchases from what were originally press samples and my own discoveries/purchases.