You know, this eating vegetables thing isn't so bad.  I've discovered that bean sprouts are pretty awesome, I've learnt that salad needs some kind of dressing or it's not going in my mouth, and I've discovered that mushrooms sort of taste like meat if you pretend really hard.  But seriously, except for my slightly dried-out sprouts, it's been a lot easier than I imagined.
Here's days 5 and 6 to tempt your tastebuds:
Day 5: Spring Greens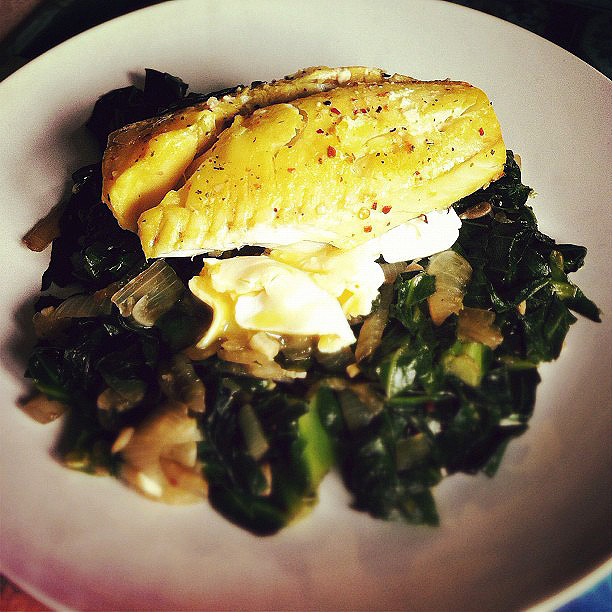 Smoked haddock with sliced greens and poached egg – 340kcal
I knew that I was gonna need something to match the strong flavour in the greens, so I went with a fillet of smoked haddock to bolster the flavours and keep things relatively balanced.
1 fillet of Smoked Haddock
125g British Sliced Greens
1/2 an Onion
2 Cloves of Garlic
1kcal Cooking Spray
1 Chicken Oxo Cube
1tbsp White Wine Vinegar
3 twists of chilli flakes
1 Egg
10g Sunflower Seeds
Place the fish on a piece of tin foil and grind/sprinkle with some chilli flakes, drizzle a tablespoon of white wine vinegar ontop and wrap the foil loosely into a parcel around the fish.  Oven cook at 180 degrees (fan) for around 18 minutes.  Make up the chicken stock as per the instructions on the Oxo packet and saute the chopped onion, greens, and garlic in a pan, with the stock until cooked.  Keep adding a little water if necessary.  Poach your egg in a pan of boiling water and serve with the fish on a bed of the greens.  Sprinkle with sunflower seeds.
 Day 6: Mushrooms and Lettuce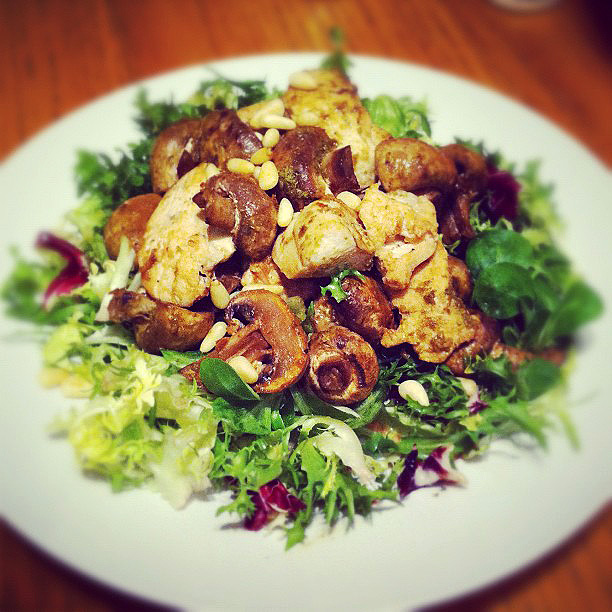 Pan-fried chicken & garlic mushrooms with salad – 490kcal
I think this one may be my favourite so far, I adore mushrooms…
1 chicken breast, cubed
150g mushrooms, don't chop too small – I halved mine
3 cloves of garlic, crushed
100g salad leaves
5g pine nuts to garnish
1 tsp green pesto
1tbsp olive oil
1tbsp white wine vinegar
1kcal cooking oil spray
Spray your non-stick frying pan with cooking oil spray (around 10 sprays should do) and on a low/medium heat, fry off the chicken and garlic.  You may need to add the occasional splash of water to stop the chicken from sticking.  Add the mushrooms and pesto, reduce the heat and cook until the mushrooms are softened.  Meanwhile, make the (very simple) salad dressing by combining the olive oil and white wine vinegar.  Serve with a garnish of sprinkled pine nuts.
Did I mention that I bought some white asparagus for next week?  *looks blankly at packet*