There's nothing like feeling the pull of a good lemming and I take great pride in both creating and crushing them in almost equal measure.  Ultimately though, it feels a little bit more heart-warming to instill a good dose of the 'want its' in both yourself and others.  I knew as soon as I laid my eyes on these chubby little pencils, I had the easiest lemming post in the world on my hands.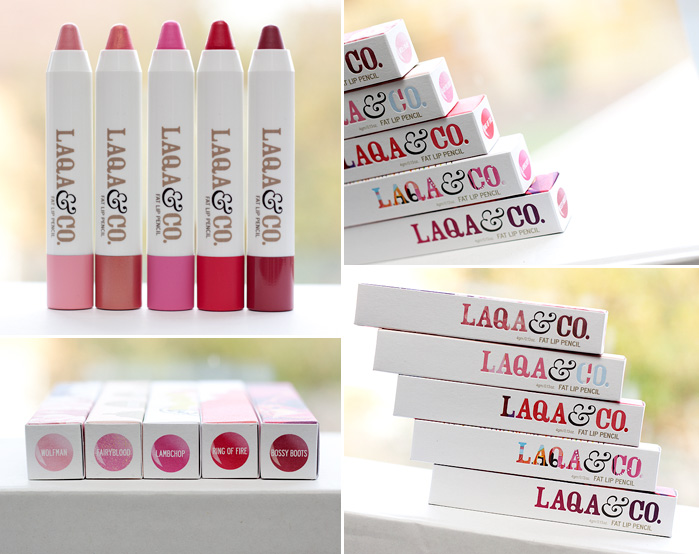 Laqa & Co are a brand best known for their nail polish pens which promise to dispense glossy colour to your tips in just a couple of clicks (call the ad men, I've just made up that rhyme!).  The U.S. brand take great pride in promoting up-and-coming designers by featuring their work on the packaging and profiling them on their website.  It's a match made in heaven for producing some beautifully quirky products that appeal to the 'gotta catch them all' magpie mentality.
I was recently introduced to their latest product… the Fat Lip Pencil*.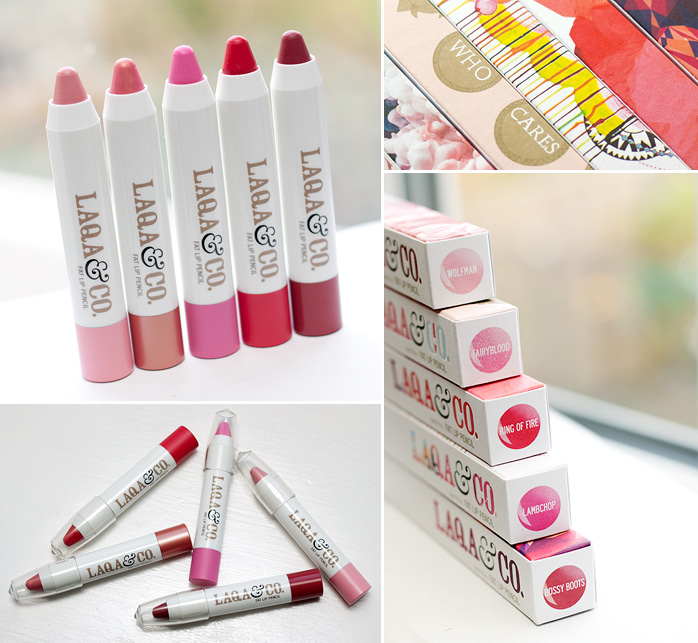 Just as beautifully designed as the polish pens, these lip pencils are ridiculously cute.  There are five shades available in a chunky, wind-up form… you'll like the shade names: Wolfman, Fairyblood, Ring of Fire, Lambchop, and Bossy Boots.  I think I may aswell call my lip collection complete now that I own a lipstick called Lambchop no?  I mean, it just doesn't get any better.  Unless you're a vegetarian, in which case, I'm very, very sorry.
So, cuteness overload aside… let's take a closer look at these shades.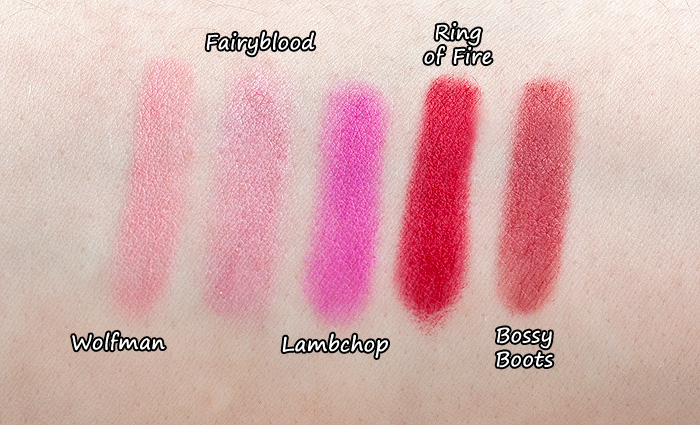 The shades range from the sheer to the uber-pigmented.  They're fairly inconsistent in terms of glossiness with some shades appearing more matte despite the website describing each of them as glossy.  The texture also varies across the range with Bossy Boots having the most gloriously smooth texture compared to the firmer-feeling Wolfman which dragged a little on my lips.  Staying power was better than average for most shades with the mattes holding up particularly well throughout the day.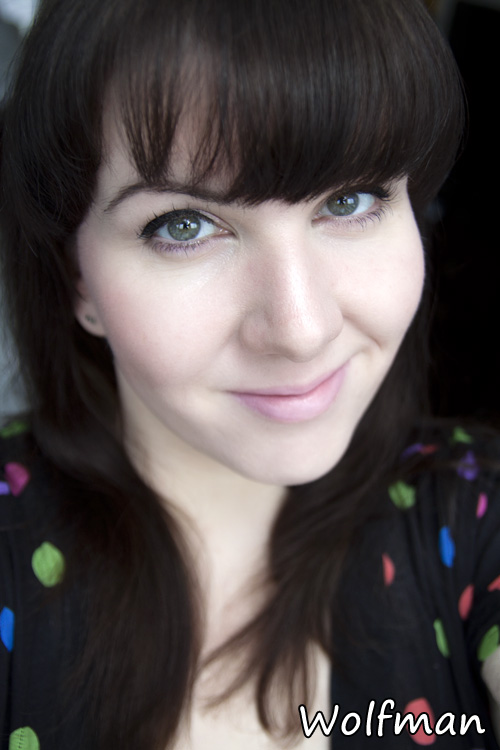 Wolfman: A firm-textured super pale pink that works best if pre-warmed on the back of your hand before applying.  It's a little chalky looking but covers my pigmented bits with ease.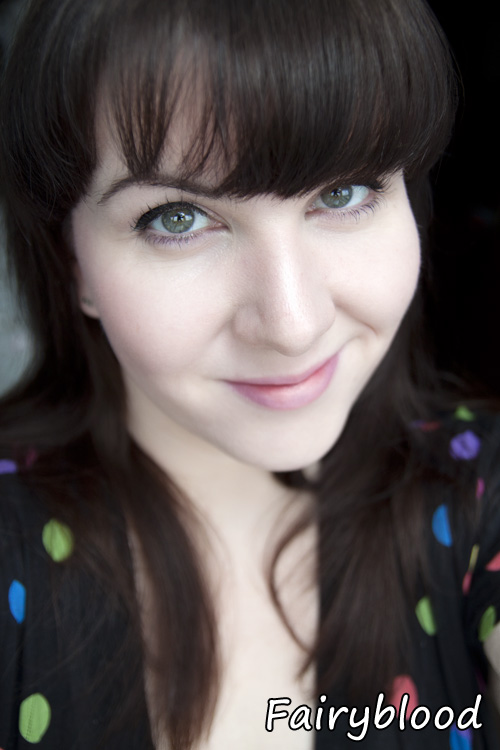 Fairyblood: Laqa & Co describe this one as a glossy sheer peach with shimmery flecks of gold but because this one is sheerer, my colouring turns this one much cooler on me.  I can imagine it looking quite different on someone with a warmer skintone.  This is a really nice, natural-looking nude on my lips giving a polished but not made-up feel.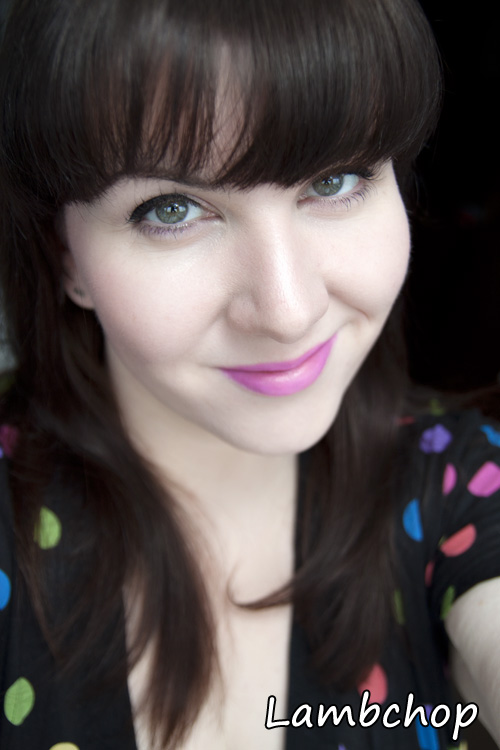 Lambchop: A vibrant blue-pink with  pepto-bismol brightness.  What a scorching shade for spring/summer!  This leans more matte and as a result, lasts well throughout the day needing only a couple of touchups.  Again, this one benefits from warming up before application.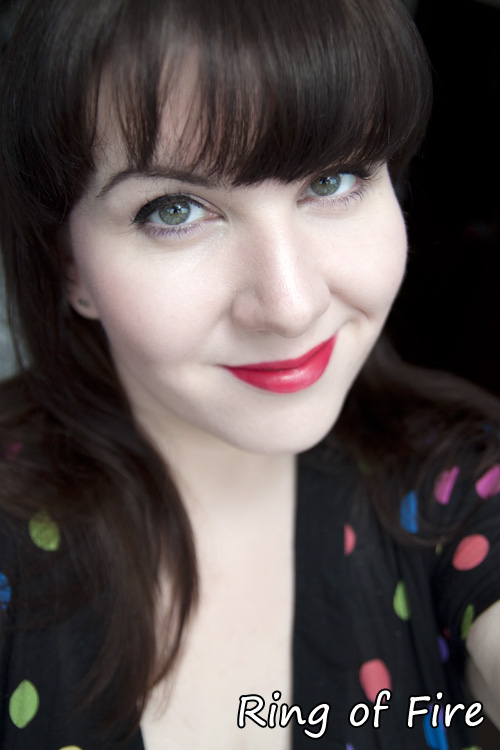 Ring of Fire: Well, well.  Stop sniggering at the back there.  Ring of Fire is a cool-toned red with a hint of raspberry.  This is one of the creamier shades and packs an impressive punch of pigmentation to boot.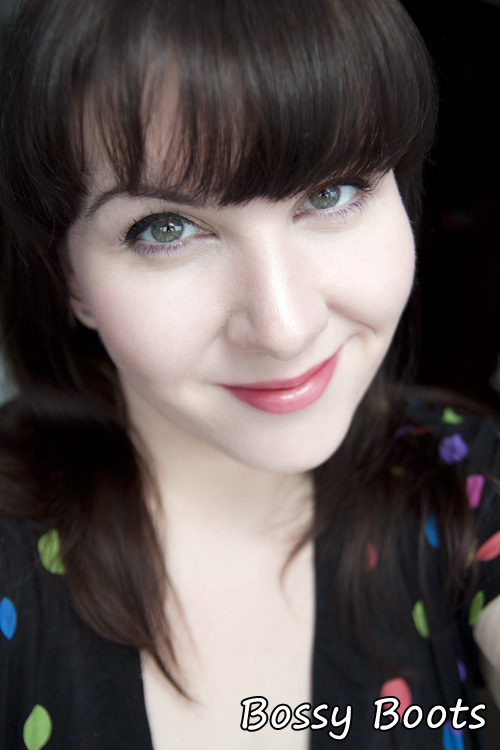 Bossy Boots: My favourite of the five.  A beautiful my-lips-but-better shade that layers into a sheer, very wearable red.  It's also the most glossy of all shades whilst still retaining a true lipstick feel.
I love the portability of the range and the fact that unlike the NYX jumbo pencils, I don't need to worry about carrying a pencil sharpener around with me!  The shades are comprehensive and feel fresh and modern with non-frosty finishes.  They're cute enough to gift but if that's your intention, be aware – you may just end up keeping it for yourself!
Laqa & Co Fat Lip Pencils are reasonably priced at £13 each and available to buy online at www.powderrooms.com – Which one is your favourite?

* press samples