I'm very slowly building up steam and finally have more than just my fish-eye lens in situ at the new place, time for some swatches!  Clarins have released an entire rainbow of new mineral (pressed) eyeshadows that are designed to be used both wet and dry.  I was sent a selection to take a look at and they're classically Clarins, both in appearance and in application.
I'll go through the shades, one by one.
White Sparkle (01) makes for a great tear duct highlighter, it has that sheer luminosity thing going on without too much of a metallic edge.  I can see this shade also working very well to introduce a bit of sparkle as a layering shadow. Like all of the shades I've tried, it's sheer but build-able and of course, can be applied with a wet brush to create a more intense effect.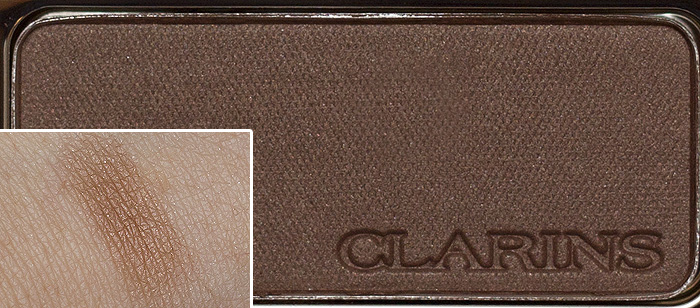 Auburn (07) is a warm-toned brown with a light shimmer.  Some skin-tones may struggle with the red hues in this shade but if you've got green eyes and pale skin, you're onto a winner with this one!  Used wet, it also makes for a pretty variation on your usual eyeliner.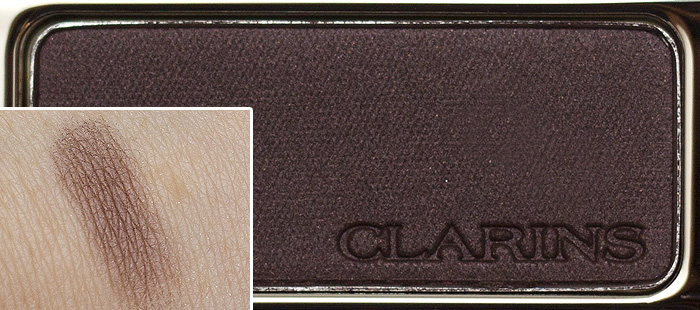 Aubergine (12) was a slight disappointment, I found this satin shade applied with more patchiness than I'd like and also had a harder texture in the pan than the others.  Nevertheless, a very pretty shade for brown-eyed girls in particular.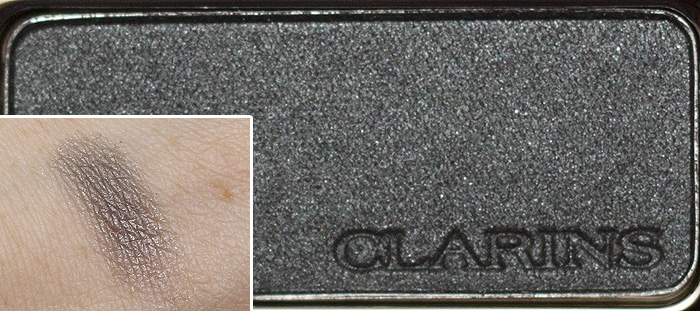 Platinum (14) is a steel grey with a hint of sparkle, there's a slight colour shift in there that reminds me more of something that you'd find in one of my violet-toned taupes than a silver/grey!  It's a pretty shade that's deceptively complex when compared to how it looks in the pan.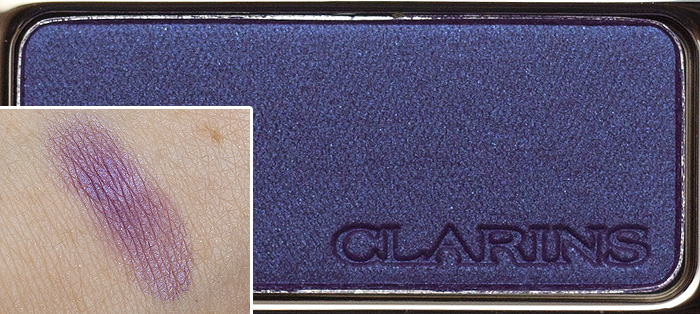 Vibrant Violet (16) is the classic violet satin with a distinctive blue flash – this was another which felt slightly more firmly-textured but still imparted an impressive streak of colour to my lids.
As with all Clarins' releases, the packaging is satisfyingly luxurious and touchable.  The large mirror is generous and actually pretty usable in a real-life situation.  Formulas were a little variable in the batch that I swatched but were, as you'd expect, generally sheer but build-able.  This is something that I've come to appreciate Clarins do very well – gone are the days that I want instant and deep pigmentation (unless it's a black!), these are all infinitely layer-able but ultimately won't disappoint you when it comes to colour payoff either.  If your heart does desire va-va-voom style pigmentation, you could apply these with a wet brush – or go seek out a Sleek counter.
Longevity was good, I don't apply an eye primer every morning nowadays (pure laziness) and these easily stayed put for the working day, around 7/8 hours before fading – there was no slidey migration into the socket crease at all.
The new range of Clarins Mineral Eyeshadows are available to purchase in a total of 16 shades, available now on counter or online, priced at £16 each.  Alternatively, head to the lovely Escentual.com who are always more than competitive on the Clarins range, where you'll find them priced at an extremely palatable £12.80 a-piece.
* press sample