With both a 5-year old and a 12-week old baby, time to myself is the most precious commodity in my life. When Leila was born, I treasured my daughter's nap-times and would use them to invest in some quality pampering time. I knew that I could have been spending those precious hours catching up on lost sleep but to this day, I believe that taking the time to spoil myself was the key to preserving some normality in a newly-changed life.
This time around, my time is even more compressed. If Joe is napping, I tend to spend any spare moments with Leila. I miss not being able to spend so much one-on-one time with her and we've developed a new-found addiction to making loom-bands!
That being said, I have sorely missed the time to myself and I won't deny that it's taken its toll on my well-being. I'm sure that I'm not the only Mum to experience this but honestly? I feel less attractive, scruffier and not so well "put together" without my usual beauty routine. Superficial as this may seem on the surface, it really impacts on my confidence daily.
When I first saw Sali Hughes' new videos for Clarins, I was inspired. I've been around the beauty scene long enough to know how to do a 5, 10, or 15-minute look… but it was only when I saw how beautifully polished she looked in such a short amount of time, that I realised I needed to get back into the game!
I decided to sit down and work out exactly which parts of my beauty routine were most important to me. What did I need to focus my limited amount of time on perfecting? My complexion? Concealing my tiredness? Or perhaps just introducing some much-need colour to my face? For me, it's all about good skin and luminosity… I've always been crazy for a glowy, radiant look but without compromising on a decent base upon which to build it.
Clarins sent me a few products to see if I could use Sali's videos as a starting point and tailor my own time-saving routine.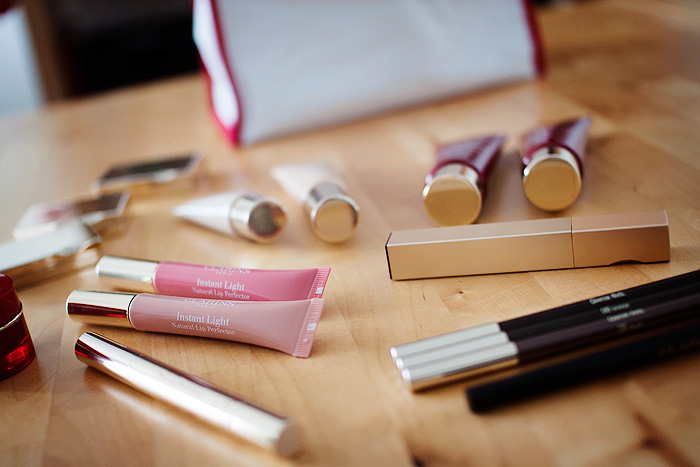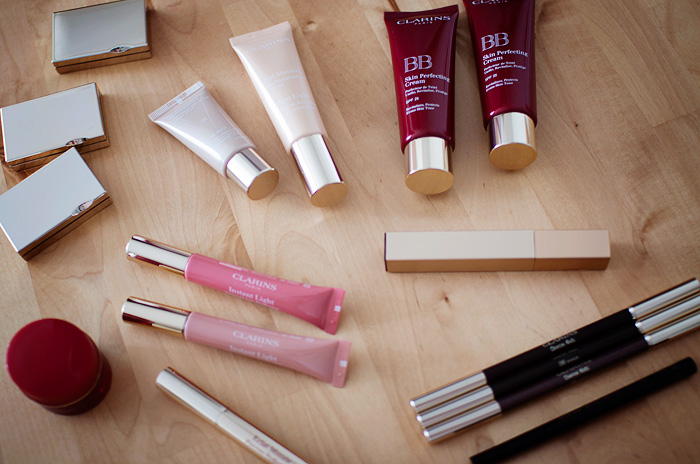 I separated the "essentials"… the items I knew I couldn't leave the house without. Mascara, eyeliner (liquid is my preferred choice), and a base product. Then I got to work on the luminosity aspect of my look.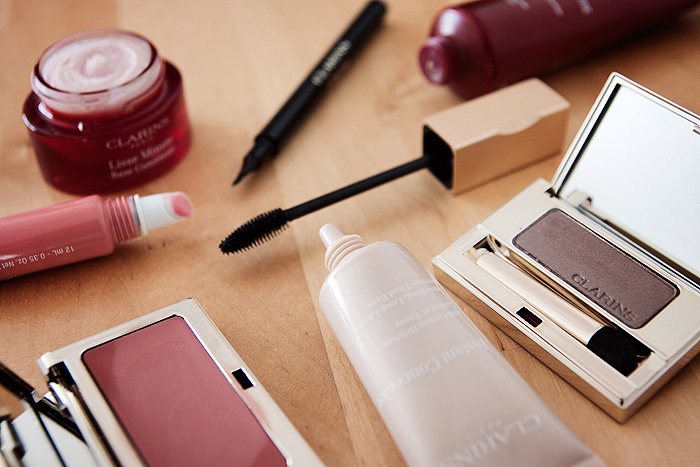 I ended up with a stripped-back list of products, nine in total. A routine that I hoped would balance the time I had available without compromising on creating a polished "me" that would improve my confidence at the school gates in the morning.
I also had one more set of criteria up my sleeve. No brushes. In the mornings, I don't have time to spot-clean brushes, that kind of luxury is a weekend-only deal. Could I do it with only the tools provided and my fingers? I had about 10-minutes to find out!
On a freshly-moisturised face, I started with a small amount of Clarins Instant Smooth Perfecting Touch, a pore-filling primer that gives your make-up a headstart. If your base is right, you'll be surprised at the much-improved performance of your subsequent products. I dotted the primer onto my troublesome areas, around my nose and across my cheeks before blending with a clean finger.
Next up, faking some luminosity. I turned to the brand's new Instant Light Radiance Boosting Complexion Base in 02 Champagne for some help. The yellow tone neutralized the ruddiness in my complexion whilst simultaneously illuminating and brightening. I concentrated my application across my t-zone for a more natural glow.
BB Creams are a firm favourite of mine and the Clarins BB Skin Perfecting Cream also delivers a generous SPF25, plenty of protection for a standard day spent running the odd errand. I found the formula non-greasy without accentuating any dry patches and it worked well to unify my skin-tone. It also applied nicely using just my fingers.
Finally, in my quest for complexion perfection, I turned to Clarins Instant Concealer … more out of necessity than choice. My under-eye circles have packed their bags and they're ready to move out! This concealer blends beautifully with a light texture that doesn't sacrifice great camouflage or sit in my fine lines.
Base done… next, on to colour.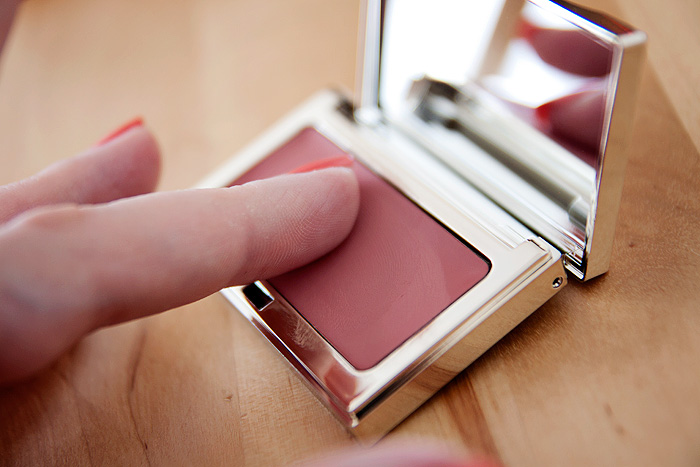 Clarins Multi-Blush in 04 Rosewood is a product I was already familiar with. It's a cream blush that blends better than most with a slightly drier texture that melts into the skin, imparting a natural flush without mattifying my cheeks.
I was unsure about what to do with my eyes… I knew that in 10-minutes, I'd be limited to a single shade and was tempted to go without eye-shadow altogether. In the end, I opted for a quick sweep of Ombre Minérale Eyeshadow in 08 Taupe, you know I can never resist a taupe! Using the sponge-tipped applicator provided, it barely added 20-seconds to my routine.
To define my eyes, I pressed the brand's innovative 3-Dot Liner into my lashes and because I wasn't concentrating on creating a flick or drawing a hard, graphic line, I didn't need to go back in with a damp q-tip to correct mistakes. There weren't any!
The final product for the eyes was mascara, I can't leave home without it! Clarins Be Long Mascara increases length and creates further definition with an easy-to-use small brush that reaches every lash.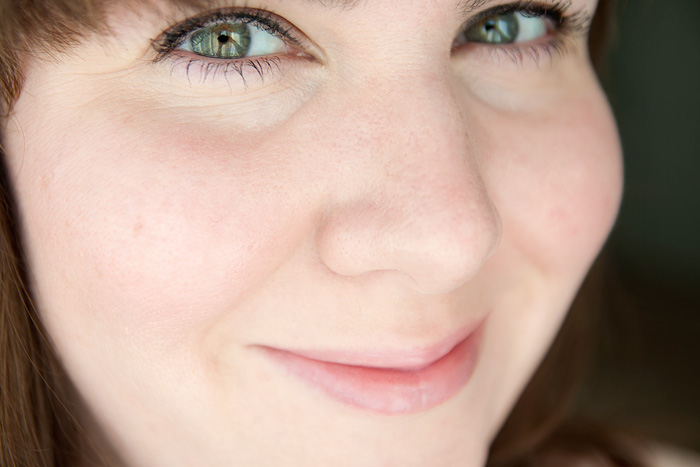 The final flourish to complete the look was a quick swipe of Clarins Instant Light Natural Lip Perfector in 05 Candy Shimmer. This gave a gentle flush of low-maintenance pink that reflects light and further served to brighten my complexion.
And the final result?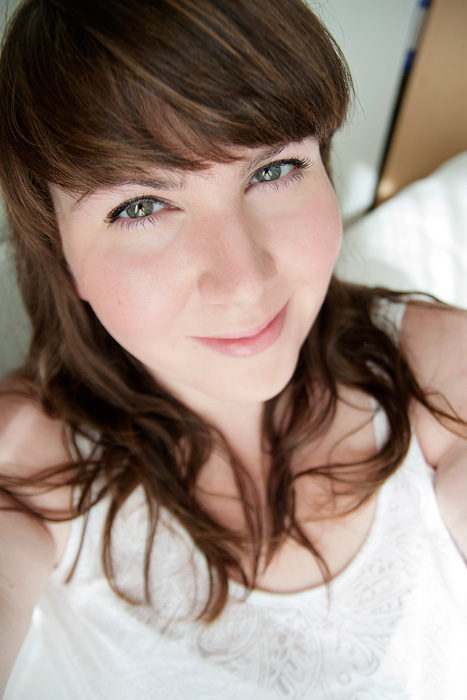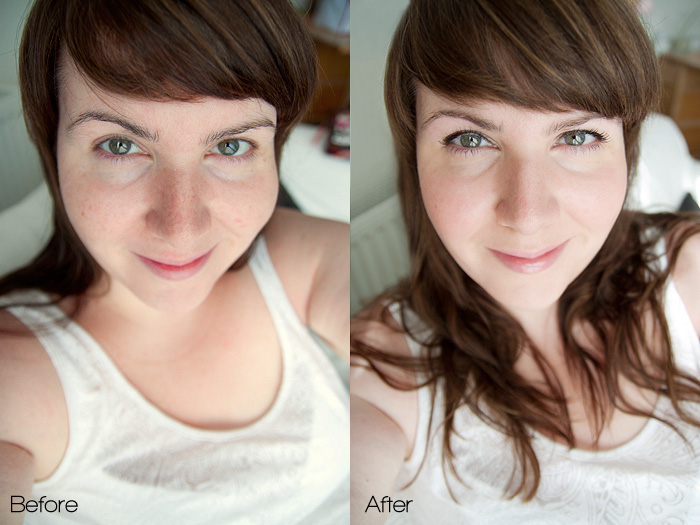 Glowy and polished! Ok, so it's not a cutting-edge look but… you know what? It's exactly what Clarins promised.
It's a "you, only better" look. And that's just what this new Mum with no time for anything more adventurous ordered!
* sponsored post