Picking the right scent to match your mood is something many of us do every day – just like choosing the perfect coat to wrap up your outfit. There are timeless classics like Chanel No 5, the perfume equivalent to slipping on a crisp white shirt. Fun and flirty scents like Marc Jacobs Oh Lola! that are most definitely daywear only and darker, sultry little numbers, like Stella by Stella McCartney that work best for evenings out. So what's new in fragrance?
Top perfumers Bell Flavors & Fragrances announced their scent predictions for 2012 late last year and it was all about the exotic and indulgent. After extensive research both consumer and industry-side, Bell found that ginger orchid, orange flower, tart guava, gold amber, green pear, spicy bergamot, root beer, pink pepper, tomato leaf and leather are all going to be hot perfumes for men and women this year.
In fact Bell calls its 2012 fragrance top ten 'the Wild Luxury Consumer' list, as it believes this shift towards expensive, haute couture perfumes is all part of a wider consumer trend of people seeking out luxury items in order to forget about the financial crisis.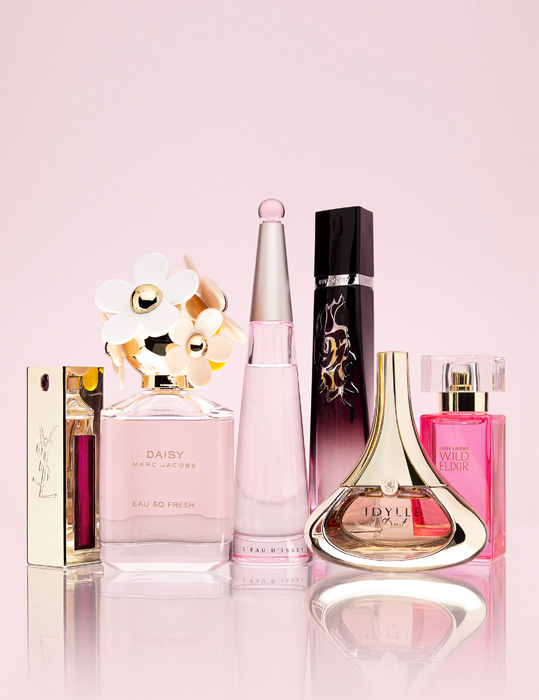 Pink Pepper – the new 'it' scent
If you only choose one perfume, make it something that contains pink pepper. A key feature of Bell's list, it's a fragrance so hot right now that it is also Scentsy's number one trend prediction for 2012.
Distilled from the rose-coloured berries of the Peruvian pepper tree, it has a spicy, refreshing scent. Luckily, you won't have to look too hard to find it. Roberto Cavalli's new women's scent has pink pepper as a top note, whereas Gucci Guilty Pour Homme gives a more masculine slant to the bold fragrance.
Fragrance trends for men
If you're in the market for a brand new cologne, you won't go wrong with Tom Ford Noir, out this October. With top notes of bergamot, pink pepper and violet it's exotic but still very masculine.
Yves Saint Laurent La Nuit De L'Homme Frozen Cologne hit the fragrance counters this March, and is the icy cold successor to La Nuit De L'Homme. It mixes sweet citrus notes of mandarin and lemon with tart spices like bergamot and black pepper. Intense and sensual, it's one for the evening.
Fragrance trends for women
Blow the budget with Tom Ford's Jardin Noir, a quartet of perfumes inspired by flowers in a midnight garden. Or try Lancome's long-awaited La Vie Est Belle – with 63 ingredients and three years in the making, it uses exotics such as jasmine and orange blossom flowers to give it a sweet edge.
But any serious fragrance connoisseurs simply must add the latest Chanel perfume, Coco Noir, to their collection. Out this autumn, it combines fresh top notes of grapefuit with spicy pink peppercorn to create a blend fit to adorn the most fashionable wrists in town.
Browse best-selling fragrances, as well as top brand skincare, at www.johnlewis.com.
* this is a guest-blogged sponsored post on behalf of John Lewis for which I have received payment.