There's a few things I want to fit into today's Sunday Summary… so I better get straight to the point…
1.  Can someone please come round and sort my makeup out for me?  I keep looking and not knowing how to organise… I have a 6-drawer Malm.  The 2 Helmers neatly held everything that I wanted but this Malm is all cumbersome and dark-in-the-corners.  I might be able to fit more mascaras inside but I'll be damned if I can fish them out from the depths without cursing and picking up a concealer by accident.  I want my old storage back but there's just no room for it in the flat.
2.  Fragrance fans, you may be interested in dropping in to Selfridges (London) for a chat with Union creative perfumer, Anastasia Brozler who will be celebrating the launch of the brand's new perfume stand in-store on the 23rd & 24th of this month. The uber-exclusive frags are unique in their use of ingredients and notes sourced from the four-corners of our great British landscape.
Also on a related-Selfridges note… it might be a bit early to get your skin pampered in prep for any Christmas parties but luxury skincare brand Omorovicza are offering their deep-cleansing and pore-refining facial as part of Selfridge's Beauty Workshop next week.  The 60-minute facial costs £85.00 but is fully redeemable against the purchase of Omorovicza products – you can book a facial by calling 0800 138 7425
3.  I doubled my recipe and made my salted-chocolate cupcakes into a salted-chocolate layer cake this week.  I'm going to hell in a very large coffin.  This and Calamity Jane have been Leila's highlights of the week.
4.  Talking of cakes… did you know that you can win a cake made of Carmex (won't taste as nice as mine but IS less fattening) in celebration of their 75th anniversary?! – more details are on their facebook page
5.  Non-beauty related – does anyone wanna see my Christmas Eve box? (not that kind of box, don't worry)  I won't show you if you're gonna throw things at me for being organised though…
6.  Can I ask you guys for your thoughts on the Boots No7 Lash Adapt, I went to repurchase this week and they've changed the packaging from my old one…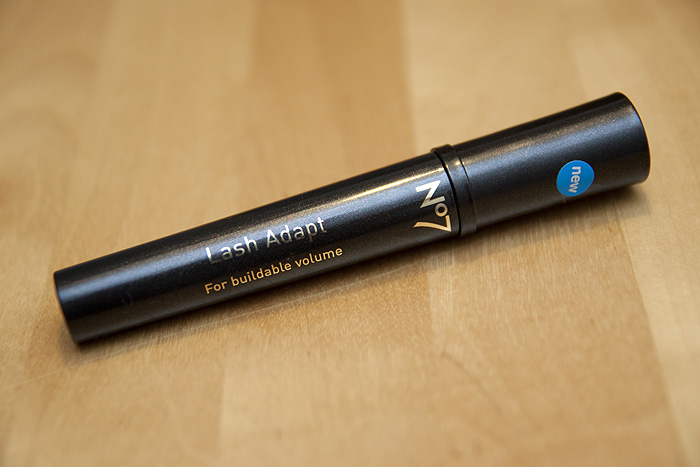 I didn't like it to begin with… but the formula has dried out a bit and I'm loving it but it needs replacing very soon!
I also still love the No7 Exceptional Definition one as-well, though nothing beats my HG Benefit They're Real – except that the pennies won't stretch and I want to save my Boots points for something SPECIAL at Christmas!  Anywayyyyy, I get scared when a brand changes its packaging… has anyone tried the Lash Adapt recently?  Have they changed the formula?  Will I still get lashes like in the below picture?

7.  Finally, my camera has been put to some non-makeup-taking-photos use this week and I've finally been learning about shooting with a 2-light studio setup.  I was keen to get a human under the lights but unfortunately one of my favourite subjects had the 'pox and wouldn't play model for me.  It's just dresses (very, very lovely dresses!) but you can have a nosey here at my first attempt at high-key commercial shooting if you'd like.  My mannequin dressing/posing needs some serious practice.
Hope you've had a lovely weekend, it feels like the weeks are literally flying by at the moment and for once, I don't mind too much as it means that I'll be seeing my sister again soon!