Eternally revered as one of the world's most precious metals, gold has been a highly sought-after commodity from the earliest of ancient civilisations right through to the modern day.  Much of its worth has been built through socially-constructed symbolism rather than via any intrinsic financial value, but the rare metal has nevertheless proven useful in some fields thanks to certain unusual properties.
Gold is extremely durable, stable, and for a metal, unusually coloured making it a perfect exhibition of wealth.  It holds a strong continuity of value over time, and looks just as beautiful when first laid in a treasure chest as it does 20, 30 or 50 years later.  It's an element that is difficult, dangerous and laborious to mine and rarity has always held a value when it comes to the importance of status within our society.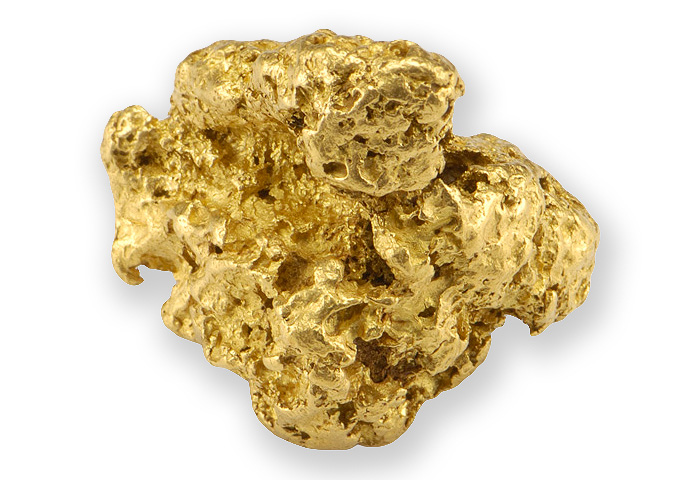 But what about in practical use?
We regularly see gold put to good use in the field of electronics, to plate connectors and prevent oxidisation.  As a metal, it conducts electricity extremely efficiently (though interestingly, not as efficiently as silver).  In dentistry, the metal is valued for its malleable attributes which can be used to easily construct fillings, crowns, and bridges.  Its chemically stable nature, makes it a suitable, nonallergenic material which has thus far proven to cause no adverse effects on long-term health.
But what about the usefulness of gold within the beauty and skincare industry?  Let's take a look at some products today which seek to employ the midas touch…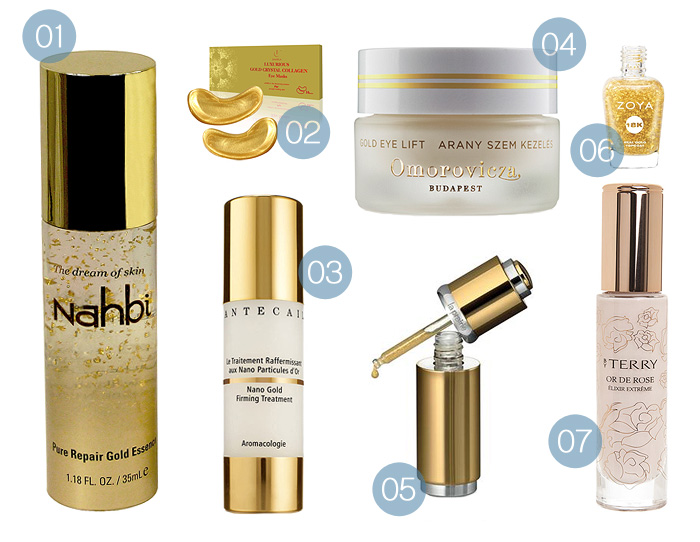 1). Nahbi Pure Repair Gold Essence contains 24ct nano gold and gold leaf extract which claims to help stimulate circulation, cell renewal and the removal of toxins from the skin.  Nahbi use colloidal gold (suspended in liquid) and nano-technologies to increase the likelihood of physical absorbtion.  The particles are rated at 1.5nm, which is tiny indeed when you consider that the thickness of gold leaf is rated at a rather chunky 125nm!  The full range includes masks, serum, toner, a moisturiser and a cream. priced from £25, beauchoix.co.uk
2). Jamela offer a range of gold-infused masks that combine "active gold" and plant collagen with other, more recognisable ingredients including hyaluronic acid.  The masks have been designed to contour various body parts to deliver their collagen-boosting benefits including: eyes, lips, face, and even breasts!  I particularly like the idea of wearing one of these masks overnight before throwing it in the bath with me the next morning, they dissolve in hot water to release any remaining goodness!  priced from £24,50, jamelaskincare.co.uk
3). Chantecaille are well-known for their high-end formulations so it comes as no surprise to see an entire Gold Collection from the U.S. brand.  Their Nano Gold Firming Treatment is not simply content with exploring the supposed anti-inflammatory effects of nano gold, but hedges its bets on another recent "technological breakthrough" in the form of Swiss Apple Stem Cells which claim to deliver the creme-de-la-creme of antioxidant benefits within skincare.  For all this technology, you'll have to pay a pretty penny.  priced at £280, uk.spacenk.com
4). Focusing on exploring the links between the precious metal and its soothing, anti-inflammatory benefits.  Omorivicza's Gold Eye Lift uses gold ferment in an attempt to repair micro-damage and strengthen the delicate skin by renewing lost elasticity and as you would expect, the Hungarian brand remain true to their spa roots with the infusion of mineral compounds and their globally famous thermal waters rich in copper, zinc, calcium and magnesium.  priced at £110, selfridges.com
5). For the "gold standard" (geddit?!) in gold-enriched skincare, look no further than Swiss brand La Prairie for their Cellular Radiance Concentrate Pure Gold which claims to diminish the appearance of lines and wrinkles and help regulate discoloration.  The gold, suspended in a colloidal gel promises to help prevent the breakdown of collagen and elastin whilst illuminating the skin with a stunning radiance. It will certainly lighten your wallet.  priced at £408, urbanretreat.co.uk
6). For something a little more tangible, not to mention… affordable, Zoya's Gilty Pleasures trio contains an 18k real gold flake top coat which will transform all your manicures into something a little bit special.  priced at £29.60, nailcareclub.com
7). ByTerry's Or De Rose Elixir Extreme is a rose-tinted primer which delivers instant radiance thanks to its blend of 24-carat pink gold micronized particles and light-reflecting prisms.  More of a cosmetic radiance-giver than a skincare marvel, coming from the queen of highlighting herself… that ain't no bad thing.  The closest I'll get to being a gold-dipped bond girl.  priced at £108, uk.spacenk.com
So, the question remains… can the benefits of gold be applied to anti-ageing theories?  Scientists and dermatologists are frankly divided on the issue and serious research is ongoing on the potential health benefits of using gold in the fight against cancer and the relief of rheumatoid arthritis.
To my mind, there appears to be a somewhat necessary leap of faith in order to believe that something so valued for its chemical inertia can also posess such life-changing, tangible benefits but there's no doubt that this is one debate that will run and run.  Especially while it continues to give cosmetic companies such a wonderfully marketable element of luxury and privilege.
What say you? Are you interested in unleashing the power of gold on your skin, hair and nails?