See this here…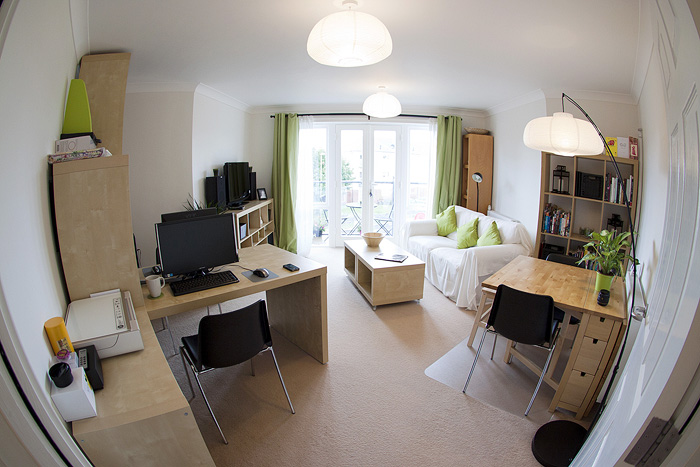 …that's my workplace.   Just on the left there near the printer.  The door in the bottom left?  That's the kitchen.
You can see my problem.  I only have to lean back and I can be in both places at once.  Sort of.
It's fine… really.  But it does have impact on how I have to plan for weight loss because I can't use my "workplace" as any kind of sanctuary from food.
In real terms, what this means for me is that I simply won't let myself have unhealthy "convenience" food in the house.  Sure, I'm greedy… but I'm also kinda lazy and if it takes any effort to prepare, I'm not incentivised enough to go out to the kitchen and create an unhealthy snack.  Heaven help me if there's a Pepperami in the fridge though.
Having a 3-year old, and a husband who grew up on treats (skinny git) means that I have to find a balance.  Crisps?  I buy Quavers or Skips (2PP a pack), something that won't break the bank when I do indulge in a packet.  Chocolate?  Sure… but instead of multipacks of Boost and Twix, I buy Tesco's or Asda's own-brand Caramel Wafers (2PP each) or Curly Wurlys (3PP each).  This means that when my husband deems it time for a cup of tea in the middle of the afternoon, I can join him with a side of "naughtiness" without feeling any guilt.
There are of course, some immense benefits to working from home.  I don't have to run the gauntlet of the office "feeder".  There's no-one plying me with cakes and biscuits and I don't have to navigate a thousand pastries on my way to the kettle for a cup of tea.  This ain't no Starbucks.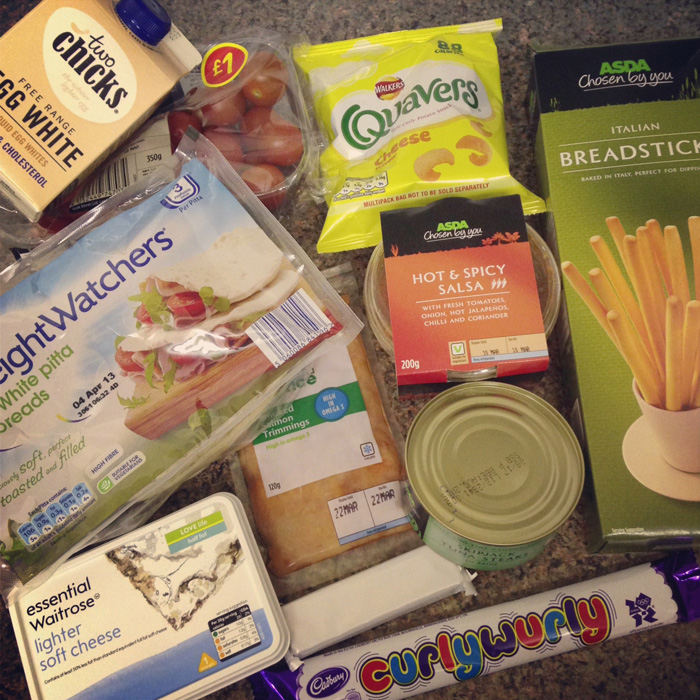 The above photo is an example of my lunchtime arsenal.  Err, I don't eat all of it.  I mean, these are the foods I have in my cupboard to ensure that I can create quick lunches that don't fill me with dread at the thought of eating them.
I'm just going to list some of the lunches that I've had over the past week or so to give you a better idea, sorry I don't have photos – I only bother instagramming my dinners!
~ Tuna/mayo pitta (I use my sandwich press to heat it) with crisps and fruit (we always have bananas, apples, grapes & satsumas in the fruit bowl).

~ Smoked Salmon/Cream Cheese bagel with cherry tomatoes and a Curly Wurly

~ Egg white omelette (with onion, parmesan, cherry tomatoes, and garlic) plus side salad.  I always try and buy those "living salads" that I can snip a few leaves off when I need them.

~ Pitta pizza, which is a split pitta bread spread with tomato puree and dotted with raw onion, wafer ham/salami and grilled for a few minutes

~ When I've made a batch of banana bread, I'll have a generous slice of that and pare back on the savoury side by filling a plate with a few breadsticks (1PP for 2), some low-fat cream cheese, spicy salsa, carrot sticks and hummous.  But I was getting a bit addicted to hummous so didn't buy any this week!
I love soups but at the moment, I'm not organised enough to be making batches.  I'm not hugely keen on salad as anything other than a "side"… which is why I'm not talking about putting together chicken/tuna salad pots and munching my way through them in front of the computer.  I would die of unhappiness.
There's an interesting article up on the Weight Watchers website this week from their research department which discusses the correlation between weight-gain and the workplace environment.
How do you deal with food and weight loss in the workplace?  Do you have an office feeder?  Maybe it's YOU?!
* I am a Weight Watchers blog ambassador and my links to their website are affiliated.  I have received no payment for this post.