Avon's popular Speed Dry+ range has recently undergone a revamp with a new formula and colour update.  I received a selection of shades* from the 25-strong lineup for review and I was curious to put their 30-second drying time to the test!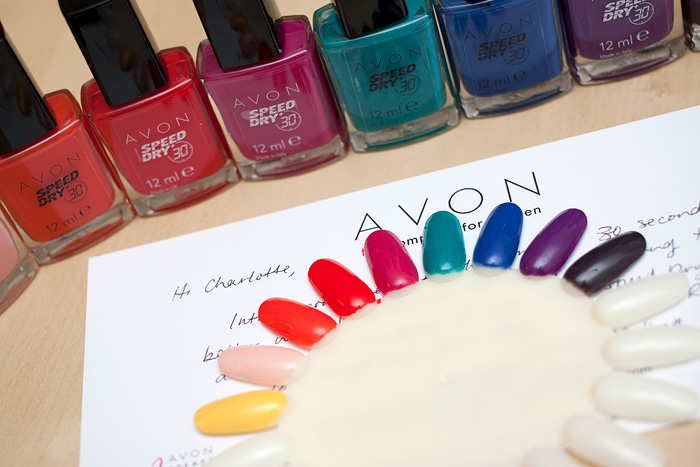 Suddenly Sunny: A vibrant, sparkle-infused yellow that suffers from a draggy application but looks stunning once on the nails.
Ballerina: A sheer babydoll pink that would work well for French manicures, unremarkable.
Orange You Quick: An eye-searingly bright orange that gives full opacity in one coat. A stonking Summer shade for sun-kissed tootsies!
Reddy To Go: A warm, vibrant red… bordering on the neon.  Another one-coater, Avon are knocking it out of the ballpark with the brights.
Strawberry: A berry pink, and at the risk of repeating myself, another one-coater.  Applies beautifully.
Fast Time Teal: A lovely shade but requires three coats to achieve opacity.
On Point Blue: A pretty blue which manages to keep a hint of dustiness despite the bold hue.  Sadly, it's also a three-coater.
Pronto Purple: A true royal purple, another three-coater… looks sumptuous on the nails.
Smokey Plumes: Is it purple, is it brown? Brurple.  An unusual shade with a rich, creme finish.  Another three-coater.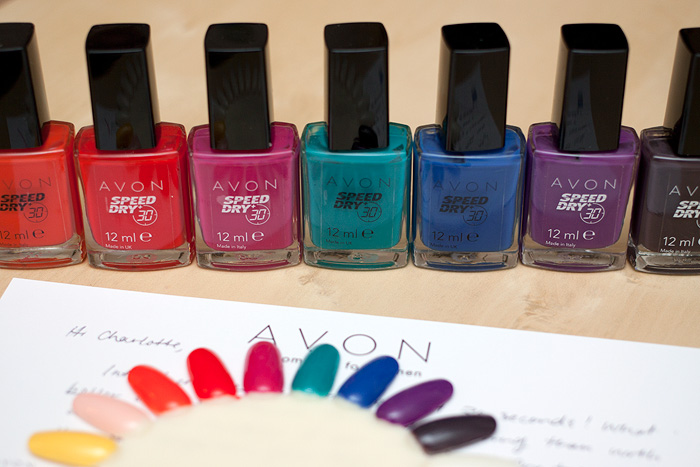 Out of the nine polishes I've been trying, almost half of them had brushes that suffered from stray long hairs and a couple deposited foreign particles (dust/brush fibres) upon first application, the usual irritations that you can often expect from cheaper polishes.  That being said, these Avon Speed Dry+ polishes are currently priced at only £2.50-a-piece (usual price £6) and still represent amazing value for money.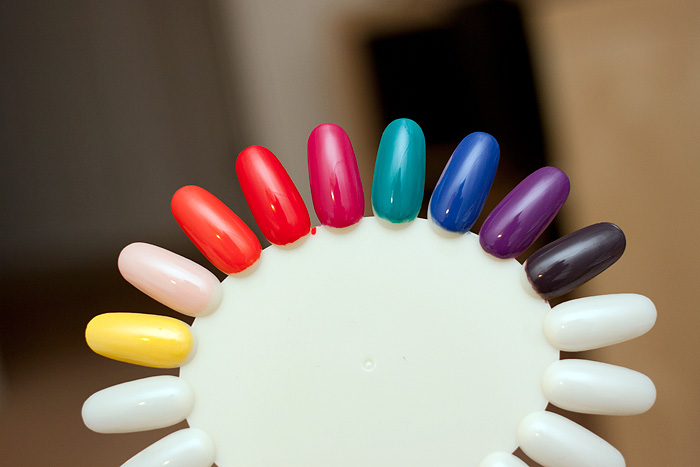 At the current price, you should consider stashing: Orange You Quick, Reddy To Go, Strawberry, and Smokey Plumes.
And what about that 30-second drying claim?  Well… nearly, but not quite – they are faster than usual though.
Avon Speed Dry+ polishes are available to buy online at www.avonshop.co.uk, priced at £2.50 each for a limited time.
* press sample