I'm all for spending a little extra time in bed, I can clearly remember my early morning pleas of "just five more minutes Dad?" each morning before school.  How heavenly it is to know that you have full permission to hit the snooze button.
Well, heads up!  Nivea have recently released an in-shower body moisturiser that should definitely go some way to granting your wish.  It's an allover body conditioner in cream form that you apply whilst in the shower (although not whilst stood under running water, that would be stoop) and rinse off before grabbing your towel.  It's not a novel idea, LUSH have already done the whole in-shower body moisturising thang with their Ro's Argan Body Conditioner (one of my fav bodycare products, ever) and let's face it… there are numerous in-shower body oils on the market already… but… and it's a big but…
The Nivea In Shower Body Moisturiser is likely to be the most budget-friendly of any in-shower moisturising product you'll come across this year.  They've taken a great idea and modified it for the masses.  And who doesn't want a bit of that?
But the question is, is it any good?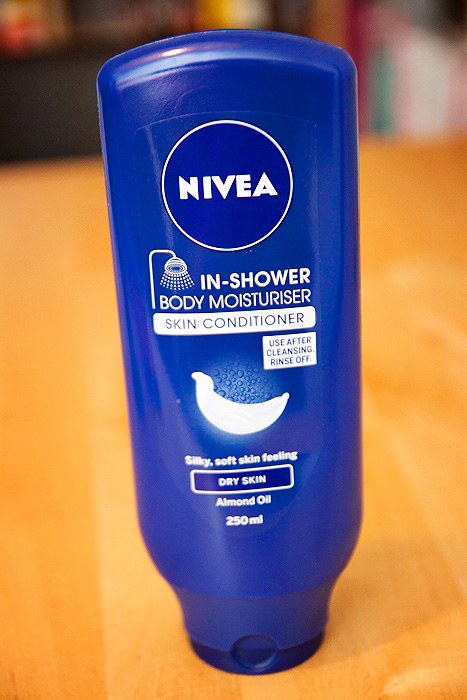 Well… yes and no.
Yes, it's convenient, saves a bit of time in the mornings and it smells comfortingly Nivea-ish.  At £2.56, it's nice and cheap and comes in sensible packaging that doesn't skimp on the quantity.  It's a solid offering from a brand that regularly deliver good, no-nonsense bodycare products.
But, it's just not moisturising enough on anything other than a superficial level (unlike the LUSH in-shower moisturiser).
When you apply the cream in the shower, it feels exactly like you're rubbing in hair conditioner…. and you can feel it sitting on the surface of your skin, even after rinsing off.  I'm not saying the residue is a bad thing… it's not.  It leaves skin feeling silky-smooth to the touch, even after drying.  You'll likely purr to yourself as you stroke your legs.  But that's as far as the moisturisation goes and as the day wears on, this superficial nourishment doesn't hang around.
If you actually suffer from dry skin, in any way, shape or form… this is unlikely to be hydrating enough for your skin concerns.  In the winter, this simply wouldn't last five-seconds on my scratchy shins.
But if you're heading out for the evening, or simply want to feel all soft and silky for a limited time only… for the price-point, the Nivea option makes for a sound investment.
Nivea In Shower Body Moisturiser is priced at around £2.56 for 250ml and is available instore and online at Boots.com and Superdrug.com
* press sample