This post constitutes my entry in response to this competition hosted by cosmetic-candy.com in association with Total Jobs JobAcademy
I remember my first job interview clearly.  I was 17 and looking for something to earn some extra pennies whilst I was at sixth form college.  I applied to be an "activities organiser" at a local care home for the elderly.  I got the job but only lasted a week once I realised that they didn't actually want someone to organise days out and activities for the residents but required an underpaid carer with a false job description that meant they could get away without providing any health and safety training.
I haven't had a job interview since, one of the many benefits of being self-employed… though I do wish I had a Christmas party to go to for once (someone invite me to theirs please)!
Anyway, Rowena from Cosmetic Candy has challenged her readers to document their "interview look", which includes makeup, hair, scent, and nails.  The complete package.  Thankfully not clothes though… I'm rubbish at putting together outfits, truly awful…
Here's my "interview appropriate" ideas for ensuring you look your best under pressure!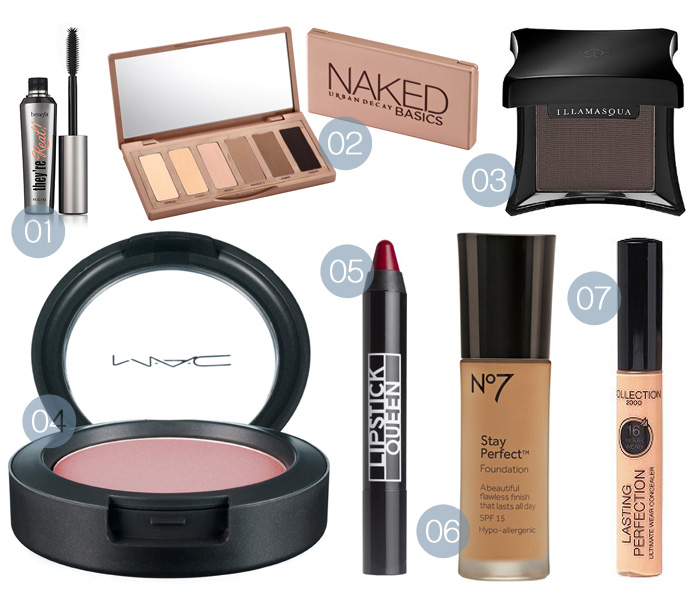 01: Benefit They're Real Mascara (£19.50, boots.com) – I'd leave the eyeliner at home, knowing that one slip could turn my look from kitten-eyed into crazy-eyed… not to mention the lunchtime eye-bogies that can often accompany a slick of kohl.  Instead, I'd reach for one of the most va-va-voom mascaras in my arsenal.  Benefit's They're Real delivers the longest of lashes with the least amount of clumping for me.
02: Urban Decay Naked Basics Palette (£20.00, debenhams.com) – While its name may not be interview appropriate, the hues housed within this handy little eyeshadow companion are all about making the best of your features with the minimum of fuss.  Perfect for shading and contouring the eye area to bring forth your natural beauty in a sophisticated and most importantly, understated way.
03: Illamasqua Gaze Eyebrow Cake (£15.50, debenhams.com) – Illamasqua's answer to perfect brows has long-been on my holy grail list.  Gaze is the perfect brow powder for dark brunettes looking for an ashy tone that won't turn red as the colour fades.
04: MAC Pink Cult Blush (£??, discontinued) – Sadly, this perfect "pop of pink" blush was part of a limited edition collection a couple of years back, however I picked it up a couple of weeks ago at my local CCO for just over a tenner and I'm glad I did!  The neutral flush gives a lift to my naturally ruddy cheeks without overpowering them with colour.  Do keep an eye out for a re-issue from MAC or as an alternative, Illamasqua Naked Rose would work well.
05: Lipstick Queen Chinatown Glossy Pencil Lipstick in Thriller (£22.00, SpaceNK.com) – I umm'ed and ahh'ed over whether to include an easy-to-wear lipgloss, or stay true to my roots and go for a lipstick.  In the end, I decided why choose when you can compromise?  Lipstick Queen's glossy lip pencils deliver a slightly-sheerer-than-lipstick punch of colour with the shine (but none of the stickiness) that comes with a lipgloss.  Thriller is my chosen colour, the safest of reds that won't leave you with colour on your teeth or a ring of doom on your lips!
06: No7 Stay Perfect Liquid Foundation (£14.00, boots.com) – It's been a while but I'm still pretty much fully in love with this high-street foundation from the Boots' brand.  It provides long-lasting coverage with a natural finish that doesn't sit too heavily on a (gently!) maturing face.  The bottle dispenses the perfect amount of product in a single pump, ensuring that I never get too heavy-handed with my application, there's nothing like finding a foolproof foundation and this is one of the closest I've discovered.
07: Collection 2000 Lasting Perfection Concealer (£4.19, boots.com) – I remember the first time I discovered this little beauty that highlights and conceals in one.  Who knew that you could get such quality from such an inexpensive brand?  I don't go in for heavy-duty concealers and this one is perfect for a little bit of light cover-up and an undereye highlight.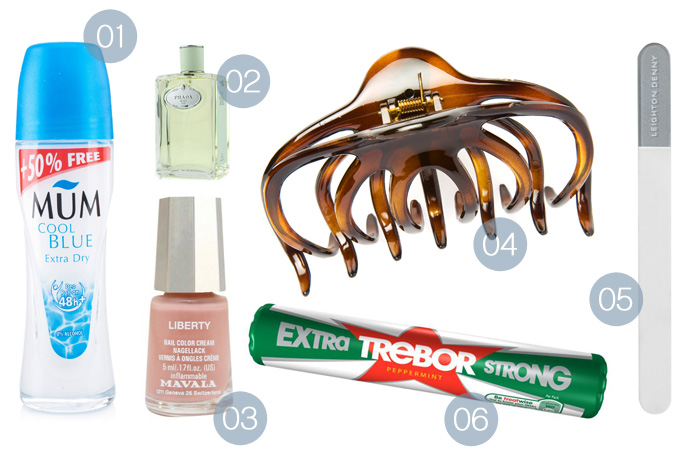 01: Mum Cool Blue Extra Dry Deodorant (£1.05, chemistdirect.co.uk) – I can't do aerosol deodorants… that blast of icy mist first thing in the morning does nothing to improve my just-got-out-of-bed mood.  I'm a roll-on girl and Mum has been my brand of choice for years!  I went through a Mitchum phase but for the extra pennies, I just don't think it works that much harder than the Extra Dry variety I usually pick up which always keeps me cool under pressure!
02: Prada Infusion D'Iris EdP (from £41.50, theperfumeshop.com) – If you're looking for a sophisticated scent that never cloys or irritates the nose of others around you, Prada's Infusion d'Iris delivers a timeless and fresh perfume that lingers long into the day without need for reapplication.  Perfectly interview-appropriate without causing a stink!
03: Mavala Liberty Mini Nail Polish (£4.10, supplymebeauty.com) – If you want your nails to look polished without causing a scene-stealing furore, your safest bet is to stick with a skin-flattering nude.  Choose the perfect shade that will compliment your skin tone to elongate your fingers and show that you know how to take care of yourself!
04: Octopus Hair Claw (£17.00, stone-bridge.co.uk) – Hair is not my forte and for that reason, I recommend investing in only one product: a great quality hair claw.  You're looking for something that will keep your locks off your face securely without breaking after five-minutes.  The Octopus hair claw is top of my list because of its tentacled hair-gripping combs and lightweight design that won't pull fine hair down to the nape of the neck as the day progresses.
05: Leighton Denny Crystal Nail File (£15.50, boots.com) – Want to know what doesn't look good in an interview room?  A pair of tights that look as though you've been playing hide-the-sausage with the postman in the stationery cupboard (already).  Catch any tears and snags that develop on your nails quickly before they rip your tights (and any chance of getting that job with it) to shreds.
06: Trebor Extra Strong Mints (£0.46, asda.com) – Because you just never know when last night's cheeky takeaway is gonna put in a reappearance.  You want to impress with your mind-meltingly good charm and knowledge, not your face-meltingly bad breath.
What's the one beauty item you couldn't survive a job interview without?
* Don't forget to check out the competition at Cosmetic Candy for your chance to enter to win £150 in Selfridges vouchers, I know I should keep it to myself… but I'm just not that mean… mostly.