Like most ladies, I don't get a huge amount of time to dedicate to my makeup in the mornings.  I get to spend 10-15 minutes max before I need to get fixed on the day ahead.
I thought I'd share with you my 5 minute face for the mornings when I'm even more pressed for time.  These are the products I reach for time and time again to help me get the most polished look in the shortest time possible.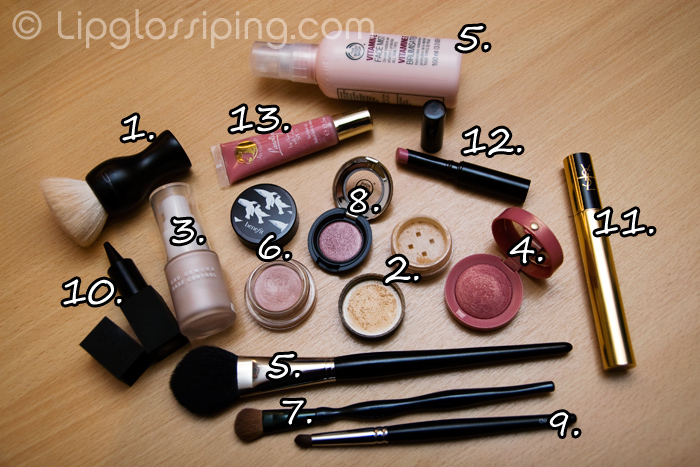 1. MAC 180 Flat Top Buffer Brush, I think this is a discontinued brush now but I saw it in my local CCO not that long ago.  I use this brush for a full coverage application of mineral foundation, it is densely packed and always gives a beautiful even finish.
2. Bare Minerals Mineral Foundation in Fairly Light.  I'm not hugely brand loyal when it comes to mineral foundation.  I like Bare Escentuals, Elemental Beauty and Cory Cosmetics for a full coverage finish in the least amount of time.  I find all 3 brands offer a well milled product that looks natural whilst still covering well.  I reach for minerals when I'm in a rush because it literally takes me less than 30 seconds to apply a full face of foundation using them.
3. Once my foundation is on I'll add a touch of liquid highlighter.  I rotate what I'm using, some days I'll use the NARS Orgasm Illuminator or my Illamasqua Halcyon, at the moment I'm using up my Shu Uemura Base Control in Silver.  I just apply with my fingers and blend.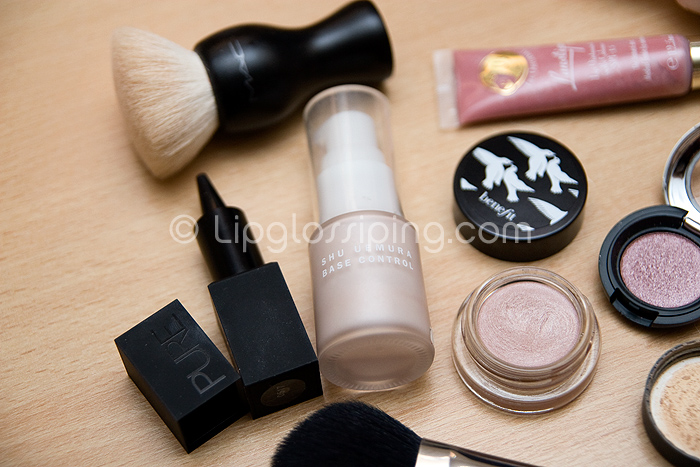 4. Bourjois Lilas D'or is a blush I reach for when I'm in a hurry because it's impossible to screw up.  It gives a beautiful pink/peach flush with gold shimmer.  I always keep an old toothbrush with my makeup brushes to give the top a quick sweep as it tends to harden unless in continuous use.
5. Aurifere Blush Brush #150.  This is a new acquisition, but I can already tell I'm gonna reach for this above any of my other blush brushes.  I love the taper and it's pretty darn soft for goat hair.  A beautiful densely packed brush that places a perfect amount of product just where I want it.  A full review of my recent order should be up tomorrow.
6. Benefit Creaseless Cream in R.S.V.P.  This is a peachy shimmery shade that I sweep over the entire eyelid, right up to and just beyond the socket line.  Again, it's just a foolproof product that negates the need for eye primer.  Lasts all day and just gives a polished look.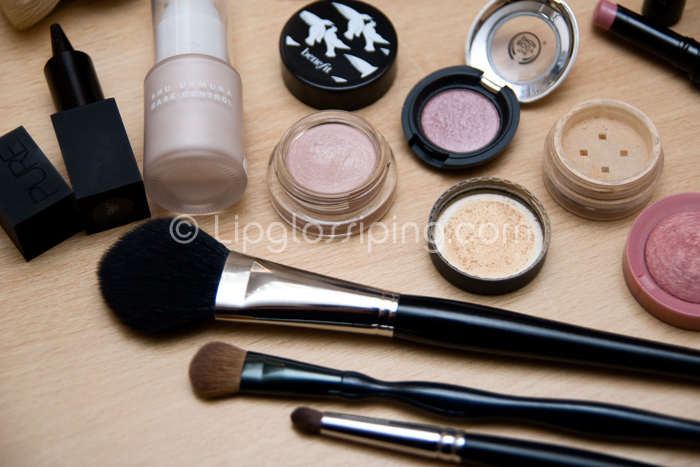 7. Sonia Kashuk Large Eyeshadow Brush.  I bought this before Space NK dropped the SK brushes from their inventory.  I reach for it when I want to sweep colour or blend without the need for too much precision.  It's a great brush for time-pressed gals.
8. The Body Shop Eye Colour #37 Pink Champagne.  This is a beautiful shimmery shade that's half pink/half taupe and works well blended through the socket line for subtle shading without looking like an obvious 'crease colour'.  I reach for this shade often.
9. This is a Paula's Choice Precision Shadow Brush that I picked up from eBay US a couple of years ago.  It's a densely packed small crease brush that I use to place shadows precisely but quickly into the socket line before using a fluffier brush to blend the colour out.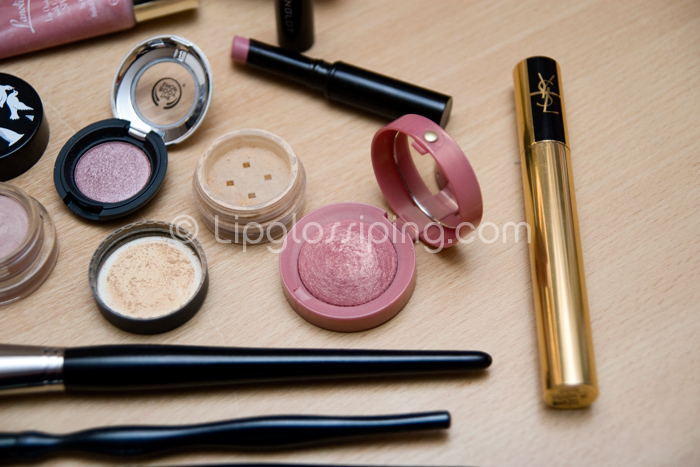 10. PURE Kajal Eyeliner in Unforgetable Black.  When PURE started to desert the shelves of Boots, I rushed down to my local to buy a backup.  Whilst I'll always reach for my GOSH Velvet Touch Eyeliners when I need unwavering longevity, I grab these super-soft kajals for a quick sweep across the upper waterline when I'm in a hurry.  I then press my eyes closed for a couple of seconds to transfer the line to my lower lashline.
11. YSL Singulier Mascara in Black.  It gives me beautiful dark lashes with one coat, and that's all I've got time for!
12. INGLOT Slim Gel Lipstick in #61.  A well pigmented pink/mauve that goes on smoothly and needs no lip liner faffery. (I hereby declare "faffery" a real word).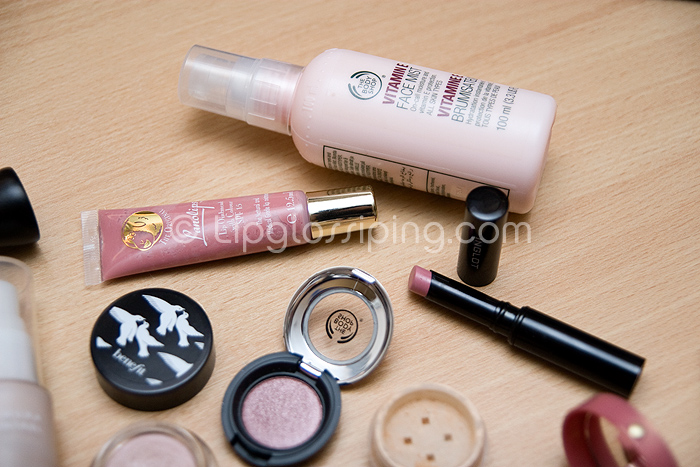 13. Lanolips Lip Ointment in Rose.  A small amount of this slicked over the centre of my bottom lip and 'smooshed'  up to the top lip is all I use in the way of gloss at the moment.  It's non-sticky and beautifully moisturising.  Goes lovely with my INGLOT Slim Gel too!
Have just realised that my number idiocy has struck again…. I've labelled #5 twice in the first photo *eye roll*.  Can't be bothered to change it – so let me quickly mention #5 (the other one).
5. Body Shop Vitamin E Face Mist.  I never wear mineral foundation without a quick spritz of this on top.  It eliminates any hint of powdery dryness that minerals can sometimes leave behind.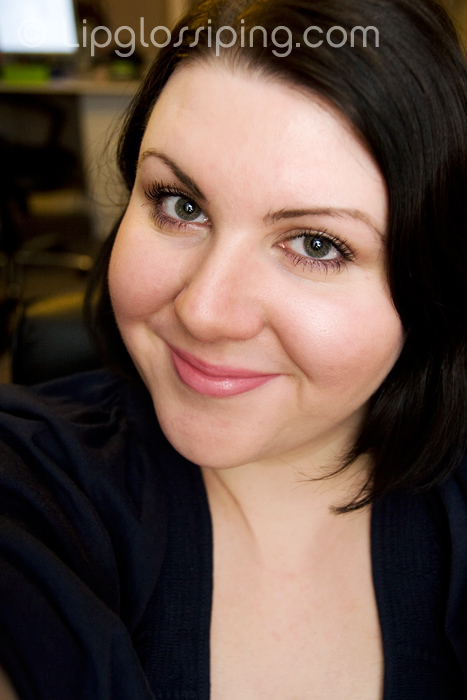 This was taken at the end of the day with a quick re-application of my lip products for the photo.  Please excuse the frizz and weary look!
What are some of your foolproof 5 minute face products?