Get it wrong and Mum will serve you up the sad, soggy-looking roast potatoes forever more.  That smug brother of yours?  He'll get your crispy ones.
On a budget?  Never fear… here's my pick of the best Mother's Day Gifts for £15 and under!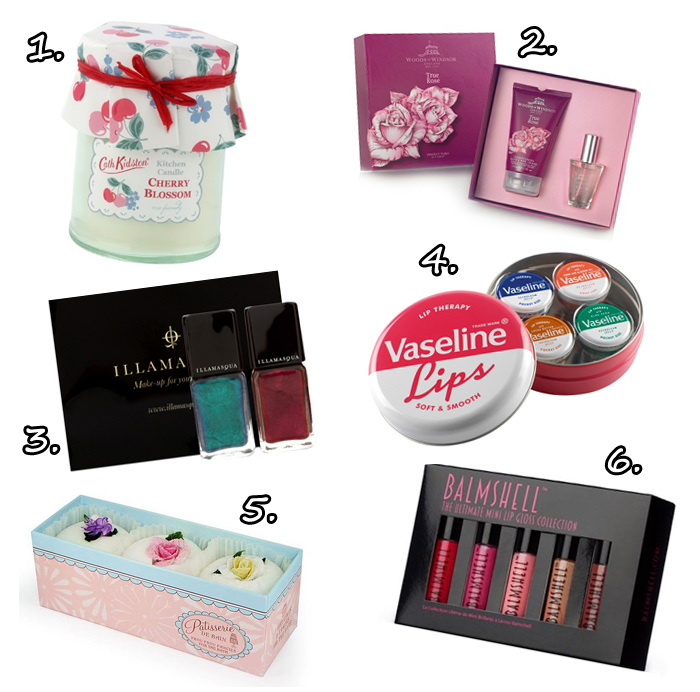 1. Cath Kidston Cherry Blossom, Jam Jar Candle (£15.00)
Large Jam Jar Candle, fragranced with Cherry Blossom from Cath Kidston's latest home fragrance collection.   Burn time 40 hours.
I think it's like… THE LAW… for Mum's across the land to swoon at the altar of all things Cath Kidston.  There is no way on Earth you can go wrong with this purchase.  Cherries?  Kitsch?  Kidston?  Those tatties are yours.
2. Woods of Windsor, True Rose Perfect Pairs (£13.25)
A fabulous gift for any occasion, featuring Eau de Toilette (30ml) and Hand & Nail Cream (125ml) in a beautiful presentation box, fragranced with our elegant rose petal scent, combining crisp green violet leaves, rose otto and warm damask rose.
I have the hand cream* and it's a gently-scented, nourishing cream that leaves my hands feeling soft but not greasy.  Not intensive enough for cuticles but a really nice all-rounder with a delicate true rose fragrance.  Tres jolie!
* my hand cream was a PR sample
3. Illamasqua ASOS Exclusive Nail Duo / Viridian & Scarab (£10.35)
Bejewel your nails with the ultimate Christmas duo, deepest emerald and decadent ruby. Talk with your hands and make a statement.
I don't need to tell you how much of a bargain this is… just don't tell your Mum it's a Christmas set and you're laughing (at your brother) all the way to the oven!
4. Vaseline Pink Therapy Tin (£6.99)
Keep your lips looking healthy and protected from the elements by choosing from our fantastic Vaseline Lip Therapy range.
Vaseline Lip Therapy Tin Contains:
Lip Therapy Original 20g
Lip Therapy with Rose and Almond Oil 20g
Lip Therapy with Cocoa Butter 20g
Lip Therapy with Aloe Vera 20g
Vaseline Lip Tin
The giant Vaseline Lip Therapy tin is worth £6.99 on it's own without even thinking about the contents – c'mon, it's totally *squee* cute!
5. Rose & Co Set of 3 Bath Fancies (£10.00)
Inspired by French patisseries, these darling bath melts will slowly soften and sparkle to release shea and cocoa butters and sweet almond oil to moisture and delicately scent the skin.  Looking scrummy enough to eat and with vintage inspired fragrances the dainty fairy cakes are beautifully packaged in a charming little cake box and finished with an intricate little flower.  Set includes 3 bath melts.
Laduree eat your heart out.  These many not be edible but they smell just as good as proper pastries – I was proper om-noming when I had a sniff instore!  If your Mum is like my Mum, she won't want to spoil them by using them! *tsk*
6. Balmshell Lip Gloss Mini Collection (£12.00)
BALMSHELL'S top 5 lip gloss colours are now available in mini size!  These adorable little glosses each contain the exact high-shine, non-stick, moisturizing lip gloss formula that our full size glosses are made with.  They fit perfectly into the smallest clutch purse so you can take them along every where you go!
The mini collection includes: Darling You Look Fabulous, Shoe Fetish, Shopaholic, Weekend in the Hamptons & Yummy Mummy.
A lip gloss for each day of the working week!  Not only that but you'll get Zuneta's legendary packaging which quite frankly means that you can save yourself a couple of quid on wrapping it!  Stingy?  Moi?!
.
Hope that gives you a little inspiration for lovely Mums everywhere, I'll be back tomorrow with the £15 – £30 range – get your purses ready for it!