We don't like it but we can at last be excused a bit of roughness in the Winter as the harsh weather takes its toll on our poor extremities.  Our hands are usually the first to succumb to the Gods of dry skin and those rough bits that catch on your sleeves *ouch!*
In the Summer though, there really is no excuses for general skin dryness… so give yourself a helping hand and check out some of the hand creams below for a sure-fire way to get some silky softness back in your life!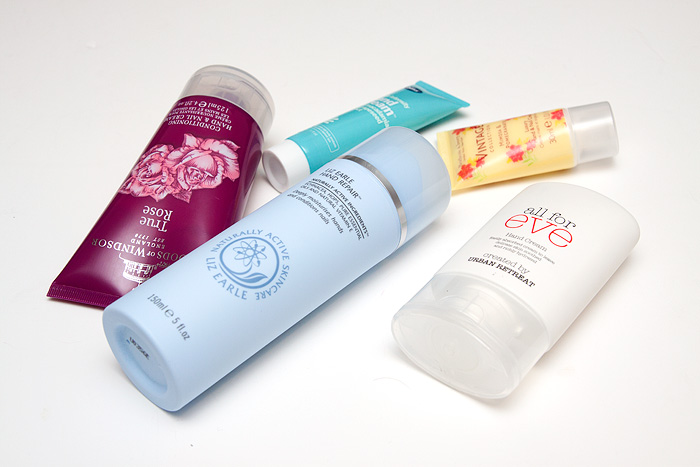 Woods of Windsor True Rose Conditioning Hand and Nail Cream 125ml (£7.75)*
A lighter option for those who dislike the heavy feeling of cream on their hands.  This Woods of Windsor lotion absorbs quickly and efficiently whilst leaving behind a delicate rose scent.  I recommend keeping this one nearby though as you'll need to top up regularly to ensure long-lasting softness.
Bliss High Intensity Hand Cream 75ml (£18.40)
I picked this up in Debenhams a little while ago and true to its name, the Bliss High Intensity Hand Cream delivers a welcome boost of moisturisation which means I can apply at night before bed and wake up in the morning with noticeably smoother digits.  A good choice to stash in the bedside table but perhaps not for you if you dislike the feeling of a rich cream on your hands.
Liz Earle Hand Repair 150ml (£19.65)*
If greasy residues are your main concern, the Liz Earle Hand Repair is the product you need!  The larger sizes come with a convenient pump dispenser which releases a rich, awesome smelling (as you'd expect) hand cream.  It absorbs with blistering speed, leaving my hands feeling silky to the touch.  Not as heavy duty in the moisturisation department as some, I'd recommend this for those with normal/dry skin concerns.
All for Eve Hand Cream 100ml (£7.50)
My top pick for Summer hand creams is the All for Eve offering I bought last month.  I keep this at my computer and would recommend this as the perfect every day hand cream.  It smells delicious, leans toward a lighter, more easily absorbed formula and at under £8 for a generous 100ml, it's a bargain!  And don't forget that all proceeds from 'all for eve' products go towards 'The Eve Appeal' fund.
Heathcote & Ivory Vintage Mimosa Mini Hand Creams 30ml (£4.00 for 3)*
Super cute mini hand cream that's perfectly sized for some handbag toteing!  This Heathcote & Ivory Vintage Hand Cream is surprisingly potent for the money.  Again, more suited to normal/dry skin than those in need of severe replenishment, I particularly love the Shea Butter based formula which spreads itself thinly without taking all day to sink in!
.
If you're in particular need for something a little more intense, you might also be interested in taking a look at my review of the Lanolips Rose Balm Intense.
Are you getting your skin in shape for Summer?  What are your favourite hand creams at the moment?
* Denotes PR Sample