If the Met Office is to be believed, we're 'in for it' (technical description) this Winter, I hope so anyway… I've just bought some bargain sledges in anticipation of blizzard-y snow and icicle snots.
There are thankfully a billion things to make up for the fact that we'll only achieve around 6 hours of sunshine from now until February — Pringles, Quality Streets, and Christmas episodes of Eastenders would feature heavily on my list, but another thing that melts my frozen heart are the Winter fragrances that I can splash on with abandon.
Here are my TOP FIVE Winter Perfumes to ward off the big chill…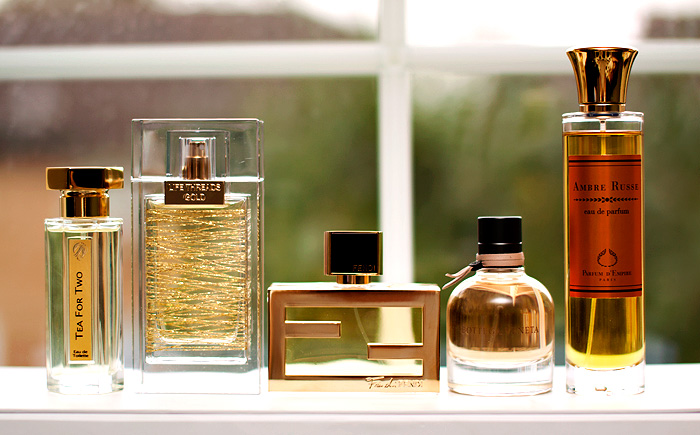 1. L'Artisan Parfumeur: Tea for Two EdT (£78.00)

Black tea, honey and an aromatic smokiness that encourages deep, long sniffs with your nose buried in your sleeve.  Most of my perfumes are unisex because I'm developing expensive tastes and I find it much easier to justify my purchases when I remind Mr. L that we can *both* use them.  It's not true of course, as I hide them behind my scarves in my wardrobe.
Tea for Two also contains a ginger note which doesn't present itself very well on my skin.  I consider Tea for Two to be a less-sweet, slightly less boozy version of Tom Ford's Tobacco Vanille.  Longevity is grand on this one but it wears close to my skin – all the better for sniffing yourself with.
2. La Prairie: Life Threads Gold EdP (£74.00 – currently £59.95 at Cheap Smells) *

La Prairie's Life Threads Gold is a force to be reckoned with thanks to its retro leanings and powerful floriental heart.  If you like people to smell you before they see you, this one could have your name written all over it.  Notes include (are you ready?): Plum, clove, tangerine, pepper, cinnamon, corriander, rose, lily of the valley, ylang ylang, vanilla, musk, golden myrrh and precious woods.
It's as unapologetic as it is striking – go big or go home.  Perfect for the cold weather.
I implore you to go sniff this one out – as a girly/womanly type fragrance, it's hard to beat.  I cut my teeth on Hypnotic Poison and it harks back to all I loved about that fragrance, but this one feels like it's for grown ups.
3. Fendi: Fan di Fendi EdP (£39.50) *

The majority of my Winter fragrant love affairs evoke a smoke, leather and amber accord that carries me away to warmer, more exotic climes.  Fan di Fendi is a kitten by comparison, rendering it very work-appropriate whilst still containing a hint to my usual leanings.
The leather base is apparent though not rough-and-ready, as if struggling to make up its mind between dominatrix and classy handbag lady.  I detect a twist of the Mediterannean thanks to a freshness from some fruity notes which include tangerine.  Silage is decent, particularly when those initial top fruity/floral notes present but it quickly calms down into a calmer experience.
4. Bottega Veneta: Bottega Veneta EdP (£42.00) *

Elegance and sophistication with a clean, smooth leather that evokes the joy of sniffing luxury leather accessories.  And so it should, coming from Bottega Veneta — purveyors of luxury handbags.  A quiet soul of a scent, work appropriate without losing the edge that sets it apart from the competition.
The leather is gentle, almost suede-like with an initial hit of citrus to remind you of its Italian heart.  It's most similar to the Fendi but with an altogether more sophisticated personality.  It doesn't try hard, it doesn't have to — it's like that girl you know who manages to ooze grace without even knowing it.
5. Parfums d'Empire: Ambre Russe (£84.50)
Perhaps the ultimate in decadence, a king of a fragrance with a boozy, amber accord that transcends all earthly dimensions.  A little goes a long way and will leave those in your company searching the room for the source of this scent that offers up a kindly lesson in "how the hell to smell amazing".
You can't read anything about this scent without the mentions of Tsarist Russia and that's because you can't wear this scent without being transported to one of those onion-domed churches, incense burning while the blizzard roars outside.  Throw in a booziness that would make vodka-loving Russians (stereotype much?) blush and you're getting close to the experience that wearing this powerhouse offers.
.
What are your favourite scents to get you through the cold Winter ahead?
* press samples