When your head hits the pillow, are you out like a light?  Or do you gaze at your alarm clock slowly ticking over… counting down the minutes until it's time to wake up?
I'm a bit of an insomniac.  Well hang on… that's a pretty catch-all term isn't it, often misused.  I don't mind admitting a "just one more go at Candy Crush" addiction that can often keep my brain overly-stimulated into the wee hours.  Infact, Mr. L reckons that if we banned our iPhones from the bedroom, we'd average at least an extra hour's sleep a night.  Hardly "proper" insomnia but it's a cycle that can be hard to break nonetheless.
But it's not just my late-night Daily Mail app addiction that I have to contend with.  I do find it a lot harder to "switch off" now that I'm older…. there are just so many things to think about aren't there?  Worries… plans… hopes and fears… it's a wonder we sleep at all.
For the month of September, NEOM Luxury Organics have launched the Neom Perfect Night's Sleep campaign in association with The Sleep Council. Alongside the Neom Perfect Night's Sleep 3-Step Guide, the brand have also introduced the Neom Perfect Night's Sleep Kit (£55.00).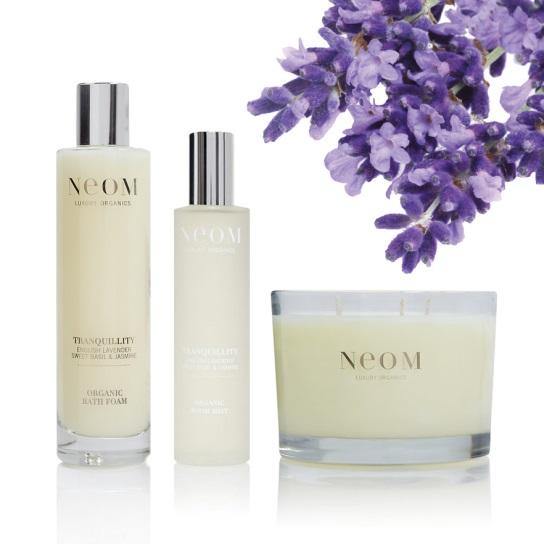 The kit includes three items from NEOM's lavender, sweet basil and jasmine-enriched Tranquility range:
NEOM Tranquillity Candle (380g, £39.50)
NEOM Tranquillity Bath Foam (200ml, £20.00)
NEOM Tranquillity Mist (100ml, £15.00)
The usual price of these three items would total £74.50, but bought together as part of the Perfect Night's Sleep Kit, will save almost £20, costing only £55.00.
In addition to this, the organic brand are running a wonderful competition that I want to give you a heads up about…
To celebrate the launch of the Perfect Night's Sleep Campaign, NEOM Luxury Organics has teamed up with like-minded premium companies such as Lifehouse Spa & Hotel, Abaca, The Wool Room, The Fine Cotton Company, Hush, Amelia Freer Nutritionist and Pukka to launch a very special competition to win a deluxe package worth over £2,000, all geared towards giving you the Perfect Night's Sleep.

To enter the competition, visit: http://www.neomorganics.com/sleepcomp.html
What's been keeping you awake recently?