So, did any of you spendy lot save some pennies last week with Organic Surge's extravaganza of a sale?  I just thought I'd pop a little PSA up for those of you who missed it… because I logged on last night, and the sale is still live!  According to the brand's Twitter account, it was supposed to finish last Friday… with most products now out of stock.  Except, they're not… and it hasn't!
So my dearest beauty beans, consider this your last chance to stock up on some seriously lovely goodies at up to 75% off.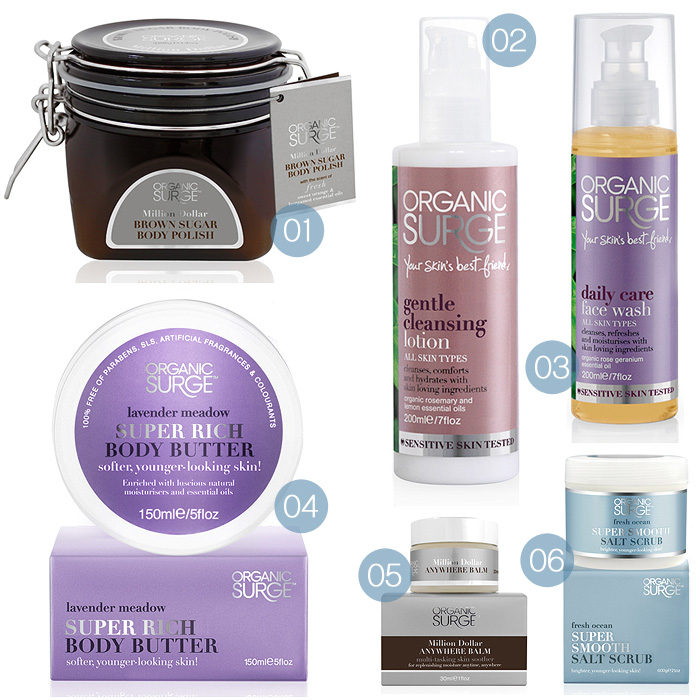 01: Million Dollar Brown Sugar Body Polish (£32, now £8)
02: Gentle Cleansing Lotion (£5.99, now £1.50)
03: Daily Care Face Wash (£5.49, now £2.74)
04: Super Rich Body Butter (£22.50, now £11.25)
05: Million Dollar Anywhere Balm (£22.50, now £11.25)
06: Super Smooth Salt Scrub (£32, now £8)
I don't know about you but it's hard not to see the potential of stocking up not only your own bathroom cabinet but the pressie box for all of those last-minute "oh shite, I forgot to buy her a present!" moments.  Not that we ever have those, I'm just sayin'.
The lovely Fee at MakeupSavvy also reports on a free delivery code (NEWDEL) to make those bargains even more tempting… I haven't tried it but the comments suggest that it works without a glitch.
Did you splash out on the sale yet?  Fancy a last ditch attempt at bagging the bargains?