So, what does natural beauty mean to you?
Is it poreless skin without the help of foundation?  Laughter lines that show a life well-lived?  Perhaps it's simply the beauty of an unspoilt vista lifting your soul in a way that city-life never could?
St. Ives – creators of iconic skin-scrubbiness – recently approached a selection of bloggers with a creative challenge which celebrates the company ethos of imparting confidence and exploring the radiance of natural beauty.
The brand, who have been around for over 25 years now, are dedicated to harnessing the power of nature within their skincare range.  To this end, their formulas do not contain parabens or phthalates, the brand use sustainably-sourced ingredients wherever possible, cut waste, and employ eco-friendly packaging for all their products.
The brief itself was simple: "capture and share an image of natural beauty".  So simple in fact that it left a lot of room for interpretation, perhaps too much for a procrastinator like me!
I'm incredibly fortunate to live in a beautiful part of the world with the New Forest on my doorstep, beaches a few miles down the road and the rolling hills of the South Downs only a stone's throw away.  But the problem was, that despite a wealth of inspiration surrounding me… beauty that I was itching to go and photograph.  I couldn't get over one small detail…
The greatest source of natural beauty was sitting right next to me.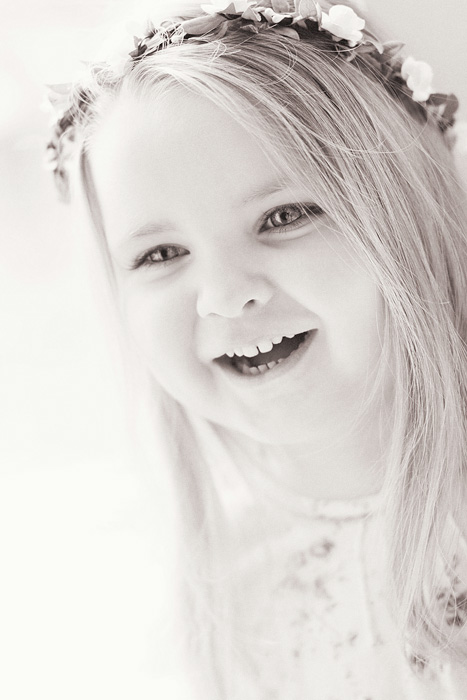 A brush through the tangles, a crown of flowers, and a couple of "knock knock" jokes later and I had all the inspiration I could have ever needed.
Despite the rather obvious fact that she's not pumping half a gallon of Double Wear onto her face every morning, Leila's natural beauty lies in the fact that she is so wonderfully oblivious.  Every inner thought and feeling, like most children, is reflected upon her face: from the doughnut she can't get enough of to the wonderment of seeing Sleeping Beauty's castle.  From the pride that correctly identifying her ABCs brings her to the chutzpah that follows when she utters the words "I am rather marvellous, aren't I?"
Her eyes are not only a window into her soul but a porthole, skylight, dormer, and sunroof… all untainted by the self-consciousness that adulthood brings with it.  She feels no need to mask her feelings or to "tone-down" her excitement, fearful of looking too eager or heaven-forbid, uncool.  If only we could all recapture some of that day-to-day, unbridled honesty in our faces.
And that is why she, and other children of a similar age, are such a joy to be around (in moderation, of course!) and for me, an unparalleled definition of natural beauty.
Do you allow your natural beauty to shine through in certain company or are you focused on maintaining a facade? 
If you fancy talking about what "natural beauty" means to you, feel free to use the dedicated #StIvesNaturalBeauty hashtag on Twitter.

* In the interests of full-disclosure, all photographic entries will be judged by beauty photographer Claire Harrison on behalf of St. Ives and displayed at a gallery-style event in London next month.  The eventual winner will receive a fabulous prize (and one to give away to a reader!) 
** On a plate beside Leila, sat a sausage roll… looking particularly beautiful.  To be honest, it was a close-run thing.