Thanks to my pale, cool-toned colouring, I'm usually restricted to white-toned jewellery, gold can look quite brassy against my skin tone.  My wedding ring is a plain, silver band… not the most luxurious of metals but I'm not a fan of white gold and platinum stretched way, way beyond our student budget at the time.
A few evenings ago, I was introduced to Tiffany & Co's new metal.  Yes, a whole new metal – created specifically to mark the iconic brand's 175th year.  RUBEDO™ (pronounced roh-bay-doh not roo-bee-doo!) is a beautiful, glowing rose with a warm pink hue which promises to be universally flattering on any skin tone.  And indeed it complemented my colouring very nicely, sitting perfectly between the yellow and white spectrum of the usual jewellery options.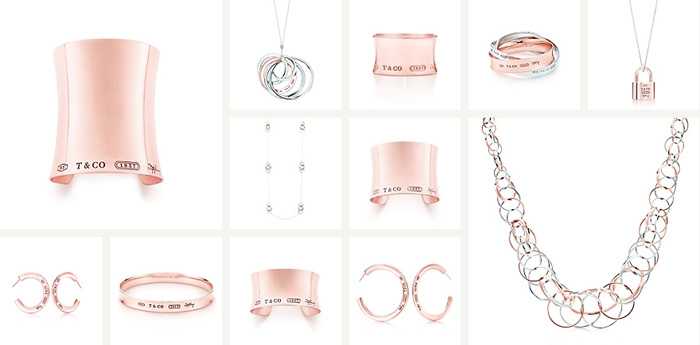 Looking at the collection in person, the new RUBEDO™ metal looks to be a little pinker than standard rose gold, perhaps a touch cooler, with more brilliance than I expected and a little less creaminess – if that makes any sense at all.  Each piece from the RUBEDO™ metal collection made in this, the brand's anniversary year, carries the signature of its founder Charles Lewis Tiffany.
I tried on a couple of pieces, the Tiffany 1837™ wide ring in RUBEDO™ metal (£505) and the Tiffany 1837™ cuff in RUBEDO™ metal (£3,050) – funny story, I couldn't get the cuff off after I'd tried it on.  And by funny, I mean so embarrassing I wanted to die.  My wrist did the best impression of a sharpei puppy as I tried to wrangle it off.  "Oh sorry!  It won't come off so I'll just have to take it home with me".  Can you imagine?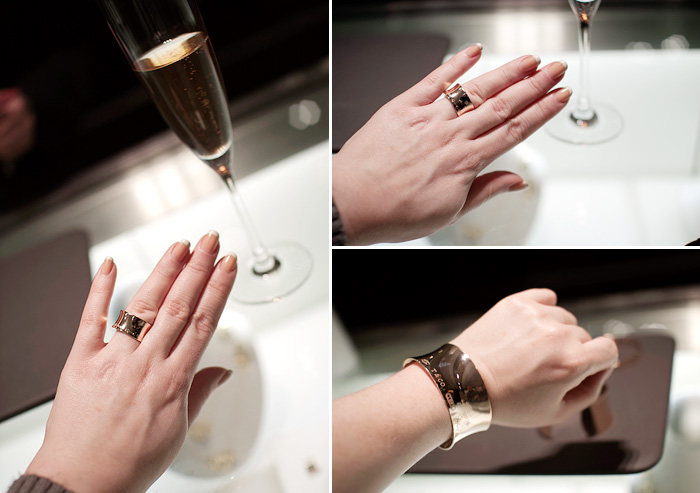 Anyway, you'll be pleased to hear that prices for the collection start at a slightly less bank-breaking £160 for the Tiffany 1837 Bar pendant in RUBEDO™ metal but if we're going to play my favourite 'price is no object' game, the most lustworthy piece, in my opinion, is the exquisite Tiffany 1837™ interlocking circles bracelet.
Which is your favourite piece from the new RUBEDO™ metal collection?