I got TAGGED by the lovely Tina over at All The Vanity.  It's been a little while since I completed a tag so I thought… why not?!
1. What is your beauty style? (Natural, trendy, etc.)
I guess I go for polished comfort.  The majority of time I stick within my comfort zone with colour and application… but my overall style is an 'attempt' to simply polish the features that I was born with.  I'd love to be more adventurous… but whenever I go bold it feels akin to transporting the Eiffel Tower to Texas.  Wrong and conspicuous.
2. Where do you get your beauty inspiration from?
Beauty what?  Oh… like magazines and stuff?  I don't get inspired with looks.  I just like to make my eyeliner not clash with my eye shadow.  Nope, no inspiration… just reach for the shades that take my fancy in the morning and hope they compliment.
3. What beauty products do you have the most of?
Foundation/Base Products.  I'm a complete foundation slag.  Wanna see?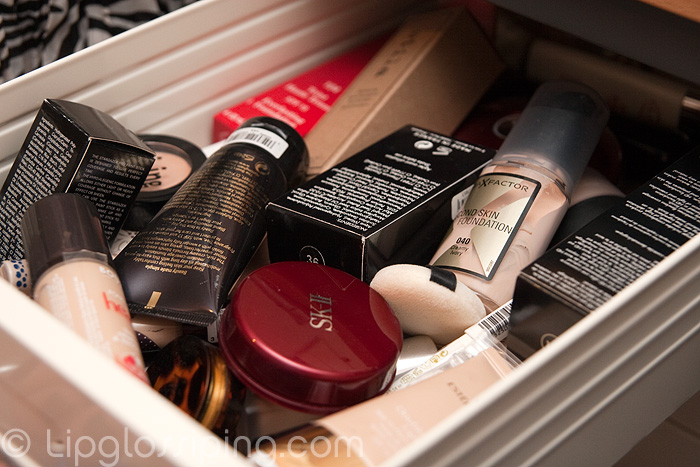 oh.. and blush.  Blush is becoming a guilty pleasure too…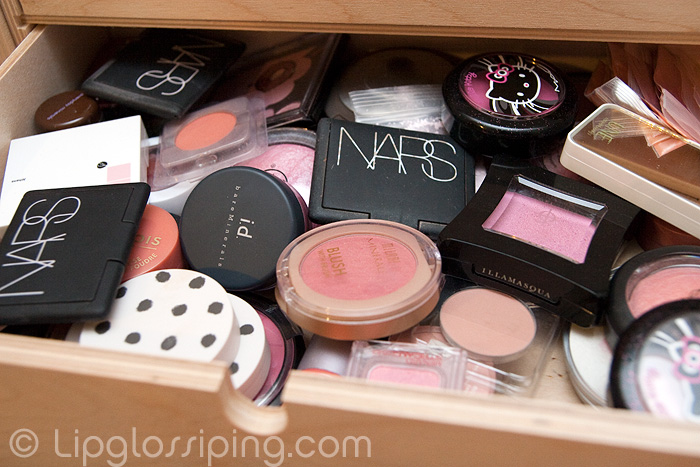 4. What's you favourite/holy grail colour for:
Eyes: Taupe.  Next!
Lips: Nude, but not concealer nude… darker, pinkier nudes like Urban Decay's Naked.  "My lips but better" shades.
Cheeks: Anything goes, I love to experiment with cheek colours and am learning how to make most shades work for me.  The key seems to be to use a light hand.  Funny that.
Nails: Purple.  I'd like to argue with that and announce Greige… but the simple fact is, my purple drawer contains double the amount of polishes than my Beige/Brown/Grey drawer.
5. Three favourite brands of the moment:
I gotta say MAC 'cos I've just spent a (very) small fortune on the In The Groove Collection.
Guerlain… It started with a Kiss Kiss Maxi Shine Lipstick and is heading into the LE Eye Palette territory (I'm blaming that pesky Anitacska)
NYX – Always, always endlessly tempted to build up my NYX collection.  At the moment I'm hankering after the cream blushes… I hear they're niceeeeeeeeee!
Hope that wasn't too dull for you.
I tag:
ZebyK
Sarah
Louise
Karleigh
Product Pixie
RaeRae
Georgina
Justine
Laura