Last week, I was invited to the Savoy hotel in London to meet Pantene ambassador Cat Deeley and to learn a little more about the new Pantene range for coloured hair.
Before heading up to London, I was asked if I had any questions I wanted to put to Cat.  Without hesitation I wanted to ask who her 'Tonight Matthew, I'm going to be…." would be?  Then I remembered that I write a beauty blog, not a StarsInYourEyes fan blog.  So more on what I actually did ask her later…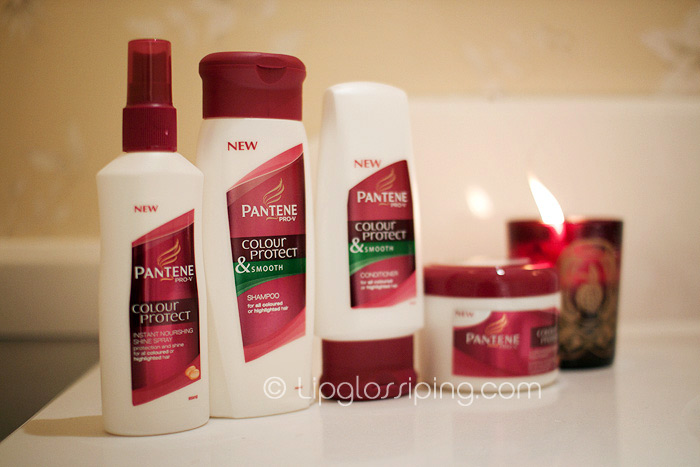 I've talked before about the new Pantene Colour Protect range and you can read this post for further details on the products that are currently available in the UK… but tonight, we focused on meeting the brand's ambassador and seeing the differences between virgin hair (uncoloured), coloured hair and coloured hair once treated with the new Pantene Colour Seal Concentrate (not released yet).
The results were surprisingly tangible.  We watched a demonstration of hair porosity…. and as someone who has (many times) in the past coloured her hair without giving any thought as to what long term affects this might have, perhaps a little sobering aswell.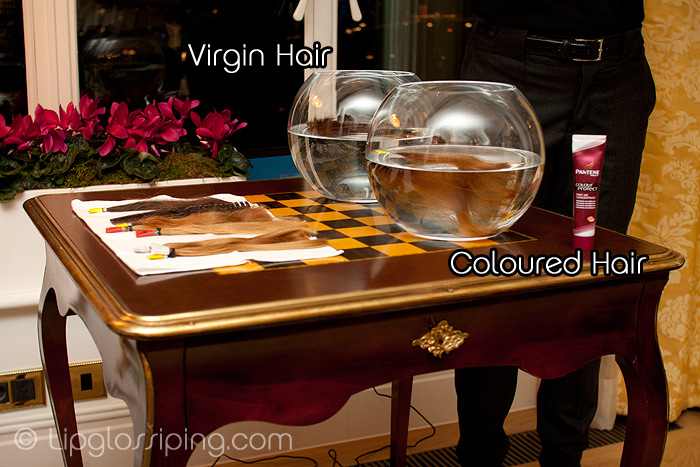 The hair in the bowl on the left is virgin (uncoloured) hair, whilst the bowl nearest to the camera contains a sample of coloured hair.  Can you see how the virgin hair retains it's waterproofing abilities that allows it to float whilst the coloured hair has literally swelled with the water and is no longer resting on the surface?
Well who cares right?  Well, me… because hair porosity is important to how hair looks and feels.  Frequent colouring can encourage the hair cuticle layers to stay raised… allowing more moisture in and ultimately letting more out, which leaves your hair feeling dry, brittle and pretty rubbish.  The rougher the cuticle, the less shiny your hair will appear and if you want silky, smooth locks?  Forget it.  You're only getting those with a nice smooth hair cuticle.
The new Pantene Colour Seal Concentrate creates an artificial protective layer over our hair's natural cuticle that mimics how our hair should be if we didn't mistreat it.  I felt the difference between untreated and treated coloured hair and one was considerably smoother in texture.  The other good thing about the Pantene Colour Seal Concentrate is that you only need to use this about once a week as it's effects will last a few washes before you need to reapply.
I haven't tried this on my own hair as it's not released until next month but I'm all for quick fixes and this seems like it could be just the ticket.  If it's good enough for Cat Deeley (who happened to let slip that from the entire range, it was the Colour Seal Concentrate that was her favourite – shh), it's good enough for me.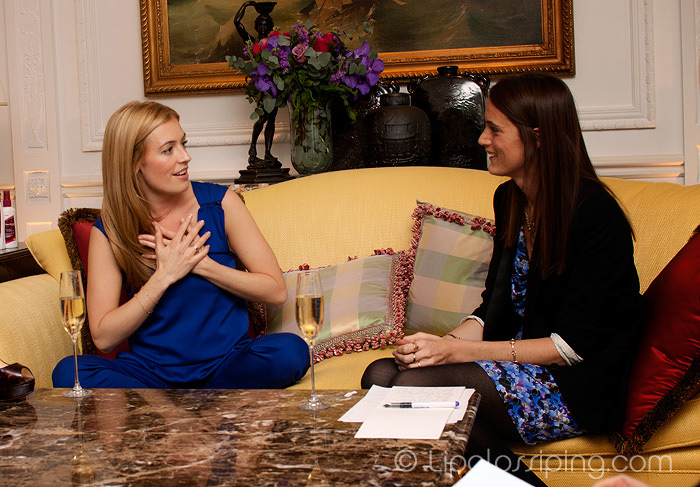 Once Cat had said her hellos and kicked off her beautiful (but killer) Louboutins, she got straight to answering some questions that we'd posed.  Here's a few highlights from the Q&A:
Cat Deeley Answers our Questions!
~ She ALWAYS removes her makeup before going to sleep… without fail.  No surrender and all that.
~ She prefers to own products that multi-task rather than owning a full range (she wouldn't like my bathroom then!)
~ She's dyed her hair many times in the past and both brown and red hair looked terrible on her.  She also said that short hair didn't suit either.
~ Her top tip for staying healthy is drinking plenty of water.  Cat says that a reduced water intake has so many effects on her health, skin and body – so it's something that she's become quite conscious of improving.
~ She believes that it's easier to keep healthy in L.A. than it is here in the U.K.  Whenever she's in the U.K. (especially this time of year!) she wants to chow down on stodgy, comforting food.  No salads please!
Finally, Cat answered my question "Who has more fun, blondes or brunettes?"
Her eyes twinkled as she took in the words, and she grinned… aware that she could potentially offend half the room in one fell swoop!  Her answer was clear though… "Blondes!"  Cat followed up by explaining that you can only have fun when you feel comfortable in your own skin (or hair colour!) and that for her, that was her tried and tested honey blonde.  Nice save!
I spent a few minutes appreciating the newly refurbished Royal Suite at the Savoy… check out the view from pretty much every room.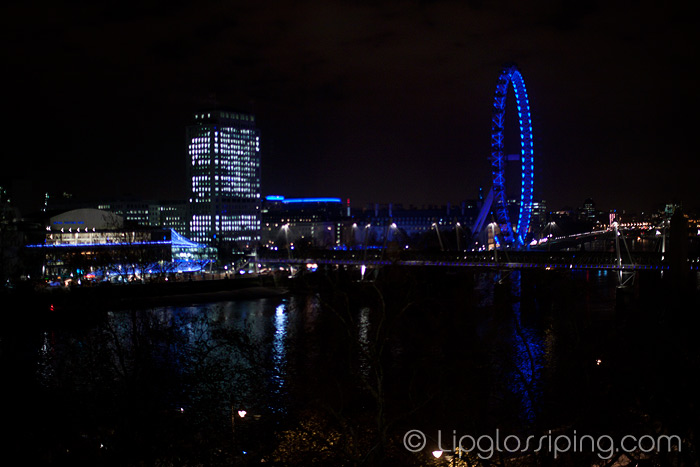 I wouldn't grumble about having to clean those windows.  Well… actually, I probably still would.
After this, I headed straight for hair stylist, James McMahon to pump him for extra tips on the perfect blow dry that we're all so desperate to recreate.  James was straight to the point, reiterating how hard it was to achieve by yourself simply because the angles are all wrong!  I was happy to let him demonstrate on me what a perfect blow dry should look like.  I know, I'm too good to you… SELF-LESS.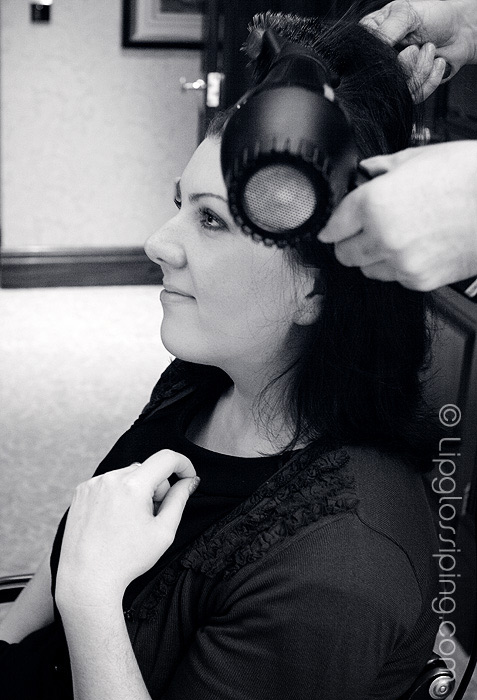 Look at me, taking one for the team… I hope you're grateful.
So, with my blow-dry questions exhausted, James talked a little about coloured hair.  I asked him if he felt it was really necessary to use specialist shampoos and conditioners for coloured hair?  He told me that nothing damages your hair more than the thing that you do 'most' to it.  In the majority of cases… that would be washing our hair and that if our hair is already fragile from over-processing then we should ensure that we're using a shampoo and conditioner designed to care for our coloured hair.
I then asked James if you could pick and choose from a set range.  I explained that my scalp is ridiculously sensitive and that I generally prefer to stick to tried and tested shampoos that I know won't aggravate my picky scalp.  He said that there would be nothing wrong with just choosing to use the treatments from a range or intensive conditioners if you didn't want to change over your entire haircare regime.
With those wise words ringing in my ears, I'm swapping out my usual conditioner for Pantene's 2 Minute Damage Rescue Treatment and after feeling the difference between the hair samples demonstrated earlier in the evening… I'm impatient for the Pantene Colour Seal Concentrate to become available too!
I'mma gonna get those bloody hair cuticles flat if it kills me!  I want Cat hair!  That's it.  The gloves are off… only I'm fighting in the brunette corner.
'Cos brunettes have more fun.  Innit!