It's pretty hard to avoid the "pinkwash" of products that exist at this time of year, not only across the beauty-sphere… but the whole market in general.  I have nothing against these, provided they set a fair donation to their chosen charities.  More and more nowadays, brands are jumping on the charity bandwagon and it took some time and effort to sift through the products that rolled into my inbox, claiming to be beneficial to the work in the fight against breast cancer when they really only existed to "raise awareness", oh… ok then.
Here are some of my picks from the "pink" charity-supporting beauty products available this month.  There's a variety of donation amounts on offer, some more generous than others but I'm including products not only on their generosity value but also on their old-fashioned covetability.  I've highlighted a couple of "star buys" (look to the bottom of the list) – kudos to those brands that have no capped figure or who are donating more than 15% of the product's RRP.
If you're making a purchase anyway, by all means… jump on 'em before they're sold out!  If not, consider popping your donation directly to one of the many charities available.  Either way, we all get to feel good about it, right?!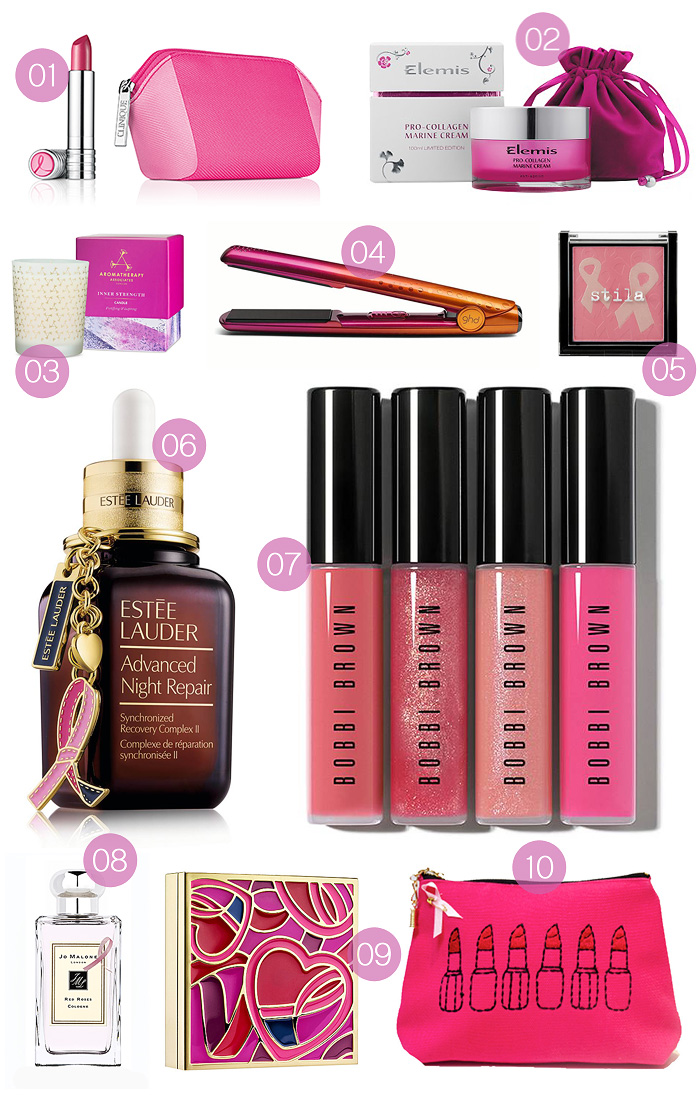 01: Clinique Pink with a Purpose Lipstick Set (£17) – £2 from this purchase will be donated to The Breast Cancer Research Foundation. link
02: Elemis Limited Edition Pink Pro-Collagen Marine Cream 100ml (£99) – Elemis pledges to donate £10,000 to the charity, Breast Cancer Care. link

03: Aromatherapy Associates Inner Strength Candle (£35) – 10% of proceeds will be donated to the charity, Defence Against Cancer. link
04: GHD V Coral Professional Styler (£129) – £10 will be donated to Breakthrough Breast Cancer for every styler sold. link
05: Stila Breast Cancer Awareness Cheek Palette "Positively Pink" (£12) – a portion of proceeds from each sale will go to Cancer Research UK. link
06: STAR BUY (20%) Estee Lauder Advanced Night Repair Synchronized Recovery Complex II with Pink Ribbon Keychain (£69) – 20% of the suggested retail price will be donated to The Breast Cancer Research Foundation. link

07: STAR BUY (16.6%) Bobbi Brown Pretty Pink Ribbon Lip Gloss Collection (£30) – Bobbi Brown will donate £5 of every sale to the Breast Cancer Research Foundation. link

08: STAR BUY (24.3%) Jo Malone Red Roses Cologne (£82) – For each Red Roses 100ml Cologne sold throughout October within the UK, Jo Malone London will donate £20 to The Breast Cancer Research Foundation UK Research Grants. link

09: STAR BUY (100%) Estée Lauder Breast Cancer Awareness Evelyn Dream Solid Perfume Compact (£60) – Estée Lauder will donate £60.00 (the full RRP) from every sale in the UK to The Breast Cancer Research Foundation. link

10: STAR BUY (48%) Sew Lomax Raspberry Pop Pouch (£25) – From every bag sold, £12.00 will go straight to the Pink Ribbon Foundation. link

Do you usually indulge in pink beauty buys or do you donate directly to the "pink" charity of your choice?
if you liked this post, please don't forget to check out my subscriber options, here