First of all, I want to apologise for another foodie post.  I realise that Lipglossiping isn't a food blog and that I may be alienating many of you by posting recipes and such but after three years of daily blogging, you have to blog about what is making you passionate or else you'll burn out.  Currently, I'm rediscovering a love (as opposed to obsession!) for food and trying to hone it into a love for food that won't put me in an early grave.  Thinking about it, planning it, shopping for it and actually cooking it is taking up a lot of my real world time, so it's only representative to blog about it too.  So please indulge me, if I keep feeling the desire to do foodie posts, I'll probably include a separate section on the blog, specifically for this but for now, I'm far too disorganised to sort any of that out.
So, who's for some Low Fat Mango Frozen Yoghurt?  You with me?
I was treated to some delicious fresh mangoes after moaning on Twitter that I hadn't had a decent mango since I was last in Australia in 2003.  That's a long time to go without a good mango.  But the thing is, I don't really know anything about mangoes – I didn't even realise that there were so many different varieties and that the stuff we got in UK supermarkets are basically impossible-to-ripen, bland things.  What I should have done is ignore Tesco et al and headed straight to my nearest Asian supermarket/convenience store where some of the best mangoes in the world are currently in season.  There's a really great article here on why UK supermarket mangoes are pretty sub-standard and detailed information on all the mango varieties in the world (which is an astounding number!)
I made this batch of frozen yoghurt with Kesar mangoes, and the taste is incredible.  To be honest, we actually got through about 5 mangoes just with our hands and a knife before I'd gotten as far as bringing the other ingredients down from the cupboard.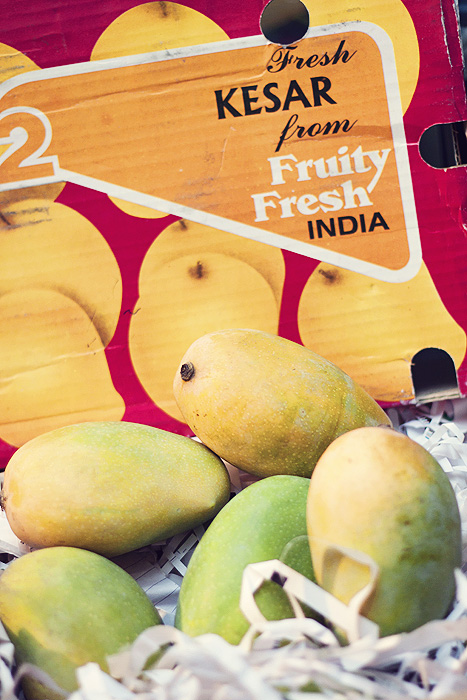 So why frozen yoghurt?  Well, I've pretty much done a U-turn on my stance on frozen yoghurt.  I used to think that it was a trendy pud that simply didn't live up to the greatness of ice-cream.  I'm not exaggerating when I say that I am an ice-cream fiend.  I live for the stuff.  When you hear the ice cream van in the distance, it's not Leila doing a jig with excitement.  Having said that, ice-cream is rarely good for the waistline – full of sugar and fats, frozen yoghurt is an excellent alternative.  But be aware, there is a great frozen yoghurt swizz, often marketed under an umbrella 'healthy alternative' to ice cream stance, a lot of it really isn't much different in terms of calories, fat and all that other good bad stuff.
So make this instead.
Low Fat, Low Sugar Mango Frozen Yoghurt – 24 Weight Watchers Pro Points for the entire tub (around 2 points a 100g serving)
6 Mangoes (get a good variety!)
200ml Low Fat Coconut Milk
1000g 0% Fat Plain Yoghurt (Greek has the lovely tang – two large pots)
1/2 cup of Splenda (you don't need much because of the sweetness from the mango)
2tsp Vanilla extract
3tbsp Malibu (vodka works as a tasteless alternative – you use the alcohol to get a softer freeze)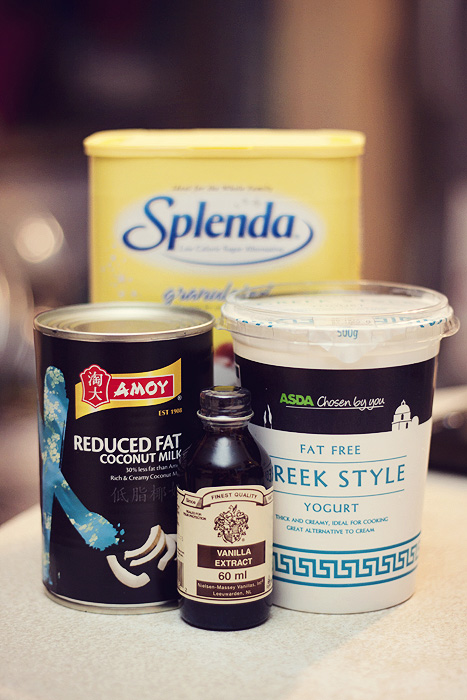 1. Prepare 5 of the mangoes and scoop the flesh into a food processor.
2. Add the remaining ingredients and blitz until smoothly pureed.  You may need to do this in two batches if your food processor is a small one.  Simply divide the ingredients between the two batches, it will all come together at the end anyway!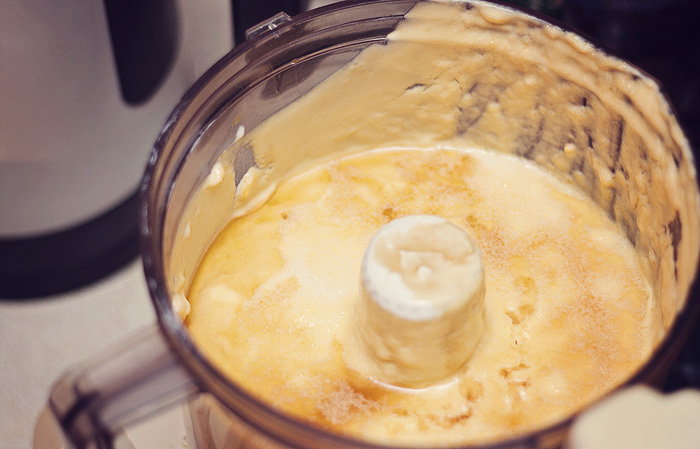 Once blitzed, I don't mind admitting that I stuck a teaspoon in there to have a taste and check that everything was sweet enough/mango-ey enough for me.  Your mileage may vary… if it does, adjust the recipe to suit your taste-buds at this point.
3. Pour the yoghurt mixture into a freezable carton.  You could use an old ice cream tub or a tupperware container.  I like to use a wide, shallow container which allows me to drag my ice cream scoop over a larger surface area as this will freeze quite hard (I'm going to experiment with adding some glycerin to my next batch in order to get a softer freeze).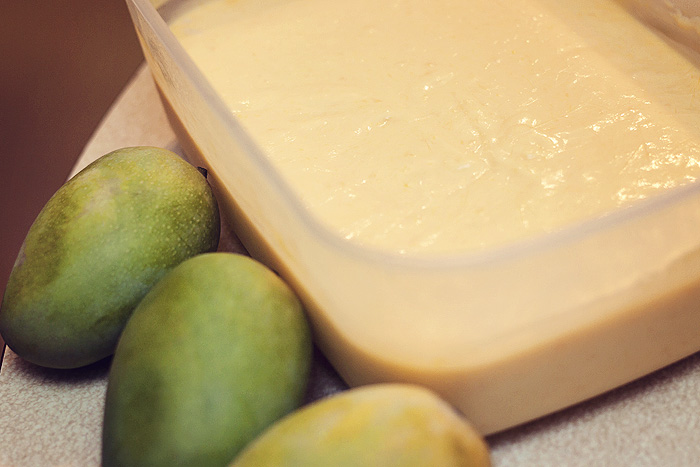 4. Pop the container into the freezer and bring it back out every hour or so to stir and break up the ice crystals.  This part is a little tedious and essentially, here you're doing the job of an ice-cream maker which continually churns the mixture as it freezes.  My timings for getting it out of the freezer usually go: 1.5 hours, 1 hour, 1 hour, 1 hour (leave to freeze solid).  When you're mixing the partially frozen yoghurt, use a large metal spoon and scrape down the sides, breaking up any chunks and incorporating them back into the mixture.  After the second or third freeze, add chopped up pieces of the remaining mango… if you add them too early, they'll sink to the bottom!
5. When it's fully frozen, you'll need to allow it around 15/20 minutes to defrost enough so that you can serve.  I generally put mine in the microwave (on the fruit defrost setting) for around 10 minutes – if you do this, please keep an eye on it, you're not trying to cook it!  When you serve, it should still be very hard – but soft enough that you can actually scrape the scoop across the surface!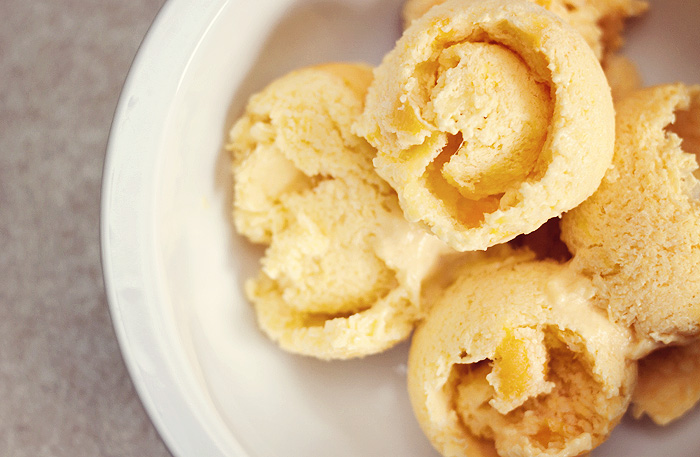 Guilt-free frozen yoghurt with a beautifully tropical taste.  If you're on the Weight Watchers plan you can scoff a 100g bowl of this for around 2 points (the shop bought alternatives are around 4/5 points for less!).  Calorie-wise, I worked it out to be around 90kcal for 100g (the majority of the calories come from the fruit), but I'm not a nutritional expert, don't hold me to it!
Do you like frozen yoghurt?  Ever make it?