There's nothing more intimidating in the world than a pair of super white teeth, except for perhaps super-white, super-straight teeth and for those of use who don't want that freshly-veneered look, there are thankfully other, more affordable options.
One of the most affordable comes in the form of Spanish brand Yotuel*, which via the magic of BuyaPowa is available to buy today for less than the price of a tooth-staining coffee and bun.
I have a sneak peek of what this co-buy is going to look like (don't tell them I've shown you it, they might send the monkey after me)… it's barely more expensive than your regular toothpaste, especially if you're a Sensodyne user like me (frankly more expensive than my crack habit).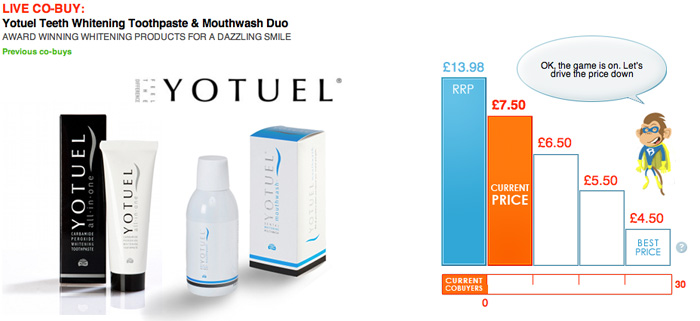 £4.50?  £4.50?!  I think this tooth-whitening duo is going to sell out quickly.
Let me tell you a bit more about it…
I've been using it for a few days and as far as whitening goes, it's too early for me to tell though I haven't yet experienced any sensitivity (something I'm prone to with all whitening products).
The duo (75ml Toothpaste, 250ml alcohol-free whitening mouthwash) offers xylitol/fluoride-based protection against cavities, with the whitening properties coming from the carbamide peroxide, the same stuff they use in the dentists but at a lower concentration.  You're supposed to brush 3x a day with this… hmm, that's not always easy is it?  Are you supposed to take it to work with you?!  I guess so long as you brush as soon as you get home from work, it'd be ok.
The mouth-wash is zingy… super-zingy.  I can't keep it in my mouth for the full minute!  The duo is free from SLS, detergent, sugar, alcohol, and is neutral pH and the toothpaste won Best New Dental Product in the 2010 Pure Beauty Awards.
If you're wanting to lift some light-staining in time for the Summer, I think it's worth a punt.  It feels like a gentler solution that would be good for maintaining a whiter smile rather than creating glow-in-the-dark gnashers.  Basically, I doubt it's gonna give your TOWIE teeth overnight, but then… um, that's a good thing right?
The Yotuel duo will be going live on BuyaPowa today in a very limited quantity.  Sign up to be notified!
* press sample
** I will of course come back and let you know in due course if the duo is the best thing since sliced bread, I may start doing FOTDs with my mouth open!