I'm really excited to be reviewing my first foundation today.  Unfortunately this means a before and after shot, so if you have just eaten you may want to come back to this review when your stomach is a little more settled – just a friendly warning!
Mineral makeup is unexplored territory for me.  I understand the principles behind it, but I have never been fully convinced by it as an everyday cosmetic.  Before even trying mineral foundation I will admit that I had a fairly set opinion of what it would do which was something along the lines of: '…it's a powder – and powder makes me flakey and doesn't even out my skin tone, just mattifies my nose and sits in my pores mocking me.'
In defence of my closed mindedness, I do own a jar of Bare Escentuals Mineral Veil and that's pretty much what happens to my skin everytime I use it, so you can perhaps understand my unwillingness to venture further into the mineral makeup market when my experiences with one of the 'Big Names' of mineral makeup had so far been disappointing.
However, as the weather is turning warmer, my liquid foundations are leaving me too oily after a few hours wear and my oil-free liquid foundations are still giving me flakey dry patches of skin – so I needed to find a compromise and started googling for some Mineral makeup websites that would send me some samples to try without breaking the bank!
Enter Elemental Beauty, an unassuming little website offering mineral cosmetics.  I was excited by the fact that they are a homegrown UK company happy to accept Paypal (I had a little stash of funds from some recent eBay sales that was burning a hole in my Paypal account) and I'd read a couple of recommendations for their products, so put in an order for 2 samples:
Soft Focus Foundation in shade English Rose
I would have loved to sample a couple of blusher shades aswell as I am still searching for a soft shade that enhances a natural peachy flush (as opposed to something that makes me look like the concept behind the Anna Sui Dolly Girl bottle).  Anyway, I digress – Elemental Beauty unfortunately don't offer blusher samples – although to be fair, they're not exactly expensive at £3.99 each – but there's too many shades to choose from dammit (I'm leaning towards Coral)
I paid my money (£3.20 for 2 samples inc. P&P) and paced the floor waiting for the postie to bring me my goodies.  Thankfully, I didn't have to wait too long and within a few days look what turned up: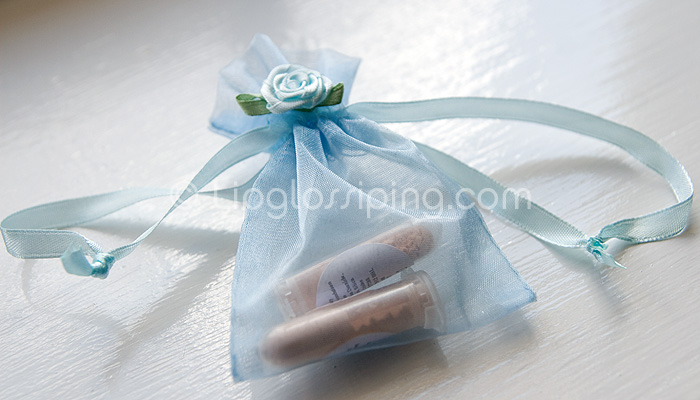 How cute is that?  I mean seriously… I was already impressed.  Judging by the images on their website – the full size jars are pretty darn gorgeous aswell!
On closer inspection…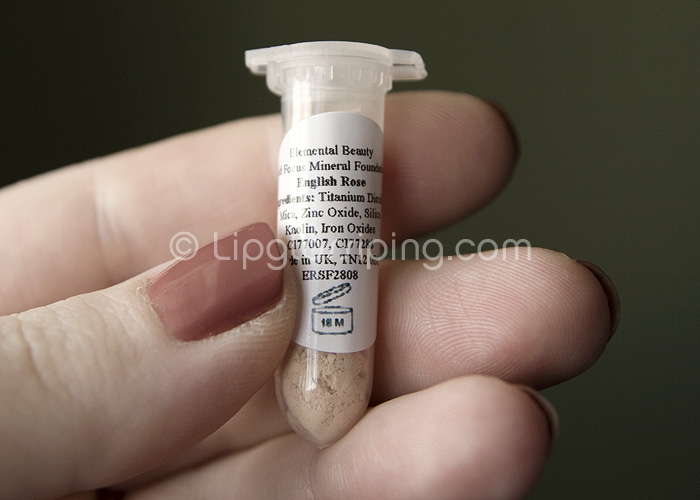 and…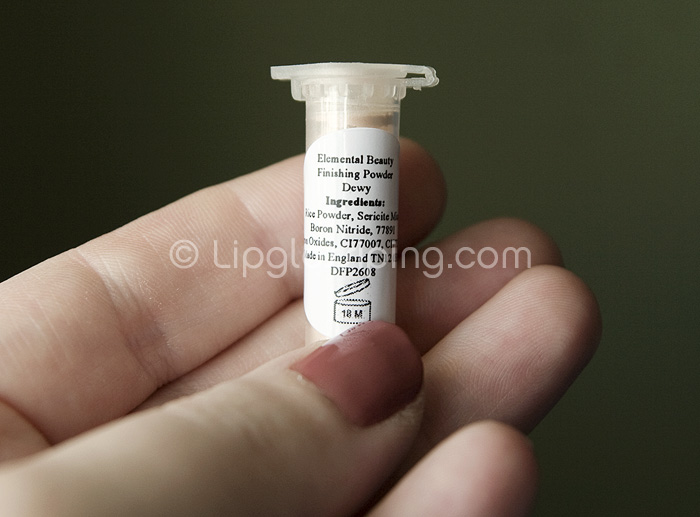 If you can't read the ingredients, feel free to drop me a comment and I'll happily type them up on here.
The samples are pretty generous too!  I'll easily get a weeks worth of daily use out of them, which is fantastic and quite frankly, necessary for judging whether or not to invest in full size versions.  Is there anything worse than sampling a product once (perhaps at a counter), liking it – spending your hard-earned money on it and then never achieving the same look or finish again and having to put it down to a one-off fluke of the lighting.  (Benefit Dandelion, I'm talking to you!)
After letting my moisturiser sink in for a good 5 minutes, I tapped a little foundation out into a spare lid and grabbed my Kabuki brush, remembering the old 'swirl, tap and buff' method…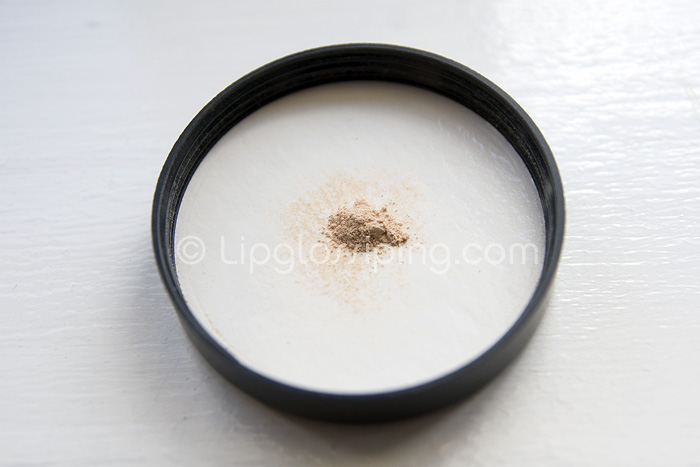 Anyway, I won't go into any application details – I'm a complete idiot when it comes to applying makeup and just bungle my way through it most mornings… you can judge the results for yourself with my hideous before and after shot.  Please excuse the constipated expressions.  I really don't know what the puckered lips and the 'are you looking for a fight?' look is about in the 2nd photo… and the ears in the first, oh god… the ears…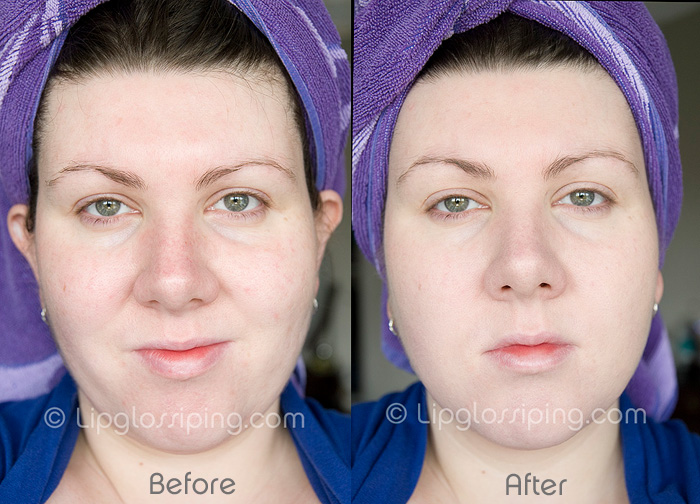 Anyway, what do you think?  I'm really impressed!  It's light but really evens out my skintone.  I could possibly have benefited from applying some concealer beforehand, but look at that strawberry nose and the cheek blotches – MUCH better in the after shot!  I love this stuff.  Truly.
I'm not familliar enough with mineral makeup to know if I should have gone over the more blotchy areas more than once, so I didn't… I literally took about 40 seconds to apply the foundation, probably paying far less attention than I should have done and I'm still delighted with the results.
I'm gonna become a Mummy in about a week's time so I shall make sure to get my order in for the foundation as this is just too easy for a foolproof application over the summer months.  Still not convinced this won't be too drying in the winter for my skin… although I shall approach with a more open mind this time and possibly armed with industrial strength moisturiser.
I haven't tried the dewy finishing powder yet, not quite sure what to do with it yet.  I shall read up and be back with an opinion some time soon!
Elemental Beauty ship worldwide, so head on over to the website – oh, and check out those eyeshadows too!  I'm totally lemming some of those for eyeliners and smokey eyes…
[starreview]