I don't go on YouTube much, but I am partial to a bit of Pixiwoo, so when I saw their Basics Big Eyes/Small Eyes video I had to tune in…
This is the first time I've ever had a go at following along, I was curious to see if following the tips would have much effect in the hands of an amateur like me.
I think I can safely say that yes, I look rather bug-eyed!  You can compare with some of my other FOTDs here.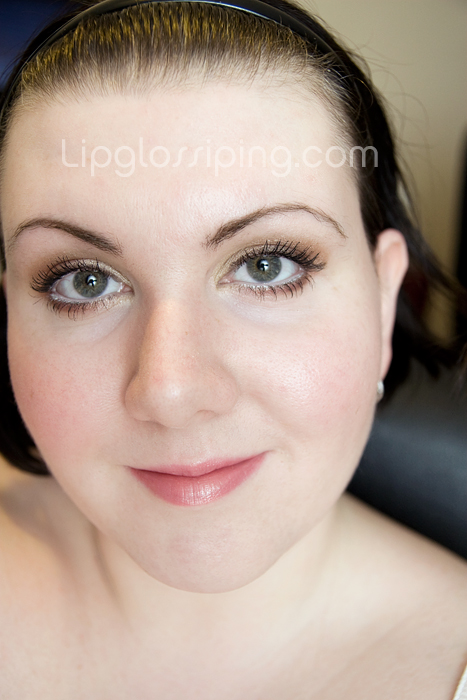 The main points for achieving a more open-eyed look were roughly (from memory so I hope I haven't forgotten too much):
1. Stick to light(er) eyeshadow shades, including the crease colour.

2. Don't box the eyes in with heavy eyeliner.  A thin line on the top lid with a little flick (my flicks are hidden here by my lashes).

3. A touch of pale eyeliner on the lower waterline. I've used white (it was all I had) but it's a bit stark.  An ivory shade would be better for pale-ys like me.

4. Lashings of mascara or even some false lashes.

5. Highlight the inner corners with a pale eyeshadow.

6. Blend the eyeshadow under the eye a little lower than normal to create the false impression of larger eyes.
I think this is such a useful technique to create doe eyes.  Probably really great for the party season too as it's calling out for a bit of glitter!  Illamasqua Static anyone?
Looking back over my old FOTDs I think I'm *slowly* getting a little bit better at this whole makeup malarky.  I flippin' love makeup I do!
Have you tried any looks like this in an attempt to manipulate your features?  Perhaps you do it as part of your everyday routine?  My eyes are a little close together so I'm trying to learn how to execute the perfect eyeliner 'flick' which is supposed to make them appear further apart.  I guess the most common "manipulation" is highlighting and contouring skillfully.  Something I've yet to master!