So, I'm not a big glitter fan.  I'm really not.  I don't mind how it looks (as long as it's not rainbow coloured)… but the thought of the removal process makes me want to stick forks in my eyes.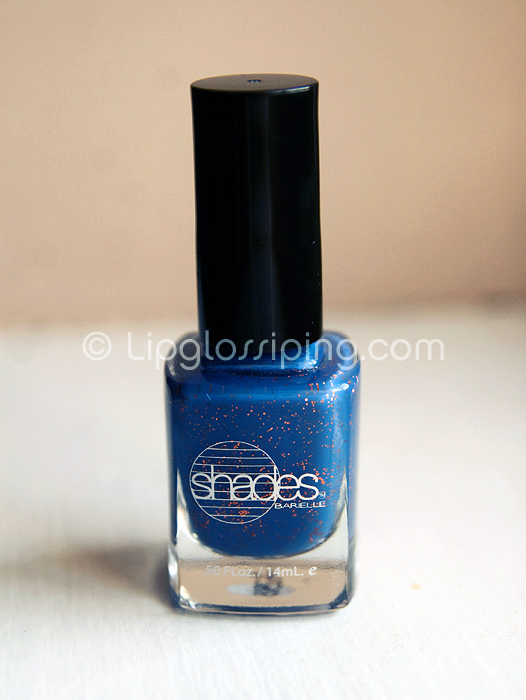 Barielle sent me a couple of shades for review, and I may have physically shuddered in a glitter-induced repulsion when I saw this one.
I mean look…. it's chunky!
However, the polish itself is a beautiful mid-toned blue, infact it's quite an unusual combination… I've never seen blue and copper combined like this in a polish.  Website describes it as gold, but it's definitely a more rose gold/coppery colour.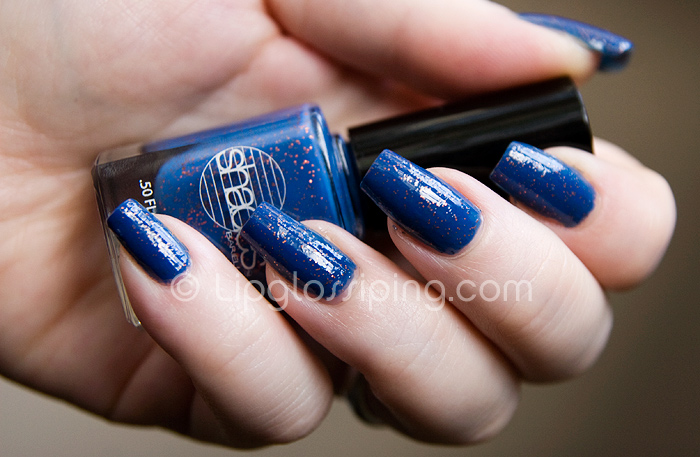 I am *so* on a blue kick since that George beauty.  And this Barielle shade is doing nothing to quench those flames!  B-e-a-utiful!
I don't like the rough feeling that glitter polishes leave and despite a top coat… my mani still felt bumpy but there's no denying the blue/copper combination works.
I've waited 'till removal before writing up this post, and removal was just as horrible as I had anticipated… in the end, I poured some polish remover into the cap of the bottle and soaked each finger individually before I developed RSI from all the wiping.
These Barielle's are probably some of the longest-wearing polishes I've used.  6 days in with this one and I have absolutely no tip wear.  Application was fine, with no issues at all.  I don't know if glitter polishes tend to have more or less issue with application than normal?  But this was good.
Are you a fan of glitters?  Any removal tips for me? Liking this one?