OK, enough with Spring/Summer… here's my favourite season (in terms of colour – definitely NOT weather!).
OPI have previewed their Autumn/Fall collection, titled Touring America and it looks a little something like this: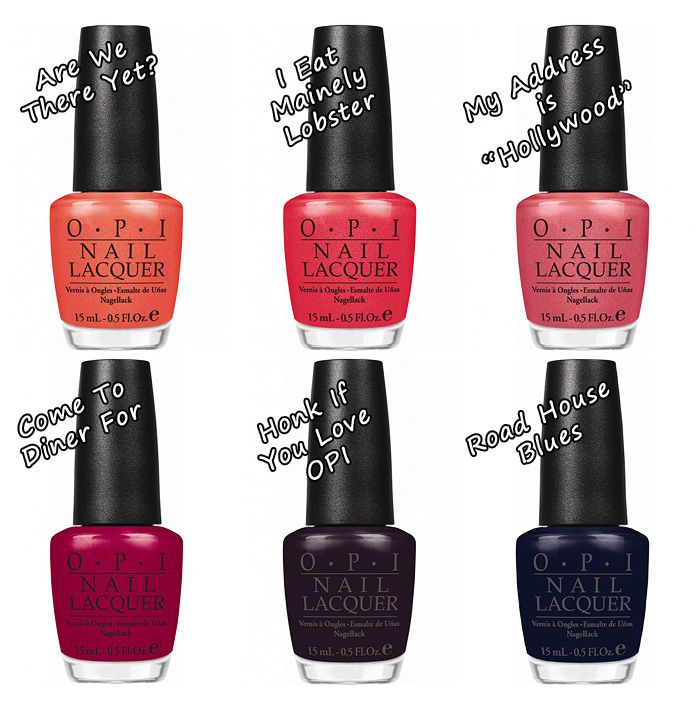 It's a large, 12-piece collection which can be split into the usual sophisticated yet dirgy, autumnal shades and rather awesomely, some fall-toned brights too!  From the bottle shots, the brights look like they may be metallics but I'm not 100% on this – I'll have to wait to see some swatches before I can confirm!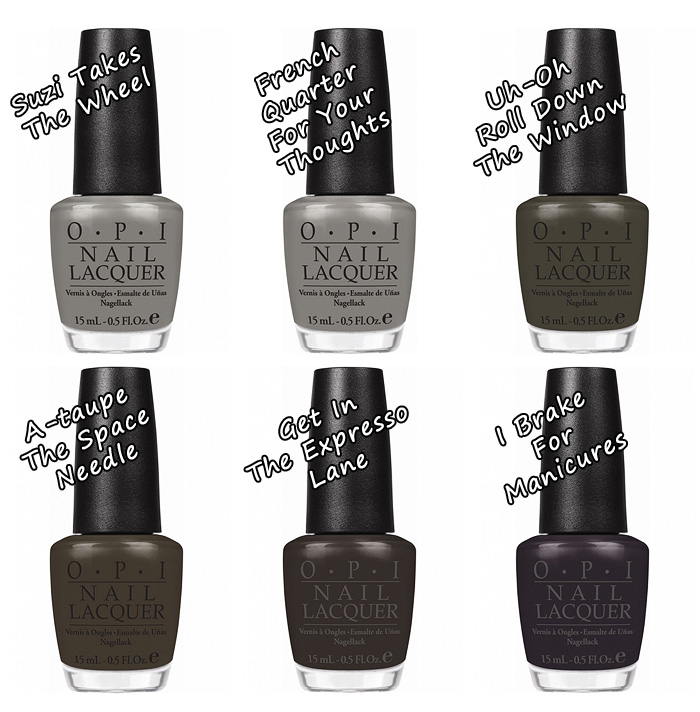 Let's have a breakdown:
Are We There Yet?: Melon
I Eat Mainely Lobster: Luminous Coral
My Address is "Hollywood": Vivid Rose
Color to Diner For: Iconic Red
Honk if You Love OPI: Rich Raisin
Road House Blues: Deep Sapphire

Suzi Takes the Wheel: Grey
French Quarter for Your Thoughts: Sexy Grey
Uh-oh Roll Down the Window: Chic Olive
A-taupe the Space Needle: Creamy-Rich Taupe
Get in the Expresso Lane: Amped-Up Dark Brown
I Brake for Manicures: Eggplant-Plum
I'm pretty divided on this Touring America collection.
Autumn is the pinnacle of nail polish collections for me, it rarely gets better and if this represents the best of what I have to look forward to from one of the biggest players in the polish world.  I'm just not sure I'm as excited as I hoped I would be.
Coming from someone who loves their grungy, dirty shades… I would have liked to see OPI mix things up a bit.  Get adventurous with the dirge!  Some different textures maybe?  I don't know… as I said, I haven't seen these in person so there may well be something about them that lifts from the standard cremes.  I hope so but at the moment I'm left with an overwhelming feeling of deja-vu.
Thinking back to last year's Swiss Collection (of which I own the majority!), I'm just not getting the same buzz from this year's offerings although I am pleased to see OPI carry over some Summer shades whilst giving them an interesting Autumn edge!
These will be available from LenaWhite, priced at £10.50 each.
What are your first impressions of OPI's Touring America Collection?