I received this at a press day in the Medium shade which was too dark for me, but a willing guest reviewer came to my rescue!  She's tried it… and here's what she has to say about it!
.
I'd like to thank Charlotte for allowing me to be her first guest reviewer!  I hope the experience doesn't scar her for life, and I hope some of you will find this review helpful.
This is my first experience with the Bare Escentuals bareMinerals range.  They have an excellent track record judging by other reviews, so I was excited to get my hands on this product and try it for myself.
What it claims
The literature that accompanies the product states that the natural mineral sunscreen provides the ultimate sun protection without the heavy, greasy finish.  The micronised Titanium Dioxide mineral instantly shields against UVA/AVB rays to help prevent premature skin ageing and sun damage, is weightless, breathable, non-greasy and won't clog pores.  It contains vitamins, Aloe Vera extract and antioxidants to promote healthier-looking skin.  It increases sun protection when used under or over your bareMinerals SPF15 foundation.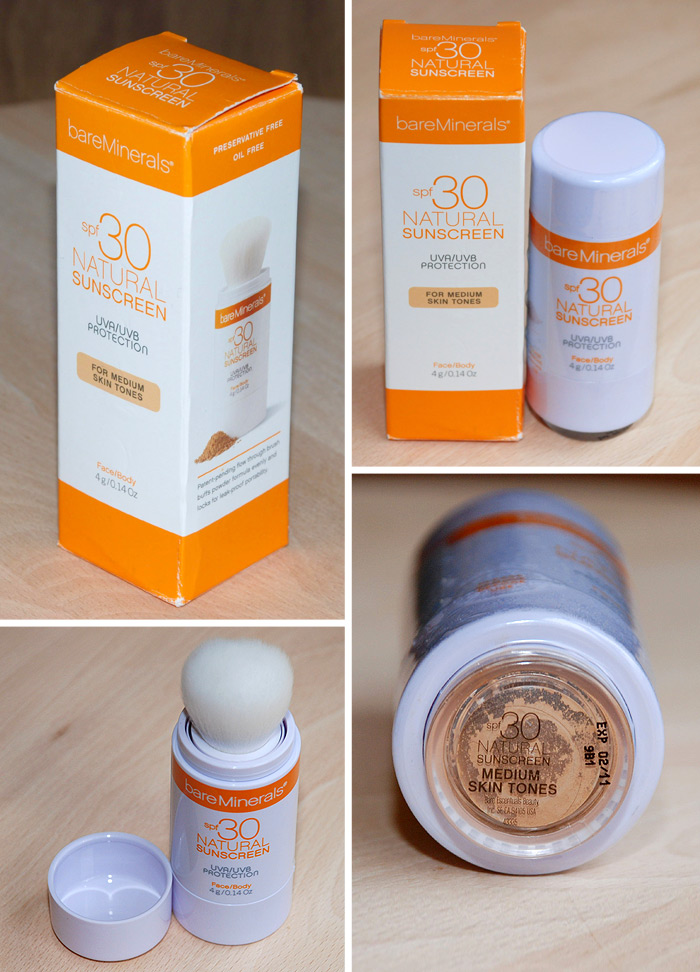 Presentation
The bottom of the bottle is clear to indicate the colour of the product, and in this case I am using the medium skin tones.  There is 4g/0.14 oz of product.
The ingredients list (for those who can make sense of it!): Mica, Titanium Dioxide (CI 77891), Ascorbyl Palmitate, Tocopheryl Acetate, Retinyl Palmitate, Aloe Barbedensis Leaf Extract, Lycium Chinensis (Lycii Berry) Extract, Ranunculus Ficaria Root Extract, Silica.  Iron oxides, Ultramarines, Bismuth Oxychloride.
The orange and white bottle has a pop-off lid which exposes the brush in the top of the bottle.  The bottom of the bottle is turned to extend the brush, and clicks locked ready for use.  To start the flow of the product, invert the bottle and tap downwards onto your skin until the powder appears.  Then, in a circular motion, you buff the product lightly into your skin.  To close, you turn the bottom of the bottle, the brush retreats back into the bottle and it clicks locked.
So what do I think of it?
I must point out at this stage that my skin is in no flush of early youth.  I will be hitting the big four-oh this year and I am dreading it.  My skin has been well used and has what I like to describe as having all the signs of enjoying a full and happy life.  Having lived in South Africa for 20 years and perhaps not being as religious as I should have been with sunscreen in my teens, I have pigmentation marks that I now regret not preventing and am now kicking myself about. My skin tone is an NC25/30 depending on how much sun exposure I've had.
I have a combination skin type, very oily T zone and parchment dry cheek areas.  I've had various expeditions into the mineral foundation world, some a lot more successful than others.  My main complaint is that some mineral foundations oxidise on my T zone, leaving an appealing orangey caked effect, whilst my poor cheeks are left looking like powdered parchment, regardless of how much moisturiser I applied beforehand.
The brush extending and retracting back into the bottle is a good idea as the bristles are kept neat and are less likely to splay.  The brush is very soft and kind on the skin, not scratchy at all which is a definite requirement if it's going anywhere near the sensitive eye area.  It's a good size too, I thought it would be a lot smaller.  The product didn't need a lot of encouragement to start the flow, but certainly didn't flood all over the place either.
The powder itself is pleasantly soft and silky, very finely milled and not at all chalky.  I applied it to my cleansed, toned and moisturised face (after allowing enough time for the moisturiser to soak in completely), using a circular buffing motion.
I felt that my pigmentation marks were a lot less noticeable, and that my skin tone was evened out and looked smoother without being chalky.  I asked Dear Husband what his thoughts were, and he said my skin certainly looked a lot softer and smoother compared to without any product.  The powder didn't settle into the industrial strength concealer I need to cover my dark under eye circles, and my cheeks didn't look powdery either.  A good result so far.
I applied my usual mineral foundation on top  to see how it would cope and whether I would look like an explosion in a powder factory, but I only needed to apply a light dusting as the bareMinerals had already done quite a good job by itself.  I would be quite happy to use it on its own to be honest.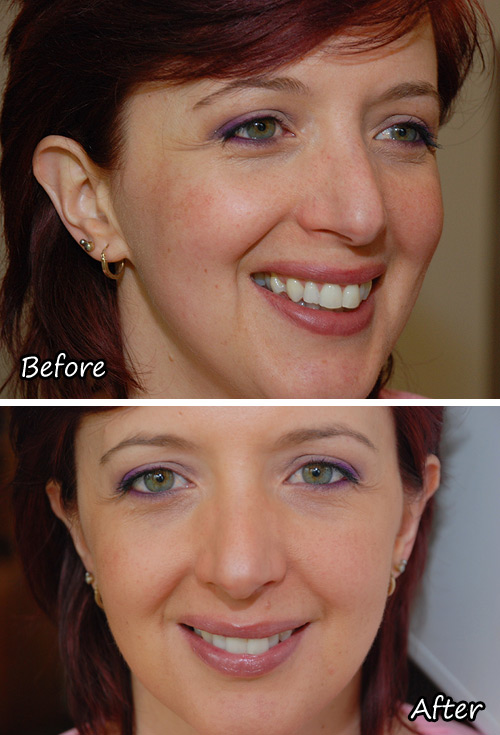 As your neck and upper chest area has as much exposure to sun damage as your face, this product can be used all over these areas to offer the same level of protection.
During the day, my T zone had started reminding me that it was indeed my cross to bear in life, but I wasn't left with any orangey slippage.  Touching up during the day was an easy process because the brush and product were all in one and didn't take up too much space in my make-up bag.
I think this is an ideal holiday product as it is essentially a foundation and SPF30 all in one.  When I go on holiday, I don't take a liquid foundation as I want something light which lets my skin breathe,  but I do worry that my mineral foundation might not be enough to protect my skin.  Many facial sunscreens are greasy and cause breakouts around my chin, but as this is a powder product I felt for me it was the ideal solution.
At the price (£25) it would be quite a layout for me and would be considerably more than I would usually pay, but is probably worthwhile as your skin has to last you a lifetime and is worth the expense.
.
Thanks so much to Ali for guest reviewing for me!  I think she did a fab job (and I'm hugely jealous of her flippin' perfect teeth and smile!) – More opportunities for guest reviews coming up soon.