Following the roaring success of last year's Crème Brûlée sellout, Vaseline have once again returned with another Limited Edition Lip Therapy flavour to tempt our senses.  What will it be?  Nobody knows for sure until the official launch on the 5th September BUT the team have been tantalisingly tease-y to the blogging community with a little challenge that you may have seen popping up on beauty blogs across the ether…
In hot pursuit of the chance to win a pair of trips to Paris (one for me AND one for a Lipglossiping.com reader – ooh la la!), I've been given the opportunity to guess the new flavour (from an unbranded tin) and decorate my own Lip Therapy tin, using the hints they sent as inspiration!
So, without further ado (and because my fingers are partially still super-glued together)… I'm very proud to show off my decorated tin!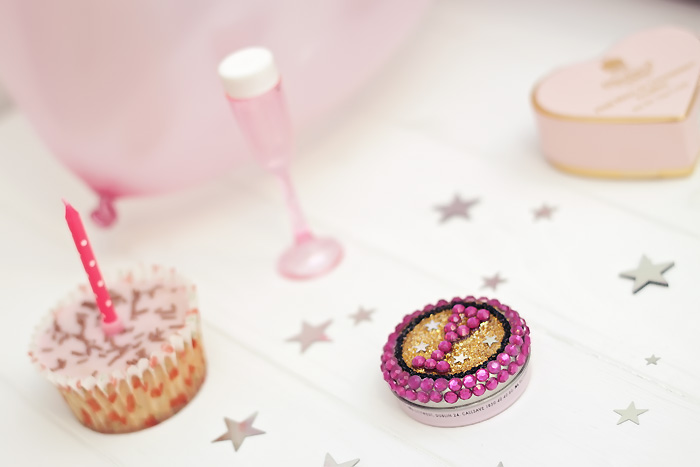 Presented with a variety of hints which included: a pink candle (cupcake optional), a champagne flute filled with bubbles, a pink balloon, and a box of champagne truffles, it didn't take me long to notice a bit of a theme.  I mean, it's like a doggy bag from a Barbara Cartland party isn't it?  Pink is the colour… but what is the flavour?
Taking a deep sniff of the unbranded tin, I detect a fizz – not quite sherbert-y, but with a definite tang that reminds me of pink grapefruit.  But those clues… those clues… I can't overlook the champagne glass, and neither can I overlook the mention of "wine extract" in the ingredients list…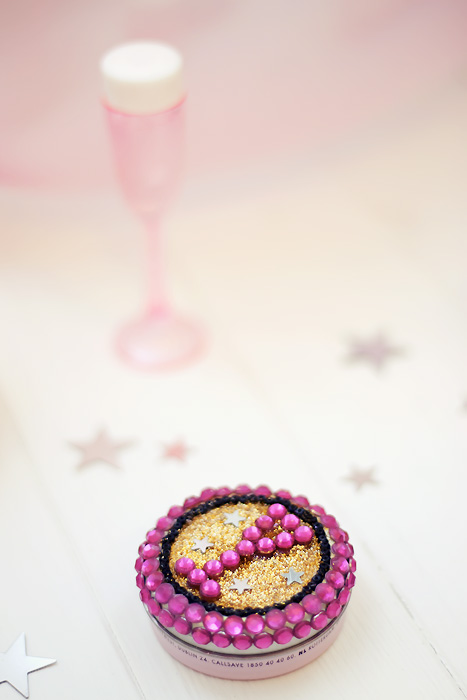 I chose to decorate my tin with a sparkly base of gold glitter and stars to embrace the obvious glamour abundant in the clues.  The motif could only be one thing for me, a champagne flute!  If you turn it upside-down, it also looks a bit like the Eiffel Tower right? RIGHT?  Come on girls, we want that trip to Paris!
I finished my decorations by studding the edge with pink diamantes and black seed beeds (about a billion of them, which I will be hoovering up forever more).
Which leaves me with only one thing left to say… my guess for the new Limited Edition Vaseline Lip Therapy flavour?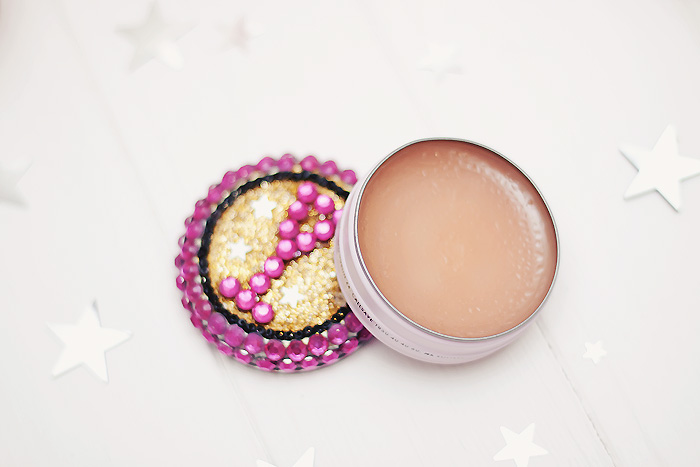 Pink Champagne!
It's girly, fizzy, glamourous, and it makes you do silly things when you've had a glass too many!  It's the perfect antidote to a lacklustre evening and should be compulsory at all parties.  If I'm right, I'll even put some red food colouring in my White Lightning to celebrate.
What flavour do you think would make the perfect Limited Edition scent?  In a straw poll of my living room – one said "toad in the hole", and the other said "Quavers".  Let's stick with Pink Champagne for now shall we?
If you want to keep up with the latest clues on the new flavour, head over to the Vaseline Facebook page for hints and updates.
The new Limited Edition Vaseline Lip Therapy tins will be available at Selfridges from the 5th September, priced at £3.49 each