When I saw the Clinique High Lengths Mascara wand a few months ago…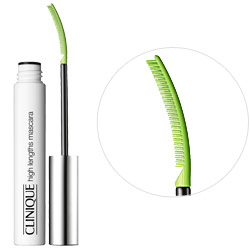 It gave me a shiver.  And not in a good way.  It looks freakin' terrifying!  Organic… like it's gonna whip me or bite me or something slightly kinky.  And I repeat, not in a good way!
Still… yano… I had to buy it anyway *blush*


I generally find Clinique's packaging a bit fud… am I the only one?  My Mum has skirts with those big floral prints on 'em.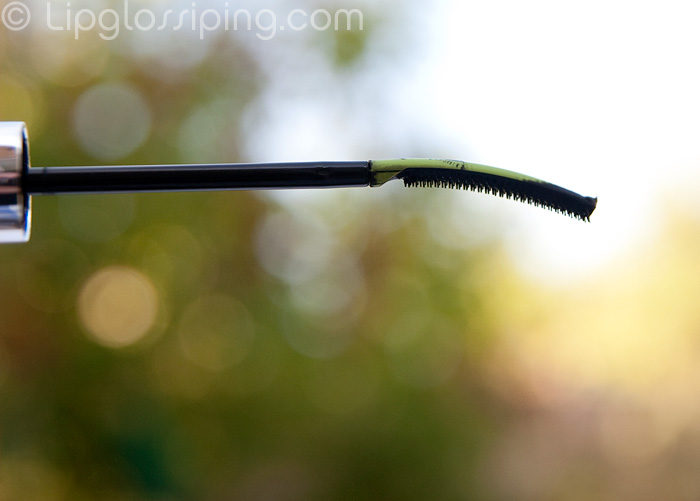 You can see the extent of the curve to the wand… it's serious… and takes a little bit of positioning to get it to align with my lashes.  Infact, it doesn't align THAT well at all on me, it's obviously something that's going to be hugely dependant on the shape of your lashline…
The green bit is flexible and despite it's odd curvature, doesn't cause me any problems taking it out or pushing it back into the tube.  It's also worth noting that the brush seems to pick up a perfect amount of product each time it appears from the neck of the tube.
Once I've got the wand positioned the best I can manage, things get a lot more interesting!
Those spiky little teeth grab my lashes and I can FEEL the pull as I wiggle the wand through from root to tip.  There's some proper resistance there as I comb the wand through… it's almost poetic.  The effect is beautiful separation and definition.  I've never used a wand that does this so well.

Clinique High Lengths Mascara is a lovely lengthening mascara that (after a couple of run throughs) coats each lash with just the right amount of product and really does allow you to get right to the root of the lash without splodging product allover your eyelid.
We're not talking false lash effect mascara superstardom here, but it's a great product for lovely long lashes and one that I'll happily repurchase.
Clinique High Lengths Mascara is a very reasonable £14.50 (considering high street mascaras are approaching that figure now!).  You can buy online or on counter.